Last Updated on
Modern-day breakfast shares little similarities with the traditional morning meal.
A short century ago, our great-grandparents enjoyed a cooked family meal around the breakfast table.
However, things are completely different now.
For most people, breakfast no longer features fresh ingredients, and the food usually comes ready-made in a box.
Popular cereal brands have taken over the "most important meal of the day" with devastating health consequences.
This article discusses why a real food keto breakfast beats sugary cereal.
A Brief History of Breakfast
Throughout history, breakfast was never just one food as it is for many people now.
In Britain, cold meats, fish and homemade bread were popular from medieval times until the latter half of the 20th century.
A traditional breakfast in North America was also very different from now. In the early 1900s, and before widespread commercial food processing, American families relied on what they could grow, buy, or make themselves.
Many families were living off the land and breakfasts typically consisted of whole grain cereals, meat, eggs, fruits, fish and homemade bread.
Significantly, people thought that a breakfast consisting entirely of cereals was a poor man's breakfast and one which was nutritionally lacking.
The historical literature also discusses how people saw meals such as steak, eggs and oatmeal as the ultimate breakfast.
As the 20th century progressed, food processing—and commercial advertising money—increased rapidly, leading to the ever-increasing popularity of cereals.
Key Point: Before the widespread availability of commercial food, American families preferred cooked breakfasts. People saw a bowl of cereal as a nutritionally poor breakfast for people with financial difficulties.
Modern Breakfast: Sugary Cereal and Ultra-Processed Grains
Visit any supermarket, and you will see these boxes of cereal piled high on store shelves.
As it turns out, the modern-day breakfast is now what was once considered a poor man's breakfast.
Unfortunately, the vast majority of these cereals use significant amounts of sugar, refined grains, and industrial vegetable oils. They are the worst foods that we can eat for health and have links to chronic diseases such as cancer and heart disease in study after study (1, 2, 3, 4, 5).
According to market research, honey nut Cheerios is the best-selling cereal in the United States; a product which is 77% carbohydrate and 32% sugar by weight (6).
Further, what was once a family meal has become a breakfast for one. Apparently even cereal is too time-consuming these days, and instead, many people take cereal-based breakfast bars to work.
On the positive side, some people are moving back to traditional morning meals, with low carb and keto breakfast options becoming popular.
Key Point: It was once a freshly-prepared hot meal, but a typical breakfast now consists of sugary cereals or breakfast bars.
5 Examples of Unhealthy Breakfast Cereals
There are many brands of cereal out there, and while none of them are healthy, here are some of the worst options;
1) Kellogg's Rice Krispies Treats
Sugar per 100g (7): 36.3g
Ingredients: Rice, sugar, salt, malt flavoring, niacinamide, reduced iron, riboflavin, corn syrup, gelatin, natural and artificial flavor, fructose, margarine, TBHQ, datem (emulsifier), acetylated monoglycerides, BHT, vitamin A palmitate, vitamin D, corn syrup solids.
Firstly, these Rice Krispies Treats are a breakfast bar that belongs nowhere near a healthy diet.
They are a combination of refined grains, sugar, pro-inflammatory oils, preservatives, artificial flavors and synthetic vitamins.
2) Cap'n Crunch Sprinkled Donut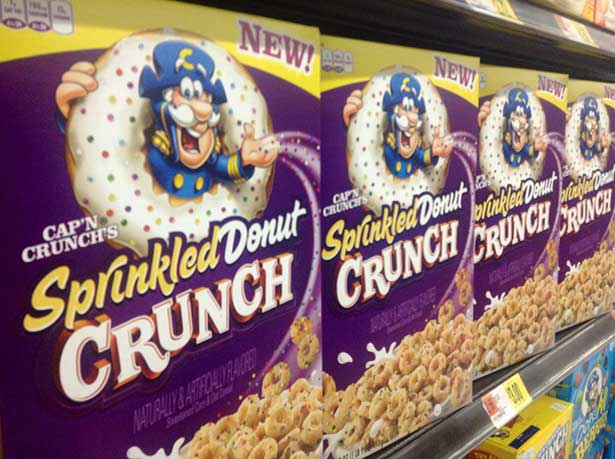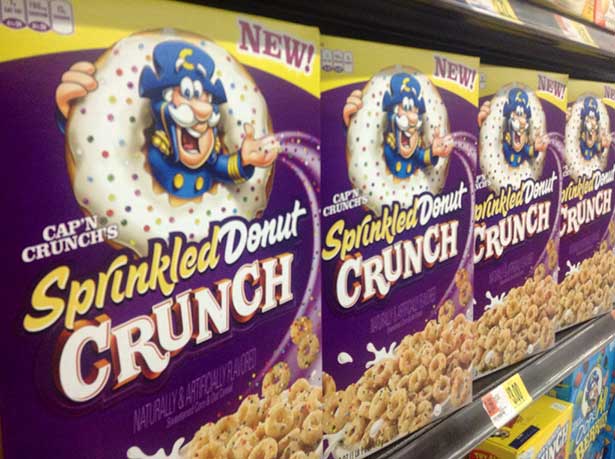 Sugar per 100g (8): 46.4g
Ingredients: Corn flour, sugar, sprinkles (sugar, corn starch, confectioner's glaze, yellow 5, red 3, carnauba wax, blue 2, blue 1 lake, red 40, yellow 6, blue 2 lake), whole grain oat flour, brown sugar, coconut oil, salt, natural and artificial flavor, caramel color, reduced iron, niacinamide, zinc oxide, thiamine mononitrate, riboflavin, pyridoxine hydrochloride, BHT, folic acid.
In other words, a combination of sugar, grains, oil, flavorings and preservatives with "7 essential vitamins and minerals" to appeal to parents.
3) Golden Crisp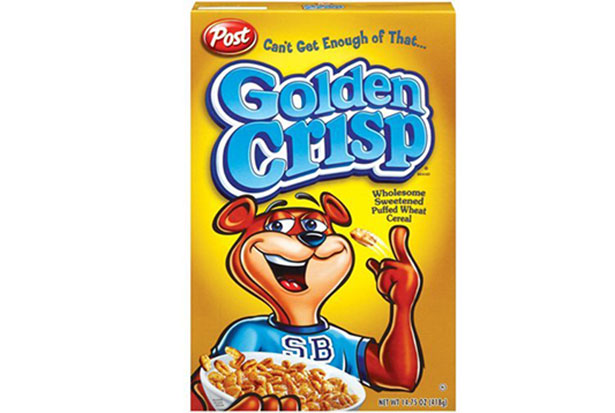 Sugar per 100g (9): 51.8g
Ingredients: Sugar, wheat, corn syrup, honey, caramel color, salt, niacinamide, zinc oxide, vitamin B6, vitamin A palmitate, thiamin mononitrate, folic acid, vitamin B12, vitamin D.
Golden Crisp cereal is one of the most sugar-dense cereals in the world at more than 50% pure sugar.
On the positive side, the ingredients profile is a little cleaner than the others so far. That said, they do still contain excessive amounts of refined grains and added sugars.
4) Apple Jacks
Sugar per 100g (10): 34.5g
Ingredients: Sugar, whole grain yellow corn flour, degerminated yellow corn flour, wheat flour, whole grain oat flour, modified food starch, oat fiber, soluble corn fiber, hydrogenated coconut, soybean and/or cottonseed, partially hydrogenated soybean oil, salt, milled corn, dried apples, apple juice concentrate, cornstarch, cinnamon, modified corn starch, natural flavor, yellow 6, baking soda, turmeric extract color, blue 1, red 40, BHT, vitamins and minerals.
This product is perhaps the unhealthiest cereal in existence; sugar, four different flours, trans fat and a huge amount of artificial additives.
The attempt at health washing this product with the "good source of fiber and whole grain" label is disappointing.
A "good source of fiber" shouldn't contain a load of trans fat and sugar.
5) Honey Smacks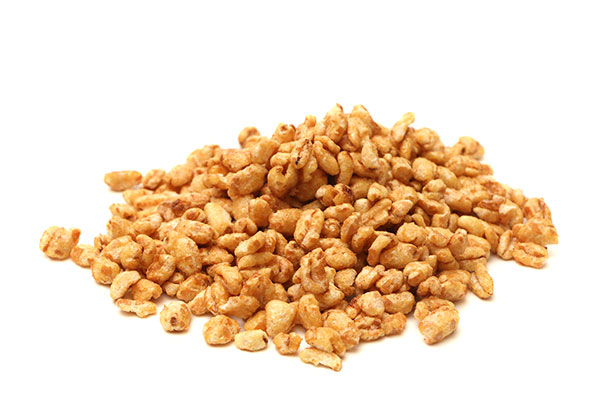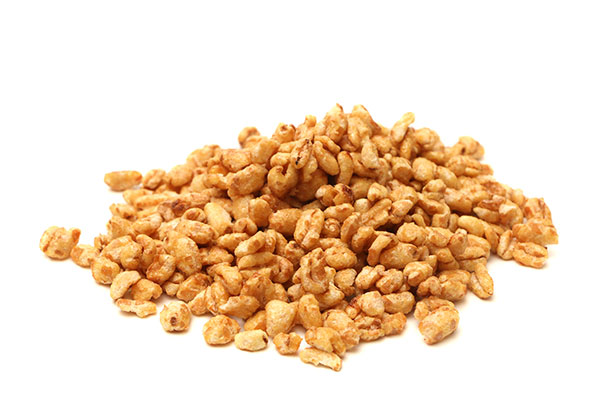 Sugar per 100g (11): 55.6g
Ingredients: Sugar, wheat, dextrose, honey, hydrogenated or partially hydrogenated soybean, salt, caramel color, soy lecithin, BHT, vitamins, and minerals.
An unbelievable amount of sugar and trans fat make up the ingredients of this one.
Key Point: These five are some of the very worst sugary cereals. They are all ultra-processed products and share nothing in common with real food.
Why a Keto Breakfast is Healthier Than Cereal
In recent times, traditional-style breakfasts are becoming popular again with the rise of low carb and keto diets.
Notably, a keto breakfast of meat, eggs, and veg is so much healthier than a breakfast of cereal grains—and that includes the "healthier options."
Here are some reasons why;
Nutrient Density
Let's compare 500 calories of cereal with 500 calories of keto foods.
To make it fair, let's use whole grain oats rather than some sugary cereal. Oats are one of the more nutritious grain-based breakfast options.
500 calories come to approximately 129g of oats.
For the keto breakfast, there will be 500 calories of meat, eggs, and tomato (150g ground beef, two eggs, 1 cup of cooked tomatoes).
Here is what the nutrient profiles look like;
| | | |
| --- | --- | --- |
| Nutrient | Bowl of Oats | Keto Breakfast |
| Calories | 502 | 491 |
| Carbohydrate | 85.5 | 10.4 |
| Fat | 8.9 | 28.2 |
| Protein | 21.8 | 48.1 |
| Vitamin A | 0 | 37% RDA |
| Vitamin C | 0 | 91% RDA |
| Vitamin D | 0 | 9% RDA |
| Vitamin E | 0 | 15% RDA |
| Vitamin K | 0 | 17% RDA |
| Thiamin | 66% RDA | 13% RDA |
| Riboflavin | 11% RDA | 44% RDA |
| Niacin | 6% RDA | 39% RDA |
| Vitamin B6 | 8% RDA | 38% RDA |
| Folate | 18% RDA | 21% RDA |
| Vitamin B12 | 0 | 73% RDA |
| Pantothenic Acid | 17% RDA | 25% RDA |
| Calcium | 7% RDA | 10% RDA |
| Iron | 34% RDA | 39% RDA |
| Magnesium | 57% RDA | 15% RDA |
| Phosphorus | 67% RDA | 50% RDA |
| Potassium | 16% RDA | 30% RDA |
| Sodium | 0 | 36% RDA |
| Zinc | 34% RDA | 65% RDA |
| Copper | 40% RDA | 19% RDA |
| Manganese | 317% RDA | 15% RDA |
| Selenium | 0 | 84% RDA |
(Values from Nutrition Data)
As shown above, a breakfast of meat and eggs has a much healthier nutritional profile than a cereal-only breakfast.
Key Point: A real food keto breakfast is more nutritionally balanced than a breakfast of whole grain cereal.
Inflammation
Using oats again as a reference, a recent study of diabetic participants compared a breakfast of eggs versus oatmeal.
The results of the study show that the egg breakfast reduced inflammation compared to the oatmeal breakfast (12).
Also, there are several more studies which look at cereal grains and inflammation;
Refined grain intake from food such as breakfast cereals has pro-inflammatory effects (13).
Daily consumption of wheat products may contribute to chronic inflammation and the development of autoimmune diseases. This effect may be through gliadins increasing intestinal permeability and activating the immune system cells (14).
The majority of children's cereals (66%) fail to meet the national nutritional standards. These cereals aimed at children are also much higher in sugar than those aimed at adults. Large amounts of sugar can lead to high blood glucose and insulin levels, which encourage low-grade inflammation (15).
Key Point: The majority of cereals are high in inflammation-promoting sugar and refined grains. Also, a keto breakfast of eggs appears to be less inflammatory than whole grain oats.
Satiety
The first thing to remember regarding satiety is that protein is the most satiating macronutrient (16, 17).
Given this, a typical keto breakfast of meat, eggs or fish provides what you need to beat cravings until the next meal.
Furthermore, some studies look into the effect different breakfasts have on appetite;
A study investigated the effects of three breakfast meals of variable composition on satiety. The breakfast with the greatest impact on satiety and subsequent food intake was the meal highest in protein and lowest in carbohydrate (18).
Compared to an isocaloric bagel breakfast, an egg-based breakfast induced greater satiety and short-term food intake fell markedly (19).
Key Point: It is important to realize that sugar and refined grains are not satiating. A real, freshly prepared meal is much better for satiety than packaged cereals.
5 Healthy Keto Breakfast Ideas 
If you are always using cereals for breakfast, you might wonder what breakfast recipes you can make if cooking.
Get some of the ingredients on the keto shopping list and then give these healthy low carb breakfast ideas a try;
1) Mushroom and Cheddar Cheese Quiche (by Linda's Low Carb Menus)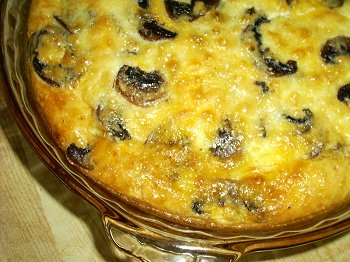 This mushroom and cheddar quiche is high in protein and fat and very low in carbs.
Combining cream, cheese, and garlic, you can be sure it tastes great.
Ingredients
Eggs
Heavy cream
Cheddar cheese
Pepper
Garlic powder
Mushrooms
Butter
Seasoning salt (optional)
Onion powder (optional)
2) Keto Pumpkin Spice Porridge (by Low Carb Maven)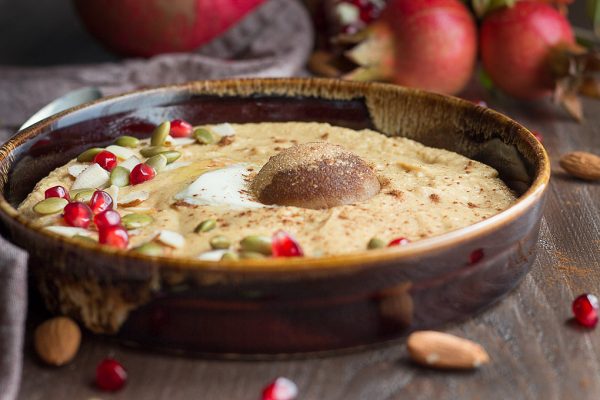 This impressive dish combines pumpkin, cream, and a host of other great-tasting ingredients.
It is a rich and sweet breakfast treat that is much healthier than anything you will see on store shelves.
Ingredients
Almond flour
Flaxmeal
Pumpkin pie spice
Egg
Salt
Water
Vanilla extract
Canned pumpkin
Heavy cream
Butter
Sweetener
3) Bacon and Egg Breakfast Pizza (by Modern Low Carb)
This 'breakfast pizza' is full of protein, healthy fat and delicious ingredients.
A perfect keto breakfast to start the day.
Ingredients
Cauliflower
Parmesan cheese
Eggs
Salt
Pepper
Bacon
Basil leaves
Goat cheese
Parsley
Olive oil
4) Cheese and Bacon Breakfast Casserole (by Your Lighter Side)
Notably, this recipe uses overnight cooking in the crock pot, so you can go to sleep and wake up to the finished casserole.
It contains lots of tasty, real food ingredients which includes meat, dairy and veggies.
Very convenient and delicious too!
Ingredients
Bacon
Ground sausage
Yellow onion
Green bell pepper
Mushrooms
Spinach
Monterrey Jack cheese
Feta cheese
Eggs
Heavy cream
Salt
Pepper
5) Salmon and Avocado Salad (by My Keto Kitchen)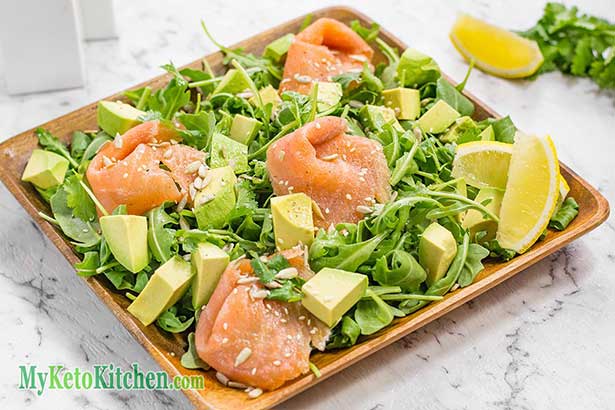 If you are tired of eggs, then here is another great ketogenic breakfast idea: salmon and avocado salad.
It is an excellent source of healthy fats such as omega-3 and oleic acid, and it contains some tasty ingredients too.
Ingredients
Smoked salmon
Rocket
Avocado
Sesame seeds
Sunflower seeds
Cilantro
Olive oil
Lemon juice
Salt
Pepper
Key Point: A keto breakfast doesn't just mean meat and eggs. There is a wide range of delicious things you can make – and these recipes are a great starting point.
Final Thoughts
Some people remain scared of the whole 'high fat' concept.
However, this article shows just how much healthier a real cooked breakfast can be.
Meat, eggs, and veggies provide more nutrition than the very healthiest cereal options.
It is also important to move away from ultra-processed cereals that come in a colorful box.
These foods are frankly nothing more than junk food, and the very last thing we should look for in the morning.
A keto breakfast beats sugary cereal any day of the week.
For more keto articles, see this guide on how keto and paleo differ.