Last Updated on October 4, 2019 by Michael Joseph
In recent years, some researchers have proposed the name 'type 3 diabetes' for Alzheimer's disease.
Significant debate and controversy exist in regard to this term, but some peer-reviewed research suggests some links between blood glucose and insulin dysregulation and Alzheimer's (1).
In short; the name 'type 3 diabetes' covers the hypothesis that Alzheimer's results from insulin resistance of the brain.
This article takes a deeper look at this theory of Alzheimer's.
What is Alzheimer's?
Alzheimer's disease is a chronic condition in which brain neurons slowly degenerate and die (2, 3).
As a result, we see progressive memory loss and rapid declines in cognitive ability (4).
Sadly, the condition can hit anyone.
Someone being physically fit or having an intelligent mind is not relevant; the disease doesn't discriminate, and it takes no prisoners.
A Cruel Condition
Alzheimer's patients typically experience a slow deterioration; patients eventually lose the ability to interact with their environment, communicate, and even remember their family.
Ultimately, Alzheimer's disease is fatal, and patients usually die from a resulting complication such as pneumonia (5).
Worse still, it's not only the patient that suffers.
Alzheimer's caregivers often have to spend all their time and money to look after their family member, and it's a very emotionally and physically demanding job.
Key Point: Alzheimer's Disease is a devastating condition that has been increasing in prevalence. It is seen as a chronic and progressive disease that slowly decreases the patient's ability to think, move, communicate, and live everyday life.
Why is the name 'Type 3 Diabetes' Proposed For Alzheimer's?
There are three types of diabetes:
With this 'type 3' name, Alzheimer's is being associated with the various so-called "diseases of civilization" that are part of the metabolic syndrome (7).
Potential Harms of the Modern Western Diet
For a significant part, these problems stemming from glucose and insulin issues relate to the food we eat.
And unfortunately, the modern Western—perhaps global—diet revolves around industrially processed food.
In fact, a study analyzing consumer purchases shows that 77% of all grocery purchases are either moderately (16%) or highly (61%) processed (8).
These foodstuffs contain significant amounts of calories, sugar, and refined carbohydrates, and eating them constantly can result in prolonged high blood-glucose and insulin levels.
Over time, this can potentially lead to worsening insulin resistance and eventually, metabolic disease (9).
Key Point: Some researchers believe that the modern diet may play a role in the etiology of Alzheimer's disease.
The Potential Link Between Alzheimer's and Diet
Now that we have looked at the theory of Alzheimer's being "type 3 diabetes" – is there any actual evidence to support this?
The truth is that there is no conclusive evidence.
However, some of the existing research suggests there may be links between impaired glucose/insulin and the onset of Alzheimer's disease.
Here is an overview.
Recent Research Findings
The Hypothesis of Alzheimer's and Brain Insulin Resistance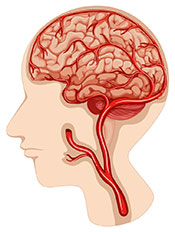 The studies referenced above all suggest that chronically elevated blood sugar and insulin issues may be causational in Alzheimer's, hence the proposed 'type 3 diabetes' name.
According to this theory, here is a simple plain English overview:
As the brain becomes resistant to the effects of insulin, it can no longer efficiently utilize glucose.
When the brain cannot correctly use glucose, it builds up in the brain (hyperglycemia) and leads to oxidative stress and the formation of advanced glycation end products.
Both of these processes further damage the brain, promote accumulation of amyloid beta (plaque in the brain) and impair insulin signaling (17).
According to the theory, our brain's neurons will decline as the rate at which they can utilize energy (glucose) drops.
And eventually, they will die.
Key Point: Some evidence suggests that the pathology of Alzheimer's disease links to brain insulin resistance.
Potentially Supportive Evidence: Alzheimer's Risk Factors
If we look at the risk factors for Alzheimer's disease, then we can see a potentially important pattern.
| | |
| --- | --- |
| Chronic Sleep Deprivation | Lack of Exercise |
| Obesity | Poor Diet |
| Sleep Apnea | |
Interestingly, each of these factors has been associated with the risk of developing Alzheimer's, and each one also relates to how well we metabolize glucose.
In the sections below, you can see the references that support this.
Chronic Sleep Deprivation
Lack of Exercise
Obesity
Poor Diet
Sleep Apnea
Key Point: The major risk factors for Alzheimer's all share a common associations to glucose dysregulation and insulin resistance.
Conclusion
In conclusion, there are some interesting links between glucose dysregulation and Alzheimer's disease.
However, at this point, this is only a hypothesis, and it is too early to promote the name 'type 3 diabetes'.
Hopefully, future research will make the roots of Alzheimer's disease more clear.