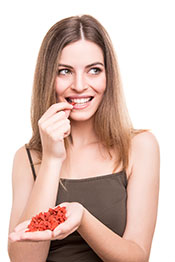 Nutritious meals are always better than snacking.
However, sometimes we feel the urge to eat food away from meal times. In this situation, we often make the wrong choice and opt for highly-processed food products.
Following on from our post on the most nutritious foods, it is time to take a look at snacks.
This article takes a look at 99 healthy snacks across nine different categories, so there is something for everyone.
Use the menu below to see snacks for specific situations (like for school children or office workers), or just keep reading to see them all.
Contents
Best New Snack Recipes on the Web
Healthy Snacks For Kids
1. Fruit Kebabs
With children, the visual appeal of food is a big drawing point, and these fruit kebabs certainly don't disappoint.
In the example above, we can see blueberries, kiwi, pineapple, orange, grapefruit, and a raspberry.
However, there's no need to follow this exactly – just use whichever fruits your children like (or whatever you have at home).
Fruit is nature's candy, and the various sweet flavors of fruit kebabs are a much better option for children than lollipops.
2. Yogurt
Yogurt—in its original state—is one of the healthiest snacks for children.
That said, be careful when you're choosing because most yogurt in stores is full of added sugar and various additives.
Not all children enjoy the taste of plain yogurt, so add some vanilla flavor and a few berries to add some flavor.
That way, it'll be much healthier—and tastier—than the heavily processed store varieties.
3. Sugar-Free Gummy Bears
Gummy bears were one of my favorite snacks when I was young.
Chewy, cute, and a variety of colors and flavors make them an exciting choice for kids.
One problem: they are almost pure sugar.
On the positive side, it is easy to make a healthier alternative at home. For this, you need the following;
Gummy bear mold
Your choice of fruit (strawberries/blueberries are good)
Gelatin powder (1 tablespoon per cup of fruit)
All you have to do is blend the fruit and the gelatin powder, and then gently heat it until it becomes hot.
At this point, take it off the heat and pour into the gummy bear mold when it cools.
Put it in the fridge, and the gummies will set in an hour or two.
4. String Cheese
Most people love cheese, and children are no exception.
While real cheese is a better option, string cheese is relatively healthy, and it's a fun snack for children to take to school.
In addition, it's protein-rich and full of beneficial minerals such as calcium.
A 'bar' of cheese beats a bar of candy!
5. Sweet Potato Fries
Fries are a popular food throughout the world, especially for children.
There's also a good reason for this – they taste delicious.
For many people, the combination of carbohydrate and fat is hard to resist.
But rather than fast food fries (which are full of soybean oil and other unhealthy oils), it's not difficult to make our own at home.
For some tasty sweet potato fries, try the following recipe;
1 lb (454 g) sweet potatoes
2 tbsp oil (olive/avocado/coconut)
Salt
Black pepper
Garlic powder
Italian herbs
First, cut the sweet potatoes into fries of your preferred width and fry them in your oil of choice a few minutes.
Next, put them in a bowl and mix in your seasonings (to taste), and then transfer the fries to a baking tray.
Finally, bake them in the oven at 175°C (350°F) until they start to go brown – approximately 20 minutes.
6. Apple
"An apple a day keeps the doctor away".
In truth, this famous saying isn't quite right – there are many more nutritious foods than apples!
However, an apple is undoubtedly one of the better foods a child might find in their school lunch.
Apples are a sweet treat that provides a decent amount of vitamin C.
7. Cherries
Cherries are another sweet fruit that many young ones will be excited to find intheir lunch.
This favorite fruit is packed with beta-carotene (vitamin A precursor) and vitamin C.
Cherries are also a source of anthocyanins; a polyphenol thought to have various health benefits (1).
In short, cherries make a delicious treat for children.
8. Ham and Cheese Rolls
Ham and cheese wraps are tasty, nutrient-dense, and they're a quick and healthy snack.
To make these, just thinly slice some cheese and put a slice of ham on top, and roll them up.
Simple!
9. Cheesy Garlic Zucchini Chips
Here's another simple recipe for a quick bite to eat.
To make these cheese and garlic zucchini chips, just follow these instructions;
Slice two zucchinis into thin circular pieces and put them in a bowl. Add 1 tsp salt, 1 cup (100 g) parmesan cheese, 1 tbsp garlic powder, and 1 tbsp Italian herbs.
Break an egg into the bowl and then add 2 tablespoons of olive/avocado oil.
Mix everything, and then put the zucchini chips on an oven tray.
Cook at 175°C (350°F) for approximately 20 minutes until the chips start to brown and go crispy.
These zucchini chips are a yummy snack which your children will love.
10. Steamed Cabbage Beef Dumplings
Typical dumplings may taste good, but they're full of refined carbohydrates.
To make them a little bit healthier, we can replace the outer wheat layer with large cabbage leaves.
First of all, mix the following ingredients to make the filling;
1 lb (454 g) ground beef
1 tbsp tamari/soy sauce
Pinch of black pepper
5 minced garlic cloves
Pinch of ground ginger
Next, take the mixture, place it inside large cabbage leaves, and wrap the leaves into dumpling-sized parcels.
Finally, steam the dumplings for 15-20 minutes until they're done.
This recipe certainly makes ground beef and vegetables a lot more exciting from a child's view!
Snacks For Work
11. Peanuts
Peanuts are actually a legume rather than a true nut.
However, they share lots in common with nuts since they are full of healthy fats.
This pseudo nut makes an excellent snack for the office since you can just leave a tub on your desk.
Per ounce, they provide 7g protein, 4g carbohydrate, and 14g fat.
Additionally, they provide significant amounts of magnesium, B vitamins and iron (2).
12. Dried Fruit and Nut Trail Mix
Preparing a trail mix of nuts and dried berries provides a healthy work snack that you can leave on your desk.
Try a variety of different ingredients like pecans, cashews, macadamias, and peanuts, and add a few goji berries or your dried fruit of choice.
Remember to go easy on the dried fruit though – it's very high in sugar compared to fresh fruit.
99 Healthy Snacks For All Occasions
Share With Friends
13. Pecans
Pecans are one of the most nutrient-dense foods from the nut kingdom.
They provide a large number of essential minerals, particularly manganese, copper, zinc, and magnesium (3).
Additionally, they are one of the most polyphenol-rich foods in the world.
A handful of pecans each day is great for a quick and healthy snack.
14. Vanilla Quark
There's probably about a 50% you don't know what quark is.
In short, it's a fresh dairy product (technically cheese) that is incredibly low in both carbohydrate and fat.
Quark is made by warming soured milk until it reaches the desired consistency through curdling.
Per 100g quark provides (4);
4 grams of carbohydrate
7 grams of fat
7 grams of protein
Since many people find the taste a little sour, you can boost the flavor by adding some vanilla extract and a few berries.
15. Chicken Salad
For some light and nutritious refreshment, throw together a chicken salad and take it to work in Tupperware.
Salads can be a little boring, so use whichever ingredients you enjoy most.
Additionally, healthy fats help to improve the flavor and mean better absorption of fat-soluble vitamins.
If you're struggling for ideas, the following recipe is a good one;
Chicken
Romaine lettuce
Cherry tomatoes
Black olives
Grated cheese
Bacon pieces
Healthy/homemade mayo
Salt
1-2 tbsp freshly squeezed lemon
Just use your desired amounts of each ingredient.
16. Hazelnuts
Hazelnuts are another nutrient-dense nut that provides a quick and convenient office nibble.
This nut contains exceptionally large amounts of manganese, vitamin E, copper, and magnesium (5).
If you feel like making a quick recipe, they also taste great with a coating of dark chocolate.
17. Chicken and Mushroom Soup
Blend 60ml (2 fl oz) cream, 180ml (6 fl oz) milk and 180ml (6 fl oz) chicken broth to make the soup base.
Next, saute some chicken, onions, garlic, and mushrooms in a pan with butter.
Following this, add the soup base and stir until the mixture thickens.
Put the soup in a flask and take it to work and you'll have a healthy and filling snack (or lunch).
If you use an insulated food flask, it will stay hot for about 6 hours.
18. Meatballs
While most commercial meatball products are far from healthy, it's easy enough to make your own.
Use ground meat, garlic powder, an egg, and veggies, mix, and then bake them in ball-sized shapes.
The following recipe works well;
1 lb (454g) ground beef
1 egg
2 oz (60g) grated cheese
1 tsp garlic powder
Salt and pepper (to taste)
2 minced garlic cloves
19. Tuna Salad
Similar to the earlier chicken option, putting a tuna salad together takes no time at all.
Additionally, it's very high in protein, and tuna provides a range of beneficial nutrients such as B vitamins, vitamin A, and magnesium (6).
20. Baked Apple Chips
Struggling to quit potato chips and other unhealthy snacks?
Well, baked apple chips are a much healthier option, and they're a tasty snack for the office too.
Fortunately, they're also incredibly easy to make.
All you have to do is slice an apple into thin slices, sprinkle cinnamon (or pumpkin spice) over it, and then bake in the oven until the apple slices are dried.
Around 45 minutes at 200°C (392°F) should be about right.
Here's a nice article on how to slice apples.
Protein-Rich Snacks
21. Hard-Boiled Eggs
Some people refer to eggs as mother nature's "multi-vitamin."
Given the impressive range of nutrients eggs bring, this name isn't inaccurate.
Eggs are bursting with protein and they contain enough vitamins and minerals to earn the name of a 'natural multi-vitamin'.
For instance, a serving of just four eggs provides large amounts of the following nutrients;
Protein: 25.2 grams
Selenium: 88% RDA
Riboflavin 56% RDA
Vitamin B12: 44% RDA
Phosphorus: 40% RDA
Vitamin A: 28% RDA
Additionally, eggs contain smaller amounts of almost every vitamin and mineral.
22. Cottage Cheese and Berries
Cottage cheese is a type of fresh dairy food. To be precise, it is a fresh curd which has a very light flavor.
Cottage cheese is very high in protein and contains moderate amounts of carbohydrate and fat.
On a per 100g basis, the macronutrient profile is as follows;
Carbohydrate: 8 grams
Fat: 10 grams
Protein: 25 grams
Due to the high protein content, cottage cheese is very filling and it's great for satiety.
Since it comes in a pot similar to a yogurt, it's a healthy snack idea for when you're out and about too.
23. Beef Jerky
Since good beef jerky is nothing more than beef, jerky is another high-protein snack that contains moderate amounts of fat.
Considering its dried form, it's also suitable for all occasions, and you can enjoy it at home or outside.
It's a good idea to check the ingredients just to make sure it's genuine dried beef; sadly, some products contain large amounts of unnecessary cheap fillers.
If you have a food dehydrator, then you can also make jerky from home and season it however you like.
24. Protein Bar
Protein bars are widely available; they contain little carbohydrate and they're very high in protein.
Whole food sources of protein are more nutritious, but these bars are handy for outside the home.
Quest bars are one option, but there are many different brands which offer reasonably nutritious options.
Ideally, look for bars free of vegetable oils which contain minimal/no added sugars.
25. Piece of Cheese
A quick and healthy snack doesn't get much easier than this.
Just get hold of your favorite cheese and cut a piece off for a tasty bite to eat that provides a wide range of nutrients.
All cheese offers a particularly high source of protein and the essential mineral calcium.
Additionally, a building wealth of studies show that dairy fat is incredibly healthy and seems to reduce the risk of cardiovascular disease (6, 7).
Personally, my favorite cheeses are mature cheddar, gruyère, and camembert.
26. Protein Shake
Similar to protein bars, products such as whey protein powders/shakes offer a reasonably good source of protein.
Their biggest advantages are that they are high in protein, very low in calories, and have an almost non-existent carbohydrate content.
For those looking to increase protein without the added carbs/calories, this makes them a perfect option.
Per one ounce (28g) serving, protein shakes typically contain around 100 calories and 20-24 grams of protein.
"Snacks" can be a drink too!
27. Almonds
Almonds might just be the most nutrient-packed type of nut in the world.
As a result, just a small handful brings a variety of different vitamins and minerals into the diet.
Almond flour is also an interesting replacement for white flour in low carb baking recipes.
Per 100g, these nuts contain large amounts of the following nutrients;
Protein: 21.2 grams
Vitamin E: 131% RDA
Manganese: 114% RDA
Magnesium: 67% RDA
Riboflavin: 62% RDA
Copper: 50% RDA
28. Beef Bites
Here's another protein-rich, low carb snack idea.
All you have to do is season some beef and then cook it up.
When it's done, chop it into bite-sized pieces and eat them at home, school, work, in a salad – or however else you want.
29. Dried Squid
For a lot of people, the idea of eating dried squid might be offputting.
However, it's a heart-healthy snack that is very nutrient-dense.
For one thing, squid provides large amounts of protein, copper, selenium, and other essential minerals.
This food is most popular in Asian countries such as Japan, Korea, and Vietnam.
However, it's available on Amazon, and you can also buy it in Asian/Chinese markets if you look around.
30. Can of Tuna Mixed With Mayo
Tinned tuna is cheap, nutritious, and full of protein – about 30 grams per can.
It's a healthy and filling snack that makes a great option for those looking for low-carb, high-protein foods.
Mix it up with some mayo and veggies of your choice for a quick bite to eat.
Note: most commercial mayonnaise contains highly-processed seed oils. As a better option, try making some homemade mayo or opt for one that uses natural fats like avocado oil.
For People With Diabetes
People with diabetes have unique dietary needs and often choose to limit sugar and carbohydrates.
Here are ten healthy snacks that are sugar-free and low in carbs.
31. Cucumber Slices Topped With Peanut Butter
Many people love peanut butter and crackers, but its the peanut butter that provides the most flavor.
Fortunately, many other foods can act as a carrier for the peanut butter – and these include celery, avocado, and cucumbers.
For a quick cracker replacement, slice up a cucumber and top each slice with peanut butter.
It's a healthy, refreshing snack and the combination works well.
32. Brazil Nuts
Brazil nuts are one of the most exciting nuts, and the first bite gives a somewhat dry taste with a creamy middle.
They are also huge, and their large form is packed with various beneficial nutrients.
Among these nutrients, they are an exceptional source of the mineral selenium. Notably, 100g of Brazil nuts provides 2730% of the recommended daily allowance (8).
In fact, you should only eat about three Brazil nuts per day (on average over a week) to avoid overdosing on selenium. A few per day or a handful once per week is enough.
All in all, Brazil nuts are a healthy and conveniently portable snack which you can eat anywhere.
33. Cheese and Bacon Breakfast Egg Muffins
To make this recipe, you need the following ingredients;
4 large eggs
4 slices of bacon
1 oz (28g) grated cheese
1/4 cup (56g) of spinach
Salt/pepper/mashed garlic to taste
Firstly, chop the spinach and bacon into bite-sized pieces and then mix everything.
Pour the mixture into a muffin tray and cook at 175°C (350°F) until the muffins firm up and show signs of browning.
These breakfast muffins are high in protein, low carb, and incredibly delicious.
Enjoy them!
34. Quark With Berries and Nuts
Here is a high-protein snack that's also full of healthy fats and vitamins.
All you need to do is add your choice of nuts and berries to a pot of soft quark cheese, and mix.
It takes a minute to make, and it's a filling snack that will keep you going until the next meal.
This snack also makes an excellent light lunch.
35. Black Olives
Olives are possibly the healthiest fruit in the world, and they're full of beneficial fats and health-protective polyphenols.
For me, black olives are especially delicious, and they make a tasty and convenient snack.
Eat them at home, in the office, on a picnic, or just about anywhere.
They also combine well with cheese and red wine for those who like to make cheese platters.
36. Turkey and Cheese Roll-Ups
Turkey and cheese roll-ups are a quick and healthy snack option that provides a lot of protein but minimal carbohydrate.
On the positive side, they only take a few minutes to make too.
First, lay out some turkey slice so the kitchen counter.
Secondly, put some cream cheese, a piece of cheese, and some crunchy salad in the middle of the turkey slice.
Next, all you have to do is roll the turkey slices up, and then they're ready.
37. Bacon and Cheese Stuffed Bell Pepper Boats
Cut a bell pepper in half to make two 'boats'.
Next, lightly fry some bacon and then chop it into small pieces.
Mix these bacon pieces with grated cheese, onion, and chopped mushrooms and then stuff the mixture into the bell pepper boats.
Finally, cook them in the oven at 175°C (350°F) for around 15 minutes.
These protein-packed snacks taste delicious and they're very nutritious too!
38. Poached Eggs
For a quick home-cooked snack, try making some poached eggs.
Eggs are one of the most nutrient-dense foods in the human diet, and they're full of protein, which is great for satiety.
39. Almond Flour Coated Chicken Drumsticks
Fried chicken isn't a good option for those with diabetes.
For one thing, it's covered in refined white flour and fried in cheap, highly-processed vegetable oils.
However, if we make chicken at home, we can choose healthy and nutritious ingredients.
Here's one method;
Firstly, break an egg into a bowl and mix some almond flour, 1 tsp curry powder, salt, and black pepper in another bowl.
Secondly, dip the chicken drumsticks into the egg followed by the almond flour, to give them a nice coating.
Lastly, put them in the oven on a grill and bake them at 200°C (390°F) until they are done.
40. Feta Cheese Stuffed Kalamata Olives
Kalamata olives are tasty enough in their pure state.
They're even tastier when stuffed with feta cheese, and this is a standard option you can find in stores.
Additionally, olives offer a wealth of health benefits.
Markedly, they're rich in healthy fats, full of nutrients, and one of the most abundant sources of polyphenols in the world.
On-the-Go
Sometimes, we're in a rush and don't have time to prepare food ourselves.
In this situation, most of us grab some fast food or candy/bakery items. So, here are ten healthy 'grab and go' snack ideas.
41. Walnuts
It's easy to find walnuts in almost any grocery store, or you could just take a handful with you from home.
Walnuts have a rich but slightly bitter taste, so they're not for everyone, but they're certainly nutrient-dense.
Walnuts are full of protein, fiber, and contain significant amounts of manganese, copper, and magnesium (9).
42. Lettuce-Wrap Burger
Fast food usually isn't good for you.
Buy a burger and you're getting beef and some poor excuse for bread that's full of vegetable oils, bleaching agents, and ultra-processed white flour.
The burger inside?
Well, that's usually 100% beef. Not so bad at all!
So, instead of choosing a standard burger in a bun – opt for a lettuce-wrapped burger.
All the benefits of the beef, with the addition of a few nutrients from the lettuce and salad.
43. Cocoa Nibs
It's common knowledge that dark chocolate is healthier than sugar-laden milk chocolate.
The reason why is simple; it contains much more cacao and doesn't come with the negatives of sugar.
For this reason, 100% pure cacao nibs offer a substantial amount of nutrients and polyphenols.
If you can stand the bitter taste, then cacao nibs are one of the healthiest snack ideas.
44. Whole Milk
Milk is available almost anywhere.
If you're desperate for something to eat and can't wait until meal time, then milk is a quick, cheap and convenient option.
Providing you tolerate dairy well, it's also a healthy option.
Milk provides us with protein, dairy fat, and various vitamins and minerals – particularly calcium.
It tastes good too!
45. Pistachio Nuts
Pistachio nuts have one problem; they are difficult to open!
Aside from that, though, once you get to the nut inside, they taste delicious.
With a salty and flavorful taste, pistachios are one of the best-tasting nuts available. 
Additionally, they're reasonably nutritious too and contain significant amounts of protein, B vitamins, copper, and manganese (10).
And if you ever felt like they taste similar to cashews, that's because they are part of the cashew nut family, otherwise known as 'Anacardiaceae'.
Taking a handful to work provides ones of the tastiest on-the-go snacks.
46. Tin of Sardines
Sardines might not be your favorite fish, but they are arguably the most nutritious fish available.
In addition to being packed with vitamin D, selenium, and vitamin B12, they also provide an abundance of omega-3 (11).
Since we eat sardines in their whole form—including bones—we can obtain a decent amount of dietary calcium too.
Due to the fact they come in a ring-pull tin, they are a convenient snack that we can eat anywhere.
47. Pumpkin Seeds
Pumpkin seeds are a good option for on-the-go snacking, but they don't offer anything special in the taste department.
But that's OK!
Add a pinch of curry powder, and a little bit of salt, black pepper, and garlic powder, and then shake the bag.
This seasoning totally transforms the taste and gives the pumpkin seeds extra nutritional value too.
48. Caffe Latte (Unsweetened)
When you're out and about, it's always easy to find a cafe.
They're everywhere.
Opting for a caffe latte is basically just drinking coffee-flavored whole milk, and it offers the same nutritional benefits.
In fact, it's probably better for you thanks to the polyphenol content of the coffee.
However, a caffe latte and sugar-sweetened versions (like macchiato and mocha) are entirely different.
These drinks contain vast amounts of sugar and don't fit into the 'healthy' bracket, so go for a standard unsweetened latte.
49. Cherry Tomatoes
Cherry tomatoes are a great healthy idea.
They are a small round fruit that is a cross between cultivated tomatoes and wild tomato currants.
Just grab a punnet of them, give them a quick wash, and snack on them throughout the day.
50. Pork Rinds (Crackling)
Instead of eating heavily refined potato/corn chips cooked in vegetable oils, why not give pork rinds a try?
Pork rinds are simply pork skin cooked in their natural fat (lard) until they're crunchy and crispy.
Pork rinds provide valuable nutrients too.
Notably, pork skin is one of the biggest dietary sources of the essential amino acid glycine.
Sweet Snacks
Looking for some tasty snacks and you have a bit of a sweet tooth?
Worry not, there are some decent options which are relatively healthy.
51. Strawberries and Cream
Strawberries are small, sweet red berries that grow throughout the world.
They're both delicious and nutritious, containing a decent amount of vitamin C and a wealth of phytonutrients.
However, they don't taste quite the same without some cream.
Strawberries and cream is a traditional dessert, and it has been enjoyed for hundreds of years
If your children (or you!) want a sweet pudding, then this one is hard to beat when it comes to taste.
52. Coconut Cream Hot Chocolate
For a thick and creamy hot chocolate, give coconut cream a try instead of milk.
The taste is rich and the consistency smooth and velvety.
To make it, use the following ingredients per person;
150 ml coconut cream
150 ml milk
1 tbsp cacao/cocoa powder
Pinch of salt
Stevia sweetener (optional)
Add everything together into a pan, and mix the cacao powder into the liquid.
Slowly bring to the boil, and then simmer and mix until you have a smooth consistency.
Nutrition wise, the drink provides a variety of minerals and polyphenols.
However, this one should be an occasional treat – it's very high in calories/energy.
53. Dark Chocolate
For a tasty and relatively healthy snack, what beats dark chocolate?
In my book, there are not a lot of things.
Chocolate has been consumed for thousands of years since being discovered by Ancient Mexican people.
And there is a good reason; chocolate is delicious.
It's also surprisingly rich in vitamins and minerals, and chocolate can claim to be one of the most significant dietary sources of magnesium (12).
For the most benefit, ideally, aim for (at least) 70% cocoa content or higher (preferably 85% +).
54. Sugar-Free Flavored Latte
If you want a sweet treat without the sugar, then using a sweetener is a better choice.
The more natural sweetener options include products such as stevia, erythritol, and xylitol.
You can pick up many flavored ones online, such as vanilla and caramel flavors.
While these shouldn't be called "healthy", there's no real evidence of them causing any harm.
Make a latte and add a few drops – it's certainly a lot better than the corn syrup based flavoring options you find in cafes!
55. Creamed Chocolate Coconut Bar
For one of the simplest, yet tastiest sweet snack options, how about making your own creamed chocolate coconut bar?
To do this, you need a bar of creamed coconut and cocoa powder.
Per one creamed coconut bar, pair it with about 3 oz (85g) of dark chocolate and then melt the two together, mix well, and then allow to set.
Put the mixture in the fridge and it will harden, leaving you with a homemade chocolate coconut bar,
56. Blackberries
Most people have a favorite type of berry, and mine are blackberries.
Blackberries are a soft and sweet-tasting bramble fruit, yet they contain little carbohydrate or sugar.
The blackberry is also one of the most polyphenol-rich fruits around, and it contains a decent amount of vitamin C, K, and manganese.
Similar to strawberries, they taste best when combined with fresh cream.
57. Bacon Rashers Coated in Dark Chocolate
Here's another unique option.
It's bacon – the key point being that it is covered in dark chocolate!
To make it is simple, just grill or fry up some bacon rashers, melt some dark chocolate, and then coat the bacon with dark chocolate.
Put the chocolate rashers in the fridge, and they'll be ready about 30 minutes later.
58. Raspberries
Raspberries offer similar benefits to strawberries and blackberries – plenty of vitamins and polyphenols.
The raspberry usually comes in a shade of red somewhere between pink and purple.
They're also a sweet-tasting snack despite having a negligible sugar content.
If you have some cream handy, then—just like the other berries—it boosts the enjoyment factor.
Fresh cream and berries are one of the best healthy snack ideas.
59. Sugar-Free Jelly (Jello)
Again, this one isn't the most nutritious of options, but it's sugar-free and offers a dessert that children will enjoy.
Ideally, go for one without all the artificial additives and flavorings.
For instance, Simply Delish is sweetened with stevia and contains no artificial colorings or preservatives.
60. Avocado Chocolate Mousse Pudding
Avocado chocolate mousse is a nutrient-packed creamy treat.
Firstly, it requires the following ingredients;
2 avocados
1/2 cup (50g) unsweetened cocoa powder
2 fl oz (60 ml) heavy cream
1/2 tsp salt
Sweetener – to taste (optional)
Turning avocado into a chocolate mousse might sound like a complicated process, but it's surprisingly simple.
Scoop the avocado flesh out, remove the seed, and add to a food processor alongside the other ingredients.
Secondly, just blend the mixture until it becomes smooth – and enjoy!
Salty Snacks
Salty and sweet are two of the five recognized tastes.
Here are some snacks that emphasize the salty and avoid the sweet.
61. Celery Sticks and Peanut Butter
Quick and easy to make, and nutrient-dense too!
Take a few celery stalks, cut them into small sticks, and then top them with peanut butter.
This quick snack gives you protein, healthy fats, and lots of vitamins and minerals.
It tastes pretty good too, and it's an easy way to get children to eat some greens.
62. Prosciutto and Cheese Sticks
Here's another simple one that takes no time to make.
Cheese and prosciutto are both salty yet reasonably healthy foods, but combine them, and they're even better.
Firstly, slice some cheese into stick shapes and then wrap each stick with a slice of prosciutto cheese.
They only take a minute to prepare; they're high in protein, nutrient-dense, and delicious.
63. Salted Macadamia Nuts
Many people say that macadamia nuts are the best-tasting out of all nuts, and I'd have to agree with that.
Macadamias have a kind of outer crunch with a soft, buttery and creamy middle and they're very satisfying.
The soft buttery taste makes sense when we consider that macadamia nuts are primarily fat – 75% to be precise!
All it needs to make them taste even better is a sprinkle of salt, and salted macadamia nuts are one of the best salty snacks out there.
64. Dried Seaweed Nori
Seaweed is a regular part of the diet in East Asian countries like Japan and Korea, yet it's unusual in the West.
The scarcity of seaweed is a shame since it has so many great health benefits.
For one thing, it's the most substantial source of dietary iodine, and in areas with insufficient iodine in the soil deficiency is rife (12).
Dried seaweed sheets are tasty alone, salted, or with some cream cheese and crunchy vegetables in the middle.
They work well as a bread replacement for a healthy "sandwich" too.
65. Salted Cashews
Cashews are yet another tasty, nutritious nut that makes an excellent salty snack.
Compared to most nuts, cashews are surprisingly high in carbohydrate (32g per 100g) and lower in fat (42g per 100g).
That said, cashews don't disappoint regarding their nutrient profile. Per 100g they offer (13);
Copper : 110% RDA
Manganese: 83% RDA
Magnesium: 73% RDA
Phosphorus: 59% RDA
Vitamin K: 43% RDA
Zinc: 39% RDA
Iron: 37% RDA
Just add a handful to a container, sprinkle with salt, and give them a shake.
66. Zucchini Pizza Boats
Zucchini pizza boats are simple to make and offer a smart substitute for standard pizza.
Slice some zucchinis down the middle, and fill each half with tomato puree, grated cheese, and any other ingredients you want.
After that, bake them in the oven for about 10-15 minutes until they're ready.
The combination of tomato and melted cheese never fails, and these are a healthy snack sure to be popular with everyone.
67. Ginger Sesame Garlic Shrimps
For an easy but delicious Chinese-inspired snack, gently fry shrimp in butter.
During frying, add a few cloves of mashed garlic, ginger, soy sauce, and a small amount of sesame oil.
Here are the ingredients you need;
1 lb (454g) shrimp
3 tbsp soy sauce
5 mashed garlic cloves
1 tsp mashed ginger
1 tsp sesame oil (mix in after taking off the heat)
After cooking, give everything a good mix and then serve.
This recipe could be a snack or a meal, and only takes 10-15 minutes in total.
68. Kimchi
The Korean staple was relatively unknown until the last five years, but now it's easy to find (and recipes are everywhere).
This concoction of fermented cabbage, garlic, ginger, fish sauce, salt, and red pepper packs a fiery and salty taste.
While the pungent smell may put first timers off, it's very moreish and provides a lot of nutritional value.
Perfect for a quick salty snack!
69. Sashimi With Soy Sauce
Due to the price, we generally only eat sashimi in small portions.
It can be a lunch, dinner, or just a small refreshment.
However, this Japanese staple is a healthy idea for when you want a light bite to eat. Fish provides lots of omega-3 fatty acids in addition to various minerals, and it tastes great too.
Combine it with a traditional soy (tamari/shoyu) sauce and enjoy a deliciously salty taste of the sea.
70. Steamed Cabbage Beef Dumplings
For some dumplings without all the refined white flour, cabbage leaves make a satisfying substitute.
To make these dumplings, prepare the following;
8 large-sized cabbage leaves
1 lb ground beef/pork (mince)
3 cloves of mashed garlic
1 tbsp soy sauce
2 oz diced chives
Salt and pepper to taste
First, add all the ingredients together in a bowl (except for the cabbage leaves) and mix well.
Next, place the mixture in the middle of each cabbage leaf and wrap/roll the cabbage up. It should feel tightly wrapped.
Finally, put the cabbage dumplings in a steamer and steam for approximately 10 minutes until cooked.
Serve them with a traditional soy sauce for a healthy salty snack.
Key Point: Despite salt having been somewhat demonized in the press, there are many healthy salty foods and they taste great.
Easy to Make
71. Dark Chocolate Covered Strawberries
What tastes better than dark chocolate and strawberries?
Perhaps the answer to that question is dark chocolate strawberries! They are a healthy treat that everyone will love, they're convenient, and they're portable.
To make them, just melt your choice of dark chocolate in a bowl, add a touch of salt, and then add the strawberries.
Next, make sure the strawberries are well coated in the chocolate and then transfer to the fridge.
A few hours later, the chocolate will have solidified again, and you'll have some delicious looking chocolate strawberries.
72. Dark Chocolate Coated Macadamia Nuts
Sticking with the chocolate coating theme, macadamia nuts are another food that makes a great combination with chocolate.
Follow the same procedure as for the strawberries, and add the macadamias to a bowl of melted dark chocolate.
After making sure the macadamia nuts are evenly covered in dark chocolate, sprinkle a little salt over them and transfer to the refrigerator.
73. Flour-Free Peanut Butter Cookies
Peanut butter cookies are a healthier cookie than most store-bought options, and they're easy to make too.
This particular recipe is gluten-free, sugar-free, and contains no refined carbohydrate.
You only need three ingredients too;
1 cup (250 g) peanut butter
1 cup (225 g) erythritol
1 egg
Mix the ingredients well, and then rub the mixture together between your palms to form ball-shaped pieces.
Add each one to the baking tray, and flatten them to make them look more like a cookie shape!
Cook them in the oven at 175°C (350°F) until they show the slightest hint of brown color, and then remove.
Note: after removing from the oven, they will still be very soft and crumbly. But they will harden as they cool, so leave them for about half an hour before moving them.
74. Egg Salad Cucumber Boats
Slice some cucumbers down the middle to create two halves and chop them into bite-sized pieces.
Next, for the egg salad use;
4 hard-boiled eggs
1/4 cup (65g) of greek yogurt
1 stem diced celery
1 small onion finely chopped
Salt and black pepper to taste
Combine all the ingredients and mix.
Following this, spread the egg salad on top of the cucumber pieces.
This healthy snack option only takes 5-10 minutes to prepare, and it provides a lot nutritionally too.
75. Homemade Pickles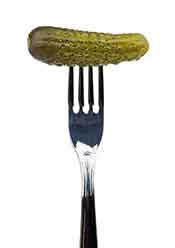 It's easy to make pickles at home, and they're a convenient snack for any time of day.
All you have to do is put some veggies (such as cucumber, onions, and radish) in a glass jar.
Next, bring a mixture of water and vinegar (65:35 ratio) and salt to the boil.
Once cool, pour this mixture over the vegetables, seal the jar, and move to the refrigerator.
They'll be ready after a few days, but they usually taste best after about a week.
76. Sweet Potato Chips
Here's another easy snack: sweet potato chips.
Just follow the following instructions;
Thinly slice some sweet potatoes and add them to a large bowl.
Next, toss them with avocado/coconut oil, salt, black pepper, garlic powder and Parmesan cheese.
Move the chops to a baking tray, and bake at 175°C (350°F) until slightly crispy (10-15 minutes.)
These are very tasty, and they beat any potato chips you'll find in a shop when it comes to health.
77. Cream Cheese Avocados
Cream cheese and avocados offer a wealth of nutritional benefits and they taste great together.
Slice an avocado, remove the seed, and spread cream cheese on top of both halves.
This is a simple snack that is high in protein, fiber, healthy fats, and vitamins and minerals. It has the extra benefit of tasting great!
78. Cheese Platter
If you keep cheese in the house, then a quick cheese platter is a healthy and speedy snack.
Combine a few different varieties of cheese, add a few olives and cured ham (if you have some).
Other possible additions include nuts, dark chocolate, and of course – red wine is always a good pairing.
Perfect for a light weekend meal with a movie.
79. Cream Cheese and Pumpkin Cakes
For a healthy cupcake, we can use pumpkin instead of refined flours and sugar.
Naturally sweet, pumpkin offers beneficial nutrients as well as excellent taste.
Just use the following ingredients;
2 cups (450 g) homemade pumpkin puree
6 tbsp almond flour
1 egg
1/2 cup (115g) erythritol
1 tsp baking powder
1/2 tsp salt
1 tbsp pumpkin pie spice mix
Mix all the ingredients until you have a consistent mixture, and then spoon into a cupcake baking tray.
Cook at 175°C (350°F) for approximately 20 minutes.
These make a great healthier alternative to store-bought cakes for the little ones.
80. Creamy Pumpkin Soup
It's always a good idea to make soup in bulk, and then we can re-heat whenever we need it.
For a creamy pumpkin soup that's ready in less than 10 minutes, prepare the following ingredients;
4 cups homemade pumpkin puree/mashed pumpkin
2 cups heavy cream
4 cups of chicken (or vegetable) broth
2 tbsp pumpkin pie spice mix
2 tsp salt
Black pepper (to taste)
Start by heating some butter in a pan, add the pumpkin and fry gently until soft and consistent.
Next, add the rest of the ingredients, bring to the boil, and simmer for about 10 minutes.
Once it is ready, you can either freeze (long-term) or refrigerate (short-term) the soup and use it when required.
Vegetarian
This section contains snacks suitable for vegetarians.
However, they do contain dairy so are mostly unsuitable for vegans.
81. Cucumber Boat With Garlic Sour Cream
Slice some cucumbers down the middle and fill with garlic sour cream for healthy fats, nutrients, and great taste.
To make the garlic sour cream is so simple. First of all, buy a pot of sour cream, and blend it with half a teaspoon of salt and five mashed garlic cloves.
Cheap, easy, quick, and tasty.
82. Stir-Fried Broccoli and Peanut Butter
Peanut butter and broccoli?
Really?!
Don't worry, it tastes better than it sounds – and it's a favorite combination in Thai cuisine.
Furthermore, it's a great snack for vegetarians — it provides fat, protein, and a decent amount of nutrients too.
To get started with this one, heat some coconut oil in a frying pan and add one cup of broccoli florets.
Next, add two tablespoons of peanut butter, four cloves of garlic, two teaspoons of soy sauce, and a teaspoon of grated ginger.
Fry gently until the broccoli starts softening, and then serve and enjoy.
83. Cauliflower Cheese (Gratin)
Otherwise known as gratin, cauliflower cheese is a classic dish that almost everyone loves.
To be honest, this is almost a meal rather than a snack, but it's a great idea when you just want a little extra food.
For a straightforward version, combine the following ingredients;
2 lbs (900g) cauliflower florets
2 cups (250g) grated cheese
1 egg yolk
1 cup (240ml) heavy cream
1 tsp curry powder
4 cloves of mashed garlic
1 tsp mustard
1 tsp salt
Black pepper to taste
First of all, gently cook the cauliflower in a pan with some butter. Once it softens, transfer to an oven dish.
Second, combined the egg, cream, curry powder, mustard, garlic, salt, and pepper and mix well.
When the sauce mixture is consistent, pour over the cauliflower florets.
After this, work in the grated cheese and spread it evenly around the oven dish. Leave one handful of cheese to spread across the top.
Lastly, spread the remaining cheese across the surface of the dish and bake in the oven at 175°C (350°F) for about 30 minutes.
84. Parmesan Kale Chips
Parmesan kale chips are one way to give kale a more interesting taste.
Fortunately, they're not so difficult to make either.
All you need to do is toss some chopped kale leaves with oil (coconut/avocado/olive), a little lemon juice, salt, and black pepper in a bowl.
Once the kale chips are evenly coated, transfer to a baking tray and sprinkle them with garlic powder and parmesan cheese.
Bake for about 10 minutes until they take on a crispy form, and then they're ready.
These chips are a healthy snack that helps to get some veggies in!
85. Guacamole With Vegetable Sticks
Guacamole and vegetable sticks are an easy, healthy and delicious snack.
If you're looking to save time, you can find buy guacamole from a local market.
A healthy guacamole shouldn't contain any additional oils.
Make some vegetable sticks using carrots and celery and then enjoy the guacamole.
This healthy idea is great for almost everyone (because who doesn't like guacamole?)
It's suitable for vegans too!
86. Breaded Garlic Mushrooms
Mushrooms taste delicious already, but combining them with garlic and a crispy coating tastes amazing.
It's so simple too.
First of all, put your desired amount of almond flour and garlic powder in a bowl and mix together.
Next, lightly fry your choice of mushrooms until they're soft.
Once they're ready, dip them in the flour mixture until they're evenly coated.
After this, put them in the oven for about 15-20 minutes until the coating becomes crispy.
This snack is suitable for both vegetarians and vegans, and it's very tasty too.
87. Cheese, Cucumber, and Cherry Tomatoes
Really short on time and just want a quick bite to eat?
The combination of cheese, cucumber, and cherry tomatoes works well.
The cheese provides healthy protein and fats, and the cucumber and cherry tomatoes provide a range of vitamins and a satisfying crunchy taste.
It's a little boring, but it's an easy snack which only takes a minute to put together.
88. Bell Peppers With Garlic Cream Cheese
Cut some red and yellow bell peppers in half, and fill them with garlic cream cheese for a creamy, crunchy, and juicy snack.
You can buy a pre-made garlic cream cheese, or you can make your own using mashed garlic.
This is an easy and tasty treat — and it's healthy too.
89. Mixed Olives
Olives are one of the healthiest foods on the planet.
Hundreds of studies show that these little fatty fruits confer dozens of health benefits.
They're rich in healthy fats, minerals, and they are one of the most polyphenol-rich foods in the world.
For a healthy and delicious snack, just prepare a mixture of your favorite green, black, and purple olives.
This snack has the additional benefit of being suitable for everyone.
Whether you're following a paleo, keto, vegetarian, vegan, or any other dietary system — olives are A-OK!
90. Portobello Mushroom Cheese and Tomato Pizza Bites
The toppings on pizza aren't the problem.
The unhealthy qualities of pizza come from the base, which tends to be full of white flour and soybean/rapeseed oil.
This healthy snack replaces the bread with a big juicy portobello mushroom.
All you have to do is get some portobello mushrooms, stuffed them with tomato puree, grated cheese, and any additional veggies of your choice.
Bake for 15-20 minutes until the cheese melts and the mushroom is slightly crispy on the outside.
Recipes From Around the Web
Hopefully, this list of healthy snacks has been useful to you.
However, there are many great websites out there which produce delicious recipes on a daily basis, and it would be a shame not to include a few.
So, here are ten of the best new snack recipes that I came across!
91. Peanut Butter Protein Balls (by Low Carb Maven)
These low carb protein balls are made from only three ingredients; whey protein, peanut butter, and stevia.
As you can see from the picture, they look delicious.
The peanut butter and whey protein make them a protein-rich snack that you can take with you to the gym or the office.
Or just enjoy them at home!
Low Carb Maven is one of my favorite recipe sites, and they never disappoint – just click the button to see the recipe in full.
92. Low Carb Berry and Chocolate Chip Ice-Cream (Ditch the Carbs)
Ditch the Carbs is another recipe-focused site where every single recipe is virtually guaranteed to taste amazing.
This particular recipe is very unique, and it combines raspberries and chocolate chips with vanilla-coconut ice-cream.
And even better – it's sugar-free!
It seems like an exciting idea for the upcoming Christmas season, and it's also perfect for a warm summer's day.
Give it a try!
93. Paleo-Vegan Coconut Cranberry Bars (the Big Man's World)
Here's a paleo-style snack that's also suitable for vegan dieters.
There's nothing off-putting than seeing a recipe with dozens of ingredients, but this one keeps it simple.
In fact, there are only four ingredients.
Like the last recipe, this one is also rather unique; it combines coconut oil with unsweetened cranberries and 100% coconut flakes.
As a result, you can expect a creamy, sour but sweet taste that's sure to please.
This is another great snack option for those with children, and it's rather easy to make too.
Check out the full recipe for instructions.
94. Marinated Mozzarella Cheese (My Keto Kitchen)
Cheese is amazing.
The soft, creamy range of flavors is perfect at any time of day – and it matches perfectly with just about any food.
But have you ever tried marinated cheese?
If not, this marinated mozzarella recipe might be worth a try.
Containing a range of delicious (and healthy) ingredients such as mozzarella, olive oil, thyme, and garlic, it packs a big flavor.
Have a look at the recipe below to see how good it sounds.
95. Sugar-Free Chocolate Budino (Spinach Tiger)
This recipe from Spinach Tiger looks just as interesting as the website name.
If you've never heard of a chocolate budino before then, to be honest, neither have I.
But just look at the picture.
Looks yummy, doesn't it?
With a wealth of indulgent ingredients such as heavy cream, vanilla, dark chocolate and cream cheese, it's hard to imagine this one tasting anything other than amazing.
96. Turkey Breakfast Sausage Patties (That's Low Carb)
Just in time for Christmas, these turkey breakfast sausage patties look delicious.
The recipe combines ground turkey and egg with some of the best seasonings available.
For instance, onion, garlic, rosemary, and thyme.
Although they are called "breakfast patties," these high-protein snacks are suitable for any time of day.
97. Keto Fish Cake (Headbanger's Kitchen)
Another unique website name and a further inventive recipe!
These keto-friendly snacks are Indian-inspired fishcakes and contain some powerful flavors.
Just to name a few; coriander, ginger, chili powder, cumin, and several more flavorful ingredients.
They are also full of nutrient-dense foods like white fish, eggs, olive oil, and red onion.
See the recipe here.
98. Low Carb Pizza Rolls (The Sugar Free Diva)
If you're anything like me, then just looking at this recipe photo will make you feel hungry.
Made with simple ingredients like meat, vegetables, and cheese, the recipe is a much healthier version of pizza than most.
Since it's full of nutrient-dense foods, it contains many beneficial vitamins and minerals too.
So, if you feel like a pizza – maybe it's worth giving these homemade pizza rolls a try.
99. Flax and Coconut Muffins (Step Away From the Carbs)
If you're after a sweet treat, then these flaxseed and coconut muffins might be just the thing.
Made from a combination of flaxseeds, almond flour, egg, and yogurt, they are surprisingly nutrient-dense.
It's quite unusual, but with these cakes, you're also getting a lot of nutritional value too.
They are a sweet but relatively healthy snack.
Final Thoughts
The 99 recipes in this guide show that snacking doesn't have to be bad for us.
If you ever need a quick bite to eat, then give one of these delicious and nutrient-dense options a try.