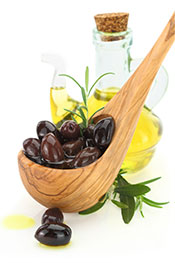 Similar to most fruits, there are many different types of olives.
Yes, despite the popular misconception, olives are a fruit rather than a vegetable.
This is due to the "pit" (stone) at their core, which places them in the drupe category of fruits along with plums and cherries (1).
Kalamata olives are one of the most interesting olive varieties, and they contain powerful polyphenols that appear to protect against disease.
This article takes an in-depth look at their health benefits and how to use them.
What Are Kalamata Olives?
Kalamata olives (Olea europaea) come from Kalamata, a small town in the southern Peloponnese, Greece.
Consumed by locals for thousands of years, they are a cherry-sized fruit that grows on small kalamon trees.
Despite being known as 'Greek black olives,' they are deep purple in color. They have a distinct taste which is totally different to other olives.
Relative to green and black olives, they are bigger in size and have a plumper, oblong shape.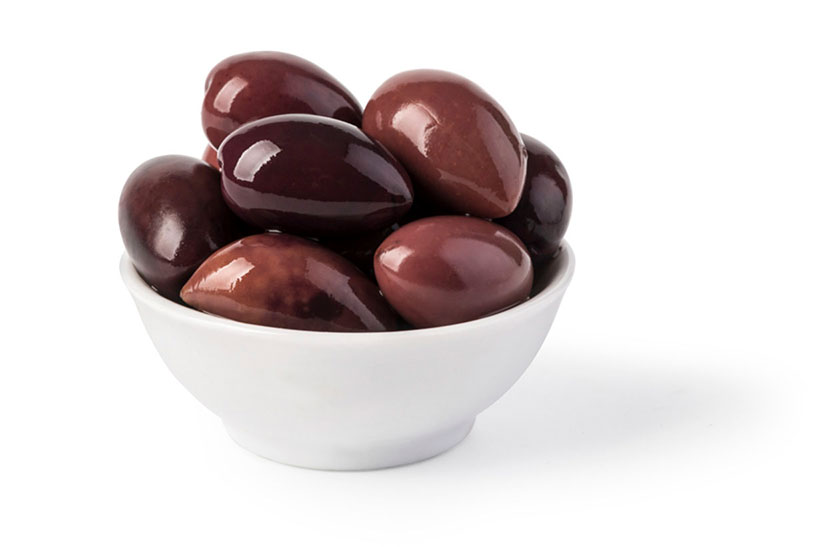 Here is a close-up picture of what kalamata olives look like;
These purple olives are one of the best olives to eat for health, as they contain an impressive range of health-protective compounds.
How Are They Prepared For Consumption?
Growers pick these Greek olives by hand to avoid bruising the fruit.
Following the harvesting of the olives, workers either process them into olive oil or prepare them to be table olives.
The olives contain a stone in the middle, and generally, they are not pitted before commercial retail.
However, when fresh the olives are incredibly bitter, and so they enter a process of 'debittering.'
There are two different ways to do this – a long and a short way.
First, the short way involves soaking the olives in brine for a week. After this, workers pack them for retail with brine, wine vinegar, slices of lemon and olive oil.
The long way involves making a slit in each olive, and storing them in 10% salt-water for fermentation until they debitter. This process usually takes around three months (2).
Key Point: Kalamata olives come from Greece, and they have played a part in human diets for thousands of years.
Nutrition Facts
Here is the nutritional value of kalamata olives per 100g;
As we can see, the major macronutrient is fat, and the majority of this comes from oleic acid.
Oleic acid is the predominant fatty acid in olive oil, as well as red meat, lard, tallow, and avocados.
This compound is one of the most researched in the world, and it has links to a reduced risk of cardiovascular disease.
In particular, research shows that it has anti-inflammatory effects and improves vascular function (3, 4).
Kalamata olives only contain a small amount of protein and carbohydrate – mainly fiber.
Key Point: Kalamata olives are predominantly fat, with small amounts of protein and some fibrous carbohydrate. Similar to olive oil, the major fatty acid is monounsaturated fat.
Vitamins and Minerals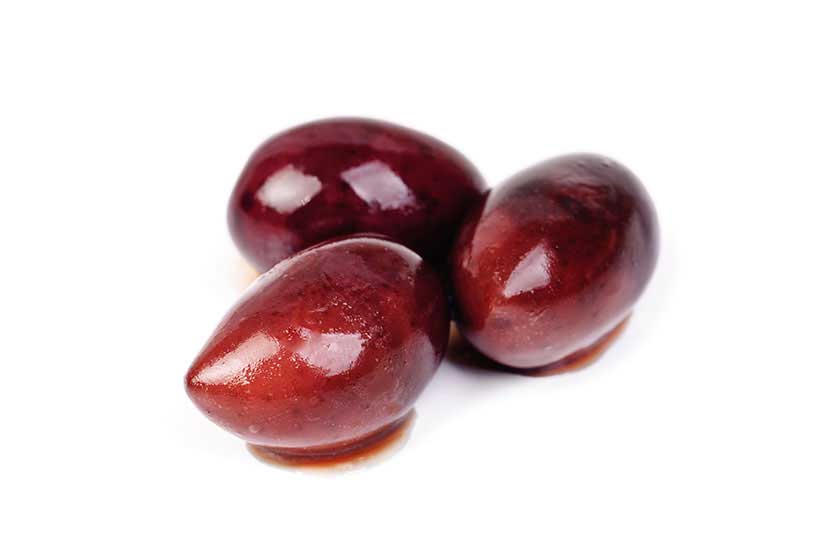 These little purple olives pack a big nutritional punch, and these are the major vitamins and minerals they contain;
Calcium
As the most abundant mineral in the human body, calcium is crucial for healthy bones, gums, and teeth.
Also, it is essential for the proper functioning of nerves and muscles — including the heart (5, 6).
Copper
Kalamata olives contain a significant source of copper.
We can find copper throughout the human body, in the organs and muscles, and it also plays a part in energy production.
Insufficient copper consumption may cause a broad range of damage in the body, adversely impacting how we process cholesterol and glucose, control blood pressure, and our immune system (7).
Iron
Iron is a truly essential mineral, and red blood cells contain approximately 70% of it as hemoglobin.
Here this hemoglobin plays a vital role in transferring oxygen from the lungs to our tissues (8).
Sodium
As they are packed in salty water, kalamata olives contain a high amount of sodium.
Sodium is a much-misunderstood nutrient which is critical for health. However, getting the right amount is very important.
For the average person, too much and too little can both cause problems.
Notably, excessive or insufficient sodium intake may both be cardiovascular risk factors (9, 10, 11).
Vitamin A
Vitamin A is essential for our eyesight, skin health, and a healthy immune system.
Animal foods such as eggs and liver provide the best source of vitamin A, known as preformed vitamin A.
However, despite being less absorbable, the plant form (pro-vitamin A carotenoids) still have benefits.
It helps that olives are a source of fat, as vitamin A is fat-soluble (12, 13).
Vitamin E
Plant-based fats such as nuts and avocados are significant sources of vitamin E, and kalamata olives are no exception.
Vitamin E is a fat-soluble vitamin that is the major component of our antioxidant defense system, and it is only available through the food we eat.
As a result, it helps prevent free radical oxidative damage, which can age the body and lead to chronic disease (14, 15).
Along with vitamins A, D and K, vitamin E is fat-soluble and the fatty acids in kalamata olives "carry" it well.
Key Point: Kalamata olives contain a range of health-promoting vitamins and minerals, and are particularly high in iron and vitamin A.
Kalamata Olives Contain Powerful Polyphenols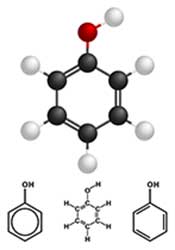 One of the best benefits of kalamata olives is the polyphenols they contain.
A large body of research exists on these health-protective compounds and shows impressive benefits;
Gallic Acid
Gallic acid is a kind of phenolic acid that has powerful antioxidative properties.
In addition to protecting our cells, research also shows that gallic acid helps improve insulin sensitivity and has anti-viral properties.
It also has potential in Alzheimer's treatment, with animal studies showing that gallic acid reduces neural damage associated with the disease (16, 17).
Hydroxytyrosol
Kalamata olives are a significant source of hydroxytyrosol, a compound which is one of the most potent polyphenols in the world.
Hydroxytyrosol has a range of beneficial effects, which include improving vascular function and protecting LDL cholesterol from oxidation (18, 19).
Oleocanthal
A natural Ibuprofen? Well, that's what researchers say about this anti-inflammatory antioxidant that is present in kalamata olives.
In addition, it exhibits anti-cancer properties. Clinical tests show that oleocanthal "was destroying cancer cells" within 30 minutes to an hour, while "leaving healthy cells intact."
Further, human trials demonstrate a reduction in oxidative stress (20, 21).
Oleanolic Acid
This phytochemical is present in all types of olives and grapes.
We can find concentrated amounts of oleanolic acid in both wine and olive oil. A wealth of studies shows that it has anti-inflammatory, anti-microbial and anti-tumor effects (22, 23, 24).
Oleuropein
As the most prevalent polyphenol in olives, oleuropein is responsible for the bitter taste.
The compound has potent antioxidant activity and shows both cardioprotective and neuroprotective properties in human studies (25, 26).
Tyrosol
Another powerful antioxidant compound in kalamata olives is tyrosol.
Although this polyphenol occurs in a range of foods such as grapes, green tea, white wine and red wine, olives are by far the most significant source.
Further, kalamata olives have the highest concentration of it compared to other varieties.
One of the significant benefits of tyrosol is that it helps inhibit the oxidation of LDL cholesterol, contributing to reduce cardiovascular risk (27, 28).
Key Point: Kalamata olives are nutritional powerhouses full of health-protective antioxidants. Regular consumption may help lower the risk of cardiovascular disease and various cancers.
All Olives May Help To Reduce Risk of Disease
Olives (and olive oils) have an extensive body of research behind them showing they help to lower chronic disease risk.
As olives and olive oil contain the same compounds—in varying proportions—they all have benefit in this area.
Alzheimer's Disease
Cancer
Cardiovascular Disease
Type 2 Diabetes
Key Point: The health-protective compounds and fats which occur in olives appear to positively affect a wide range of chronic diseases.
How to Use Kalamata Olives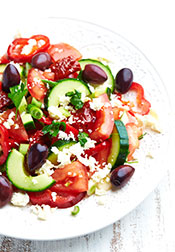 There are many different ways in which you can use kalamata olives.
First, they taste great just on their own.
Additionally, they make a perfect combination with cheese and fruits on a wine platter – or you can even slice them and add them to a healthy pizza.
You should be able to get them from any reasonably sized market, or you can buy them online.
Kalamata Recipes
Should you wish to try a few more creative recipes, then here are some kalamata recipes to try out.
Key Point: Kalamata olives are very versatile and you can use them for a whole range of recipes.
Final Thoughts
Studies have shown how healthy olives are time and time again; they're high in healthy fat, and packed full of polyphenols.
Kalamata olives are one of the best varieties and to top it all off, they are kind of tasty too.