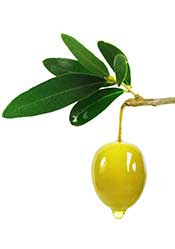 Olives are a high-fat fruit that are full of beneficial compounds.
With a deep mythological history, they were—so the story goes—a gift to humankind from the Greek goddess Athena.
There are hundreds of varieties grown worldwide, and they all have a unique appearance, taste, and texture.
However, like most people, you probably only know two types of olives: "green" and "black."
Let's change that.
Types of Olives
Due to the immense range of olive tree varieties, listing every cultivar is impossible in one article.
This article will examine 26 of the most popular olives from around the world.
Index
1. Agrinion Olives
Agrinion olives come from the Agrinion region of Greece, close to the West sea.
Along with the world-famous Kalamata, they are one of the most popular Greek olive varieties.
They are the medium to large fruit of the Conservolea tree, one of the oldest olive trees in the world.
Although they often sell as light green olives, they come in all shapes and sizes, and they are available in green and black form.
These particular olives have a fruity and tangy taste and a firm outer but very soft texture.
2. Alfonso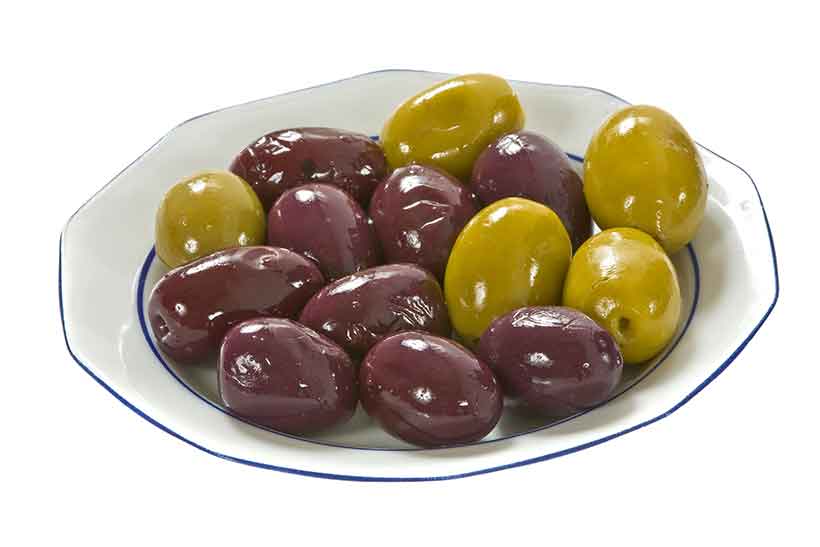 Alfonso olives are a visually appealing olive with a thick and intense purple color.
The color is striking, and the olives look great as part of any dish.
The Alfonso originates in Chile, and producers typically brine cure it in a combination of red wine and vinegar, giving it a sharp, tangy taste.
Regarding texture, these Chilean/Peruvian olives are very soft and juicy.
Since the Alfonso has a robust flavor, it complements various dishes well, and it also looks great on a cheese and wine platter.
3. Amfissa
Amfissa olives are another Greek variety, and they grow in central areas of the country.
Notably, they are one of the few types of olives to have protected designation of origin (PDO) status.
Although they come from the same (Conservolea) tree, Amfissa olives have a different taste to the Agrinion.
This difference is due to the contrast in environment—and elevation—in which they grow.
Depending on the environment, the climate in which they grow, and the maturity of the fruit, Amfissa can taste anything from bitter to sweet and grassy to fruity.
Amfissa is among the most common Greek olives, and growers produce them in both black and green form.
As growers pick them at a very young age, they are small in size and have a soft and slightly citrus sweet taste.
Producers usually cure Amfissa olives in a brine made with sea salt and citric acid.
4. Arauco
Arauco olives grow in both Spain and Argentina, but they originate in La Rioja in the Arauco region of Argentina.
First planted by Spanish settlers during colonial times, Arauco cultivars now number in their millions.
The Arauco is larger than most other types of olive and light-green in color. For extra flavor, producers tend to brine-cure it with rosemary.
Arauco is one of the most common types of olives for commercial olive oil production.
However, we can still find them as a side dish or an appetizer.
5. Arbequina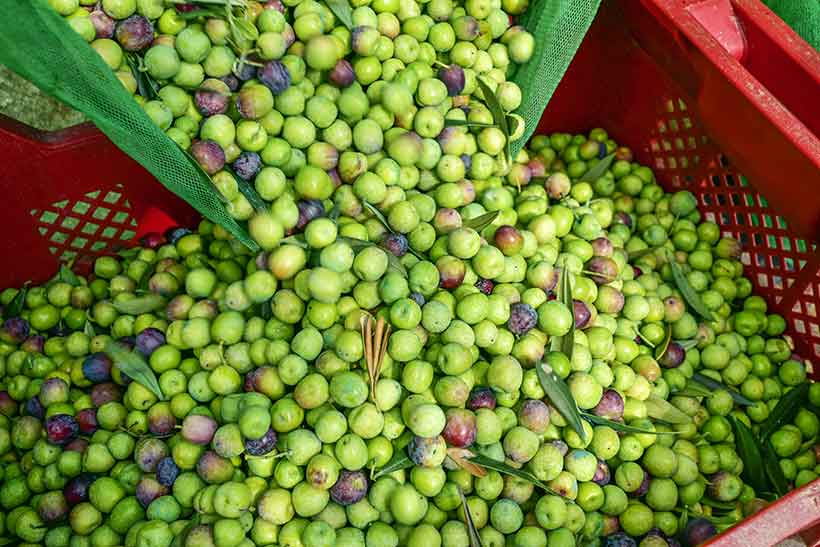 Hailing from Catalonia, these Spanish olives are one of the most famous olive varieties in the world.
Although they originate in Spain, Arbequina olives now grow throughout the world in places such as Australia, Argentina, Chile, Peru, and the United States.
They are also one of the more unique-looking olives as they have a light-brown exterior color.
In addition to their unusual appearance, they have firm flesh and a deliciously light and fruity taste.
As the flavor is relatively mild, it's better to use them as a table olive rather than as part of a dish.
6. Beldi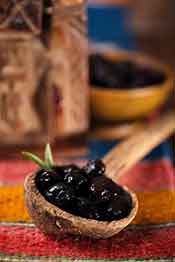 Another interesting variety is the Beldi, a small and fruity olive that hails from Morocco.
Olive farmers harvest fully-matured Beldi late in the season when they offer a rich and intense taste.
Following this, the olives are dry-cured with salt and then packed in oil.
They have a soft and chewy texture similar to other sun-dried fruits such as persimmons and tomatoes.
As a result of the delicious, deep and intense taste, they are worth trying.
These Moroccan olives are great for a cheese platter. Additionally, due to their strong flavor, they work well as a flavor-enhancer in various dishes.
7. Castelvetrano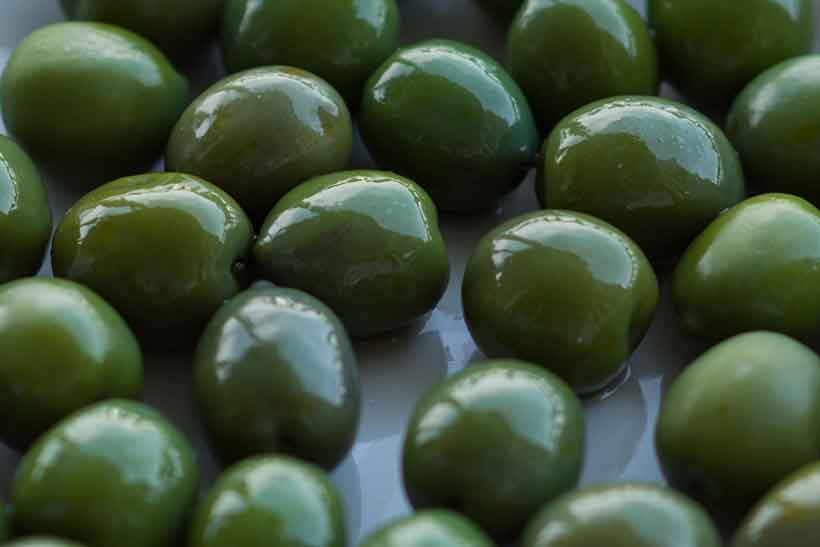 As you may be able to tell from the name, Castelvetrano olives come from Sicily in Italy.
They are renowned for being one of the best-tasting olives in the world, and their appearance is a striking bright-green color.
The Castelvetrano is medium-large in size, and typically comes pitted in a salty brine.
These Italian olives have firm flesh, but they are soft on the inside and somewhat similar to an avocado's buttery texture.
Their light and mild taste make them ideal for a wine and cheese platter.
8. Cerignola
Next is another olive variety from Italy; Cerignola.
These are the largest olives in the world and originate in the Puglia region of Italy.
Due to their size, we can often find them stuffed with various ingredients or used to make oil.
Cerignola olives are available in black and green form. Notably, producers also make these olives in red, which look amazing.
Not purple, but bright red.
On the (perhaps) negative side, the unique visual appearance is down to artificial coloring rather than anything natural.
Cerignolas have firm outer skin and a meaty, juicy middle that, due to their size, contains a lot of oil.
9. Cobrancosa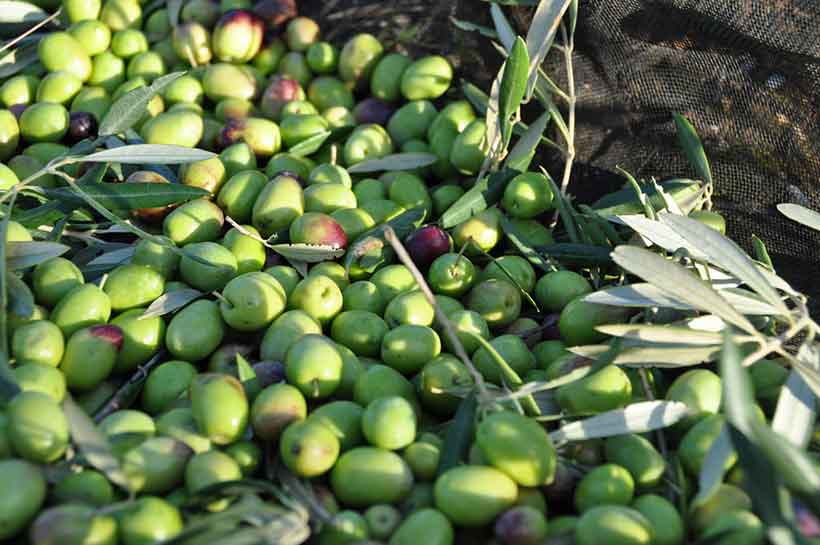 (Photo Source)
The first appearance of Portuguese olives is the Cobrancosa.undefined
These medium-sized green olives are growing throughout Portugal, but mainly in the Northern regions. They provide a very light, fruity flavor with a slight hint of spiciness.
More than anything else, they are renowned for their great-tasting premium olive oil.
However, they are also available in their whole fruit form and come packed in brine.
10. Cordovil
Some more Portuguese olives come in the way of the Cordovil, one of the oldest olive cultivars.
Cordovil olives are very deep and fruity yet slightly bitter and spicy in taste.
They grow predominantly in the Moura region of Portugal and, similar to the Cobrancosa, vast quantities of Cordovil produce oil.
The actual olives themselves are a small to medium size with a greeny-yellow tinge.
11. Gaeta
Gaeta is a very popular Italian black olive from the small city of Gaeta on Italy's West Coast.
Like Gaeta itself, Gaeta olives are small in size and appear in various shades of purple.
Ordinarily, they are packed in brine and then marinated with olive oil.
The olives themselves are very soft and, despite their small size, they pack a lot of flavors.
Specifically, they have a meaty texture and a slight sourness about them.
For this reason, they make a great accompaniment to cheese and would suit a mature hard cheese.
12. Galega
Galega is the most popular Portuguese olive variety.
They are some of the sweetest types of olives available and have a soft fruity taste.
Unlike the other Portuguese olive cultivars, we can usually (but not always) find this variety in whole-fruit form.
Producers brine cure these olives and then marinate them in salt, olive oil, red wine vinegar, and oregano.
Acclaimed for its soft notes of apple, producers export the Galega around the world in pure form and as an award-winning oil.
13. Gemlik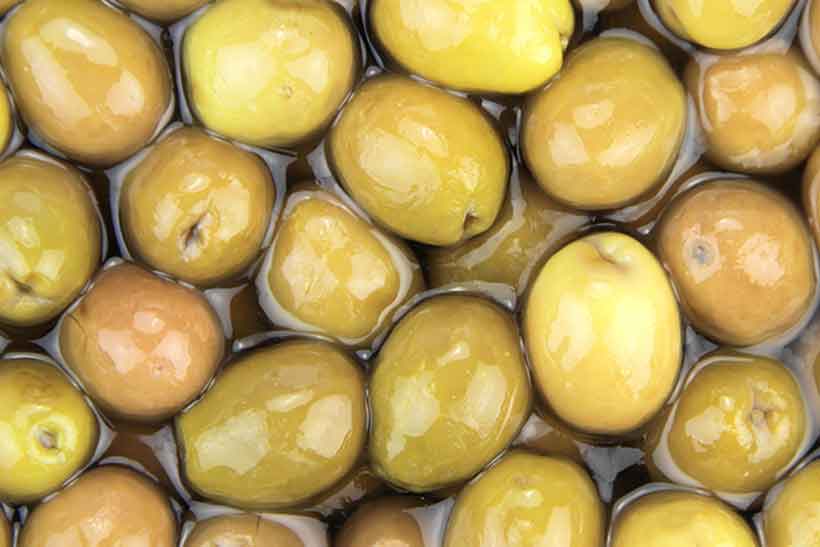 Gemlik olives mark the first appearance of a cultivar from Turkey, and they grow in the Zeytinbagi region in the North.
These Turkish olives are internationally renowned for their high oil content and deep, flavorful taste.
Concerning their appearance, they are small to medium in size and jet black.
Growers produce Gemlik olives predominantly for use as a table olive, but oils are available too.
Cured in only oil for an authentic flavor, these are some of the best-tasting fruit money can buy.
14. Gordal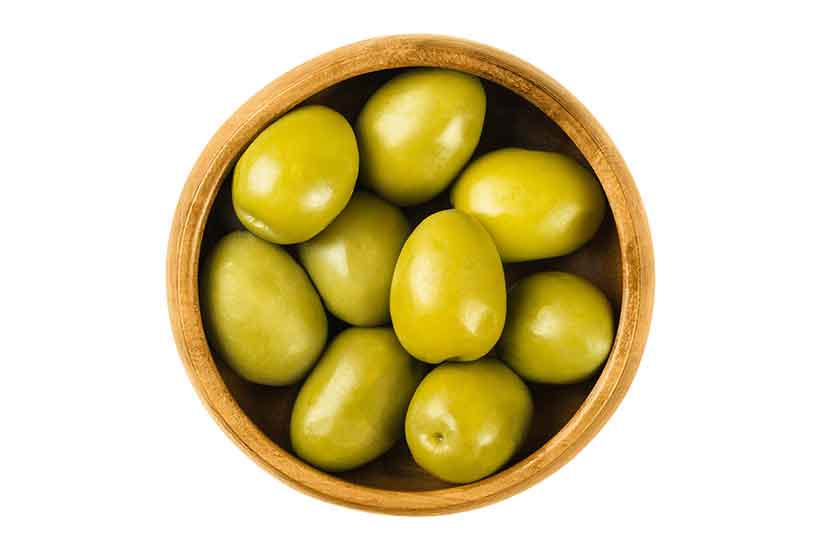 Gordal olives are unlike anything on this list so far.
For one thing, they are huge!
Sometimes referred to as "jumbo olives," they are the largest type of olive grown in Spain.
Originating in Seville in the Andalusia region, this plump green fruit is very soft in texture and makes an excellent table olive.
Surprisingly—and despite its large size—the Gordal does not contain much oil.
These Spanish olives are generally sold pitted, and they come packed in brine. Additionally, producers often stuff them with a variety of ingredients such as cheese, fruit, and peppers.
15. Kalamata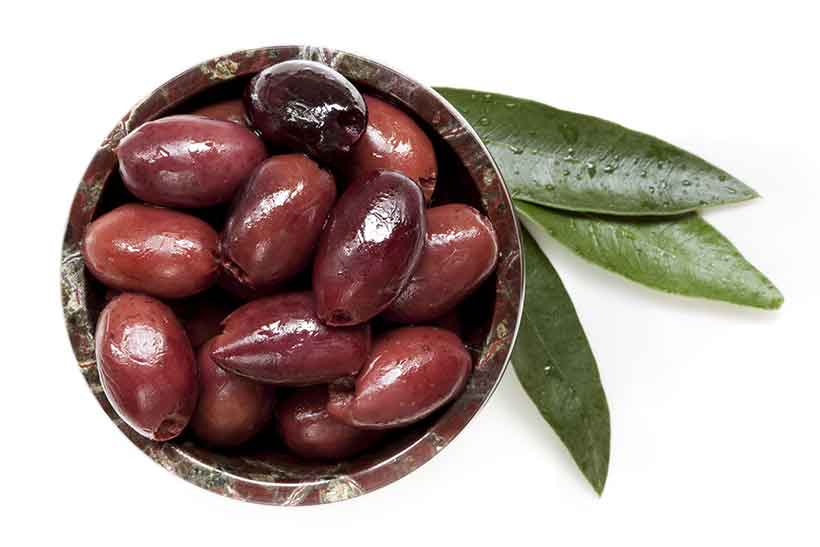 The Greek Kalamata olive is one of the most famous varieties in the world.
An attractive deep reddish-purple, they grow close to the Ionian sea in the Kalamata region of Southern Greece.
Kalamata olives are reasonably large, and as they contain moderate amounts of oil, growers produce them for use as table olives and oil.
There are many different forms that these olives take, but they often come in brine and red wine vinegar.
Due to their natural properties—and the bringing process—they have a soft, fruity but slightly bitter flavor.
Similar to the Gordal, producers often stuff Kalamata olives with various ingredients; feta cheese is a common one.
16. Leccino
Leccino olives are unique in terms of appearance and taste.
Sporting a light brown outer skin, it is an Italian cultivar originating from Tuscany.
However, due to the oil's popularity, we can now find Leccino trees throughout the world.
Available as both table olives and oil, the taste is very light and refreshing with a slightly sweet and spicy flavor. The table olives typically come packed in brine without extra flavorings.
Notably, Leccino olives have a look of their own, and they are a kind of hazelnut brown.
17. Ligurian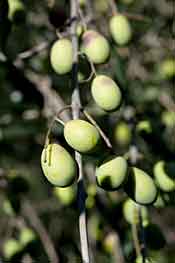 Otherwise known as 'Taggiasca' and 'Cailletier,' Ligurian olives originate from the Liguria region in North-Western Italy.
Growers pick the fruit while it is in the process of changing from green to black, giving the Ligurian a striking medium to dark brown color.
After brine-curing, producers often pack these Italian olives with ingredients such as oil, citrus, vinegar, garlic, herbs, and spices.
While the olives are small in size, they are big in flavor.
The texture is firm and meaty on the outside, but soft on the inside, and the taste is sweet and herby.
18. Lugano
Often mistaken for an Italian variety, Lugano olives are from Switzerland.
They grow in the Italian-speaking Ticino region of the country, located near the large town of Lugano.
Growers harvest these Swiss olives when they are fully ripe, giving them a deep black color.
The olives are a medium size with a firm texture, and the taste is slightly bitter and very salty. Despite this description, they taste good and have a very moreish quality about them.
People enjoy them either as a snack or for use in recipes.
Lugano is one of the more popular varieties of olives in the world, and they have their own unique, exciting taste.
19. Lucques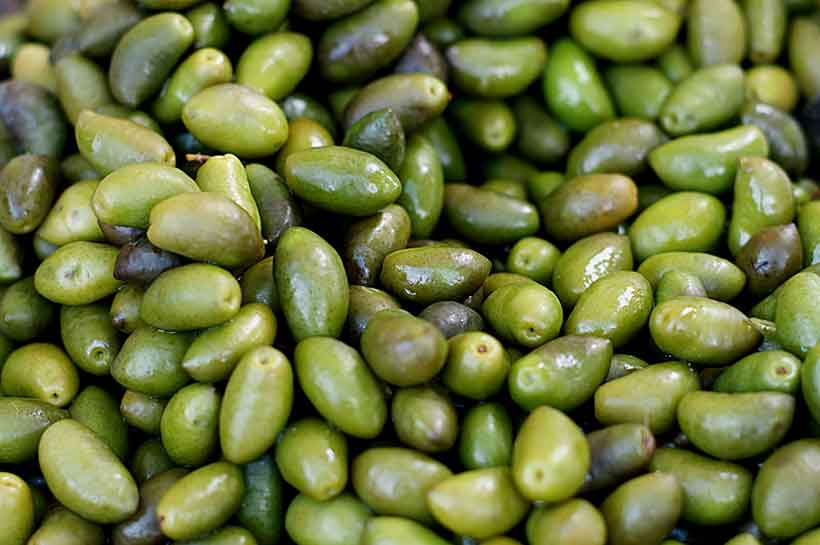 (Photo source)
Lucques olives hail from the Languedoc region of France and stand out thanks to their unique shape.undefined
Rather than the typical olive appearance, they have a crescent shape which is somewhat similar to a half moon or kidney.
Add this to their bright shade of green, and they have an interesting and appealing look about them.
Gastronomically, the Lucques provides a mild nutty taste which merges well with the crunchy exterior and buttery texture inside.
These French olives are difficult to process into oil, so they usually take their place as a table olive.
20. Manzanilla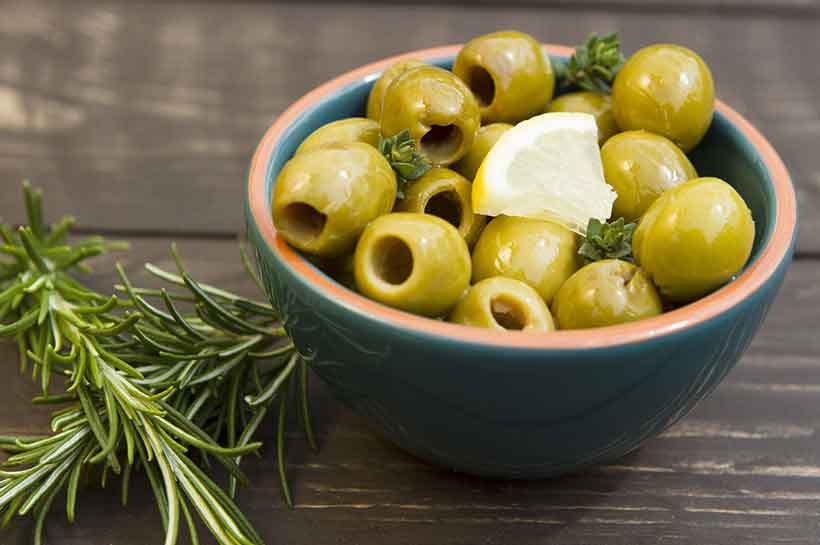 Originating from Sevilla, a city in the southern region of Andalusia, Spain, Manzanilla is one of the most famous types of olives in the world.
For instance, if you have had store-bought green olives before, then you've almost certainly sampled a Manzanilla.
In fact, they even have the alternate name of 'green olive.'
Typically these Spanish olives are pitted, stuffed with pimento, and then packed in brine.
One reason why they are so commonplace is the Spanish Manzanilla's high fruit yield, which enables large-scale production.
While the Manzanilla is a prevalent table olive, it is also one of the most common sources of oil.
21. Mission Olives
Mission is an olive variety that comes from the United States.
Interestingly, they are the only American olive cultivar recognized by the International Olive Council (1).
It appears that Spanish influence brought these olives to American shores, with Franciscan missionaries planting the trees in the late 18th century.
The olives are small and green with a firm texture, and growers produce them for sale both as whole fruit and oil.
22. Nicoise
As you can probably tell from the name, the Nicoise is a French olive.
That said, it is not a unique kind of olive.
Firstly, the Nicoise is a type of preparation, and the actual olive itself is the same as the Ligurian.
Growers pick the fruit when it is at a mature stage, giving the Nicoise a dark brown appearance.
These French olives are then cured in brine and packed alongside various herbs and oil.
They have a slightly sweet, smoky, and bitter—but tasty—flavor, so they work best as a table olive.
23. Nyon
Unlike Nicoise, the Nyon is an authentic French olive.
Originating from Nyons, they are a product of the Tanche tree, which is the most productive (and famed) French cultivar.
Small and black in color, the olives are usually either dry-cured or cured in oil.
Regarding their taste, they offer a mild, bitter but enjoyable flavor with a very soft and chewy texture.
24. Picholine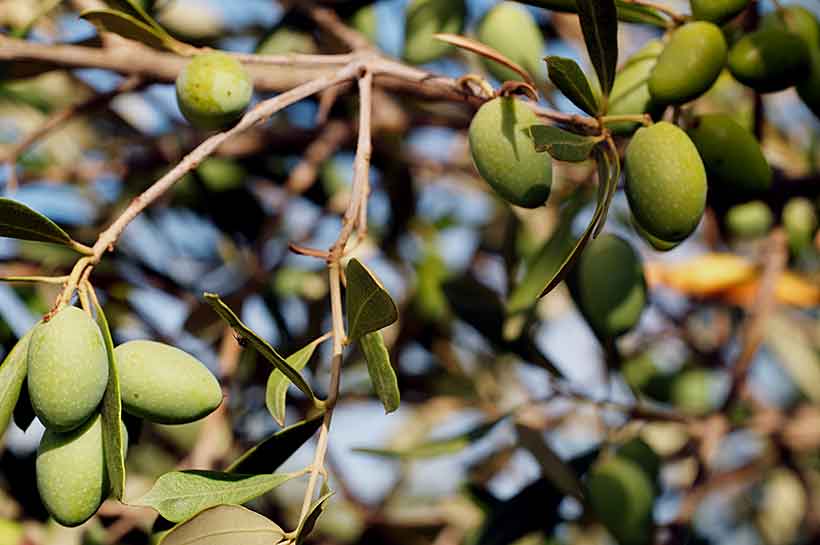 (Photo source)
The Picholine is a small and green olive that originally comes from the region of Gard in southern France.undefined
Notably, it is the most common olives in France, and it is now flourishing all around the world.
Like many other types of olives, the Picholine is being used to produce both table olives and oil.
As a table olive, its firm and crisp texture accompany a mild and fruity flavor, which makes it a typical fixture on cheese platters.
For a delicious but simple meal, pair it with some prosciutto, salami, and Camembert cheese (and add a glass of wine if you want!)
Additionally, oil producers make use of the Picholine for its light and mild flavor.
25. Picual
Picual olives are rare to see in their whole-fruit form, but they are the most prominent source of olive oil in Spain.
To put that into context, Spain is also the biggest producer in the world (2).
Picual olives might be small in size, but they certainly have a deep flavor and offer equal parts of bitter, sweet, and peppery notes.
These Spanish olives predominantly grow in the Jaen region of the country, located in the Southern part of the nation.
The vast majority of Picual olives go toward olive oil production. The simple reason for this is that they provide a solid 20-27% oil by weight (3).
26. Verdial
Verdial olives have an unusual bright green color, and they mainly come from the Velez-Malaga region of Spain.undefined
However, there are various kinds of Verdial which all share slightly different properties.
The actual olives themselves have very firm flesh, a medium buttery texture, and a crisp, clean fruity taste.
Further, producers usually pack them in some mixture made from various herbs and/or spices.
Due to their pleasant taste and availability, they are one of the most prevalent types of olive in Spain.
Olive Facts and Frequently Asked Questions
There are a few misunderstandings about olives, so these questions will answer some common myths/questions that people have.
1) Are Olives a Fruit or a Vegetable?
Contrary to popular thought, the olive is a kind of fruit.
Since olives are salty and lack the typical sweet taste of fruit, this is where the confusion appears.
However, defining a fruit does not relate to how sweet food is or how we eat it, and the real definition of a fruit is merely the ovary—complete with seeds—of a flowering plant.
Botanically speaking, olives are a type of berry – a fruit that has firm outer skin, fleshy pulp, and contains a seed.
2) What is the Difference Between Green and Black Olives?
Again, there is a prevalent myth that black and green olives are separate entities that grow on different trees.
However, they are the exact same olive.
The only difference here is the maturity of the fruit; at an early stage of maturity, the olives are green and not yet ripe.
However, as the ripening process progresses, olives become darker and darker until they reach their 'black' stage.
Therefore, the only difference between green and black oils is at what time the farmer picks them.
3) How Are Olives Produced?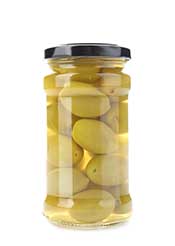 Freshly picked olives are incredibly bitter thanks to their high oleuropein content.
Oleuropein is a potent polyphenol that occurs naturally in olives and makes the fruit virtually inedible.
To make the olives somewhat palatable, we need to dim the bitterness of the oleuropein through a curing process.
To do this, there are four typical curing processes;
Brine Curing
This curing method is quite standard, and it's straightforward.
The olives are put in sealable jars and covered in a saltwater solution (brine).
It is essential that the brine completely covers the olives, and once this is the case, the jar lid is sealed.
Over time, as the saltwater breaks down the bitter compounds in the olive, they become milder tasting.
Dry Curing
Producers use the dry curing method for specific varieties of black olives.
First of all, the olives are either mixed with salt or covered in a salt solution.
Subsequently, the olives are put into a kind of fruit crate, mixed with salt, and left to cure.
While the curing process can sometimes be over in a month, it often takes several months and depends on the size and shape of the olives.
When the olives are fully cured, they are transferred into glass jars and mixed with salt and/or oil.
Lye Curing
This method of curing is used by some of the larger producers.
This process involves using an alkaline solution called lye (you may know it as caustic soda).
On the positive side, this curing method only takes about seven days, but it also has a negative point; it sometimes leaves a slight chemical aftertaste.
Water Curing
This curing method involves soaking fully-submerged olives in water over an extended period.
However, it is quite time-consuming, so it's an unusual choice for commercial production.
The concentration of oleuropein slowly declines during this process.
Once the olives are of an acceptable taste, producers transfer them into a brine for preservation.
What Are the Best Types of Olives?
That's a difficult question, and it's one for which different people will have varying answers.
As a lover of olives, it's also hard to pick just one!
However, if I have to choose, my personal favorite would have to be the Castelvetrano (green) and Nicoise (black).
For a guide to another high-fat fruit, see this article on avocado.
Sources
Some of the information in this guide would not have been possible without the following books;
1) Olives: The Life and Lore of a Noble Fruit – available here (disclosure: affiliate link)
2) Extra Virginity: The Sublime and Scandalous World of Olive Oil – available here (disclosure: affiliate link)
These books are excellent, and I recommend them to anyone interested in olives.