This article provides a list of fifteen keto side dishes that taste incredible.
These recipes cover a variety of foods and include vegetable dishes, meats, fish, and various international side dishes.
While some are virtually carb-less sides, others are a little higher in carbohydrates, but in reasonable amounts, they are all suitable for ketogenic diets.
All recipes make enough for four servings.
1. Keto Creamed Spinach Soup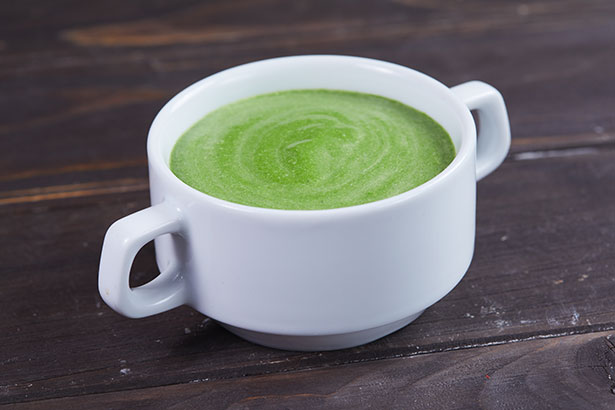 This soup is certainly a bit different and has a unique flavor.
It is also very healthy, with spinach being a powerhouse of essential nutrients such as iron, potassium, and magnesium.
Ingredients
2lbs of Spinach (900g)
2oz Butter (60g)
2oz Cream Cheese (60g)
1-pint Heavy Cream
1 Large Diced Onion
1 tsp. Salt
1/2 tsp. Black Pepper
1/2 tsp. Garlic Powder
2 cups Water
Preparation
1. Combine all the ingredients together in a pan except for the butter, cream cheese, and heavy cream and bring to the boil.
2. Turn the heat down to a simmer and put the lid on. After about five minutes, remove from heat, and puree in a food processor or a blender.
3. Add the pureed mix back into the pan.
4. Next, add the butter, cream cheese, and heavy cream and allow it to melt in.
5. Cook for 5 minutes on a medium heat until the soup is hot and consistent.
Creamy, flavorful and delicious… this keto creamed spinach soup is a unique but tasty keto side dish.
2. Egg-Fried Cauliflower Rice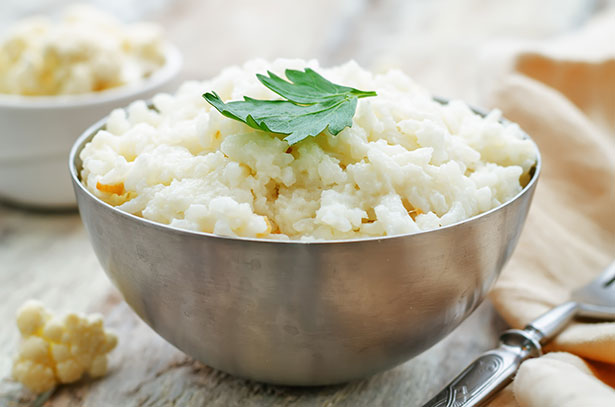 Cauliflower "rice" enjoys popularity as a low-carb replacement for real rice.
This faux rice tastes great, and it's a keto friendly side dish well-suited for curries and as a side for meat.
However, it is easy to make this dish a lot tastier with a simple modification – eggs!
It is similar to ordinary cauliflower rice, but with a deeper flavor from the extra ingredients.
Ingredients
1 head of Cauliflower
2 tbsp. Butter
4 Eggs
2 Minced Garlic Cloves
1 Large Diced Onion
1 tsp. Salt
1 tsp. Tamari Soy Sauce
1 tsp. Sesame Oil
Preparation
1. Wash all the vegetables and ensure the cauliflower is thoroughly dry.
2. Pulse/grate the cauliflower in a food processor or by hand. The cauliflower should resemble rice.
3. Heat the butter in your pan and add the onions and garlic.
4. Add the cauliflower "rice" to the pan once the onions and garlic start to soften.
5. Next, add the soy sauce and salt and cook until the cauliflower is tender (but not mushy).
6. With about a minute of cooking time left, add the eggs to the pan and stir well.
7. Take off the heat, mix the sesame oil in, and serve.
It looks like rice, but it doesn't taste the same… and that isn't a bad thing!
3. Baked Eggplant With Tomatoes and Parmesan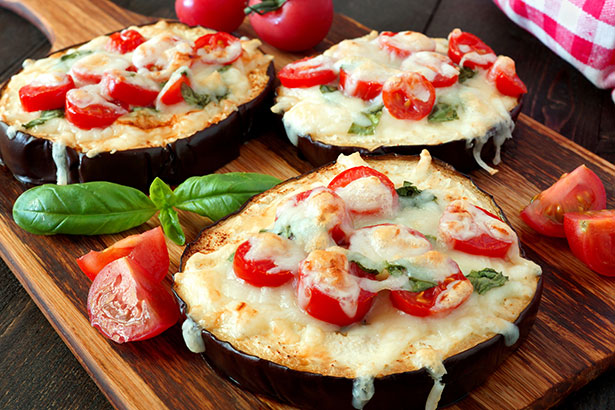 If you haven't tried baked eggplant before, then it's well worth a try.
First of all, the taste is indescribably better than boiling the vegetable. Second, it does a great job of absorbing and carrying flavors.
And that's what happens in this recipe; the combination of eggplant, tomato, herbs and parmesan create a delicious depth of flavor.
These make for a great keto-friendly snack too.
Ingredients
4 Sliced Eggplants
3.5oz Tomato Paste (100g)
1 tsp. Italian Herbs
2oz Parmesan Cheese (60g)
1 tsp. Salt
1 tbsp. Olive Oil
Preparation
1. Cut the eggplants into one-centimeter thick slices.
2. In a bowl, mix the tomato paste, Italian Herbs, and salt.
3. Place the eggplant slices on a baking tray, lightly brush with olive oil, and then put a little of the tomato paste mixture on top.
4. Cover each piece with some grated parmesan cheese.
5. Put the slices into an oven and cook at 200°C for approximately 15 minutes.
These baked eggplant slices combine perfectly with the herby tomato paste and melted parmesan cheese. They also make an excellent side for steak.
4. Low Carb Grilled Vegetables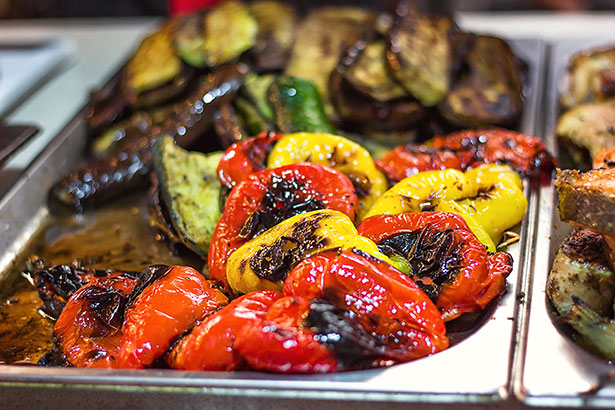 This one is pretty straightforward and just involves selecting your favorite keto veggies and grilling them.
In my opinion, some of the best veg options for this include peppers, eggplant, and mushrooms.
Why not serve them up alongside a tasty meatloaf?
Ingredients
4 Bell Peppers
2 cups Mushrooms (150g)
2 Eggplants
2 tbsp. Butter
1 tsp. Salt
Preparation
1. Cut the vegetables into bite-sized pieces and place in a baking dish.
2. Evenly top the vegetables with butter.
3. Sprinkle the salt evenly over the surface of the vegetables.
4. Cook at 200°C for approximately 15-20 minutes.
These low carb grilled vegetables are delicious, colorful, and healthy.
5. Cauliflower and Zucchini Cheese Bake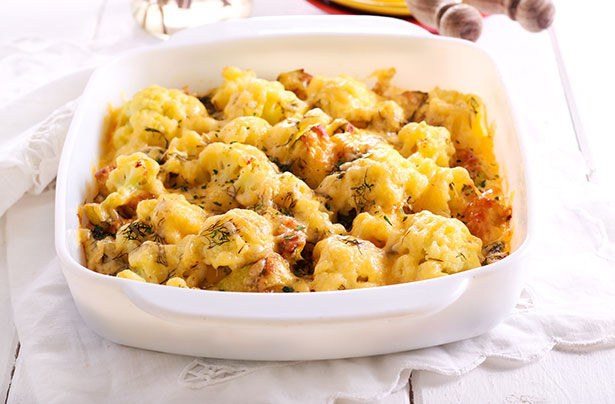 After the last couple of recipes, this one is a little more complicated and time-consuming.
However, this will pay off when you eat it – it tastes delicious!
Here are the ingredients you need to make it;
Ingredients
4 cups Cauliflower florets
2 Medium Zucchini (cut into dice-sized shapes)
1/2 pint Heavy Cream (285ml)
2oz. Cheddar Cheese (grated)
3 Cloves of Garlic (mashed)
1 Egg Yolk
1-tsp. Salt
1-tsp. Italian Herbs
1-tsp. Black Pepper
Preparation
1. Chop the cauliflower into small pieces and place in a baking dish with the zucchini cubes.
2. Blend the heavy cream, egg yolk, salt, garlic, Italian herbs, black pepper and 75% of the cheese.
3. Pour this sauce over the cauliflower and zucchini.
4. Evenly cover the surface with the remaining 25% of cheese.
5. Put the baking dish in the oven and cook at 200°C for about 30-40 minutes. It will be ready when the surface starts to brown and the cream has thickened.
This cauliflower and zucchini cheese bake makes a delicious keto side – or you can even add some chicken and bacon to make it a complete meal.
6. Indian Cauliflower Rice (My Keto Kitchen)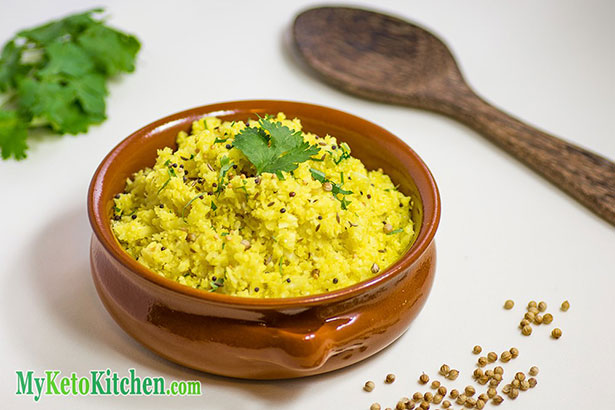 This Indian cauliflower rice recipe makes a perfect low carb side dish for steak or some traditional Indian curry.
The rice is much healthier than the real thing, full of health-protective ingredients, and it tastes amazing too.
Ingredients
Ghee
Garlic
Ginger
Coriander
Cumin
Brown Mustard Seeds
Yellow Mustard Seeds
Turmeric
Cauliflower
Salt
Pepper
Cilantro
Preparation
Visit My Keto Kitchen to see the full recipe and how to make it.
If you're trying to avoid carbs but missing rice, then this flavorful recipe is a perfect choice.
7. Korean Seasoned Spinach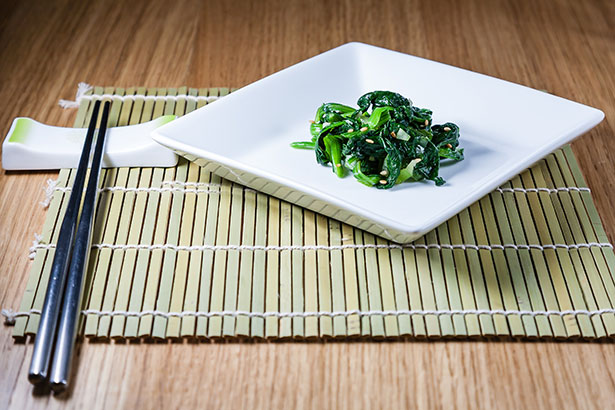 Staying with the Asian food theme, Korean seasoned spinach is an incredibly simple side dish with a deep taste.
Despite having a bare minimum of ingredients, this is one of the most popular Korean side dishes out there.
Ingredients
1lb Spinach
2-tbsp Tamari Soy Sauce
1-tsp Sesame Oil
1-tbsp Sesame Seeds
Preparation
1. Bring some water to the boil on the hob.
2. Put the spinach into the water, and it should float on the top.
3. After the spinach has been in the boiling water for approximately 30 seconds, remove it.
4. Rinse the spinach to make it cold, and then squeeze it thoroughly to drain all the water away.
5. In a bowl, mix the spinach, soy sauce, sesame oil and sesame seeds together. Make sure that the seasonings evenly cover the spinach.
6. Serve.
Although it may sound overly simple and a little boring, this recipe has a great taste. It's definitely 'keto, ' and it's full of beneficial vitamins and minerals.
8. Low Carb Scotch Eggs (Ditch the Carbs)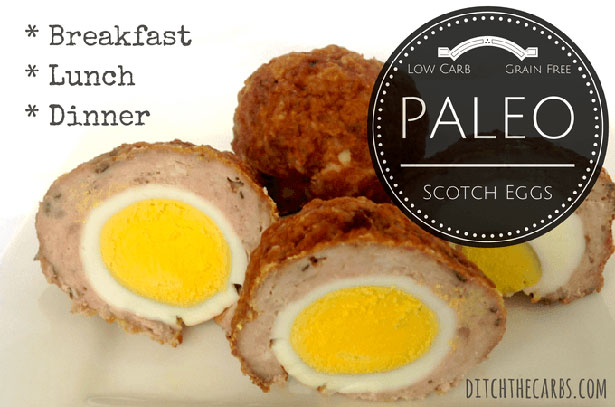 This recipe is from Ditch the Carbs, one of the most popular low carb recipe sites out there.
As a classic British food, I've always loved scotch eggs from a young age.
However, they can be pretty unhealthy given that they're covered in breadcrumbs and deep fried in cheap oils.
Fortunately, this recipe is delicious, and it's actually healthy too!
Ingredients
Eggs
Ground/Minced Pork
Herbs
Salt
Preparation
To find out how to make these scotch eggs, see here for the full recipe.
There are all sorts of ways you can use these keto scotch eggs; as a side dish, a quick snack or they make a great picnic food too.
9. Zoodles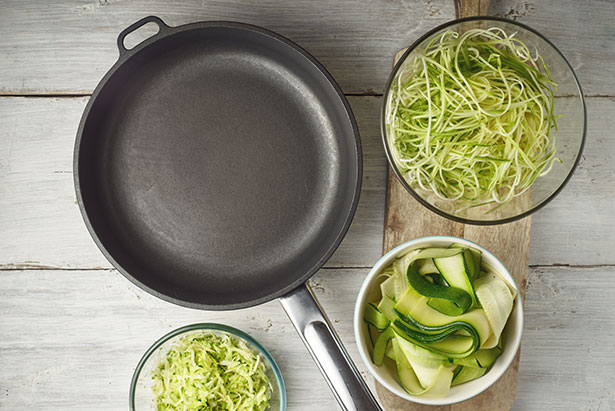 What are zoodles?
Well, they are simply noodles made from zucchini rather than wheat.
Zucchini is a keto-friendly vegetable, and zoodles have a minimal level of carbohydrate.
They make a great low carb side, especially for faux pasta dishes.
Ingredients
4 Zucchini
2-tbsp Butter
Pinch of Salt
Pinch of Pepper
Preparation
1. Use a spiralizer to turn the zucchinis into noodles.
2. Heat some butter (coconut oil and olive oil are also fine) in a pan.
3. Put the zoodles in the pan once the oil is hot enough.
4. Sprinkle with salt and pepper, and then quickly saute the zoodles.
5. After approximately two minutes, they will be ready. Don't overcook them or they will go too soggy!
Zoodles are a tasty low carb noodle, easy to prepare, and work well in a wide range of dishes.
10. Keto Cauliflower Mash (Nom Nom Paleo)
Almost everyone has memories of eating mashed potato as a child, right?
Some people still enjoy it now too maybe. Mashed cauliflower is kind of similar, but just with a different taste.
It is almost zero carb, so it makes a great keto side dish.
The recipe goes well with meat and meat products like hamburgers and sausages.
This super tasty recipe comes from Nom Nom Paleo.
Ingredients
Cauliflower
Garlic
Ghee
Salt
Nutmeg
Black Pepper
Preparation
To find out how to make the cauliflower mash, check out Nom Nom Paleo for the recipe.
Cauliflower mash is like mashed potato, only different – and much lower in carbs! Give it a try.
11. Salty Buttered Sprouts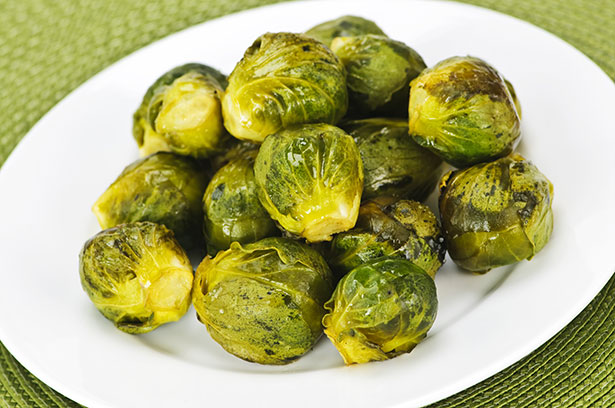 So simple and yet so tasty!
For some strange reason, much of the world insists on boiling sprouts, which to be honest is such a waste.
Boiled sprouts come nowhere near oven-roasted sprouts, which taste delicious basted in butter with a touch of salt.
Ingredients
1lb Sprouts (454 grams)
2-tbsp Butter
1-tsp Salt
Preparation
1. Wash and drain the sprouts, and then put them into a baking tray.
2. Spread butter over the surface, making sure it is evenly positioned in the tray.
3. Sprinkle salt over the sprouts.
4. Bake in the oven for around 20-25 minutes at 200°C.
Salty buttered sprouts are one of the best keto side dishes out there.
12. Bacon-Wrapped Asparagus (Avocado Pesto)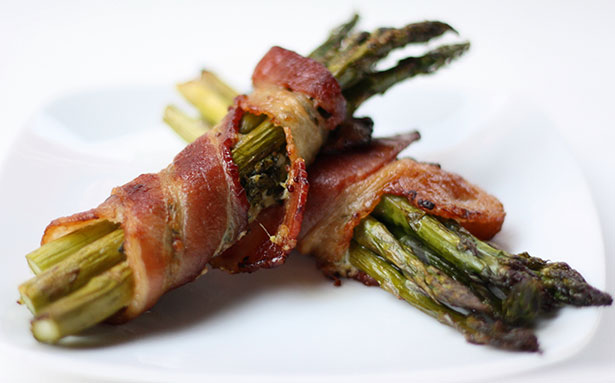 Asparagus is one of the best-tasting vegetables out there, but there's a simple way to make it taste a lot better;
Wrap it in bacon.
These bacon-wrapped asparagus rolls are great as a snack on their own, or as a side dish.
They also make great low carb sides for a barbecue.
Ingredients
Bacon
Asparagus
Parsley
Garlic
Dijon Mustard
Gruyere Cheese
Preparation
For instructions on how to make them, see here.
This great keto side dish is extremely easy to make, and it's one of the most delicious.
13. Simple Enoki "Ramen"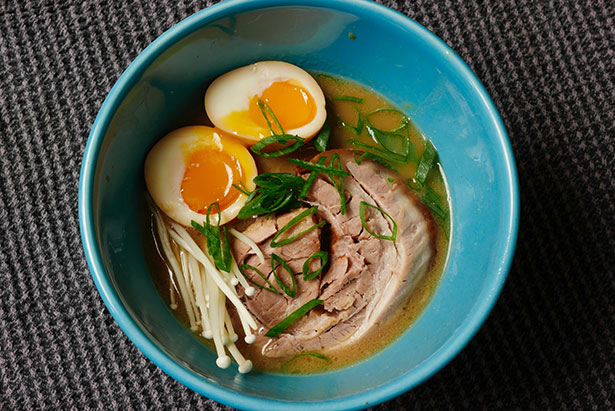 Enoki is a type of string mushroom that is extremely popular in Japan and other East Asian countries.
It is also gaining global popularity, which is easy to understand when we consider their taste and health properties.
Enoki ramen is simply using the mushroom as a low carb noodle, and the taste certainly makes it worth a try.
Ingredients
1lb Thinly Sliced Pork Belly (454g)
4lbs Pork Bones (Shanks, Neck, Trotters, etc)
1/2lb Enoki Mushrooms (225g)
4oz Green Onion (110g)
1-tbsp Tamari Sauce
1-tbsp Fish Sauce
1-tsp. Salt
1-tsp. Black Pepper
4 Mashed Cloves of Garlic
Preparation
1. Roast the bones in the oven for 1 hour at 200°C .
2. Remove the bones from the oven and place them in a slow cooker or pressure cooker, add the mashed garlic, salt, pepper, fish sauce, and tamari sauce and fill with water.
3. Cook at a low heat for approximately 8 hours. If you want to skip this, then you can also use bought pork stock rather than making it yourself.
4. You can either use the finished stock fresh, or you can freeze it to use at a later date.
5. When you are ready to make the ramen, have either the hot stock ready or re-heat it in a pan.
6. Thinly slice the belly pork, and fry it (without oil) in a pan. When nearly done, add the enoki mushrooms and green onion and keep frying for a few minutes more.
7. Cook four soft-boiled eggs (one for each person). To soft boil an egg, bring the water to a boil and then add the eggs for roughly six minutes.
8. In a bowl for each person, add some slices of belly pork, the green onion, and enoki mushrooms, and one egg which has been cut into two halves.
9. Pour the hot stock into the bowl on top of them.
10. Serve.
This Japanese-inspired fake noodle dish is surprisingly tasty. It's a delicious keto ramen. .
14. Cream of Mushroom Soup (Low Carb Yum)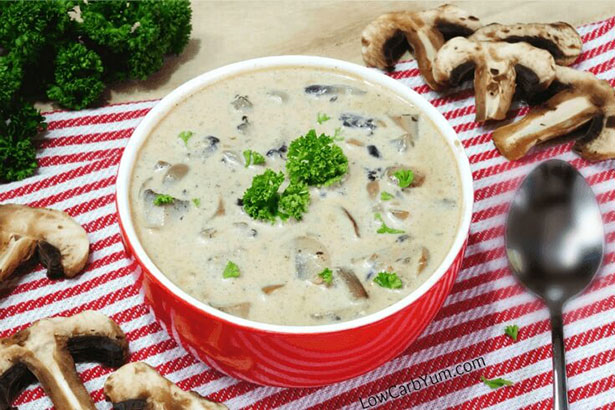 There isn't a lot that needs to be done to make cream of mushroom soup low in carbs.
After all, it is mainly mushrooms and fat-rich cream.
This soup can either form a meal or it can be a ketogenic side dish alongside some meat or fish.
This delicious recipe uses the following ingredients;
Ingredients
Mushrooms
Chicken Broth
Onion
Thyme
Butter
Guar Gum
Salt
Black Pepper
Heavy Cream
Almond Milk
Cooking Wine (White)
Preparation
See Low Carb Yum for instructions on how to make this yummy soup.
Cream of mushroom soup is a naturally low carb dish that never fails to taste good.
15. Lemon and Lime Guacamole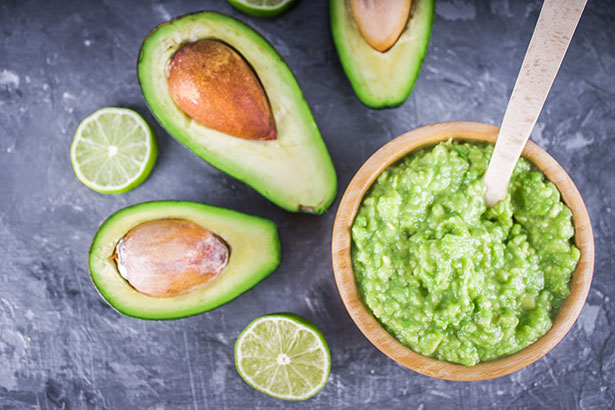 Avocados are an amazing fruit; they're high in healthy fats, chock full of beneficial nutrients, and extremely low in net carbs.
They are the base which makes lemon and lime guacamole a great tasting, healthy keto side item.
This side dish works particularly well with fish or white meat.
Ingredients
4 Avocados
1-tsp Salt
1-tbsp Lemon Juice
1-tbsp Lime Juice
Pinch of Black Pepper
Preparation
1. Use four ripe avocados; place their flesh in a bowl and mash using a fork.
2. Add the salt, pepper, lemon, and lime juice and stir.
3. It's ready – simple!
Guacamole is very healthy and it's one of the best-tasting keto side dishes out there.
Final Thoughts
All of these recipes use real, naturally-occurring foods.
Some are simple, and others are a little more complex – but they all taste great and they're healthy too.
If you're looking to try something new, then give one of these keto side dishes a try!