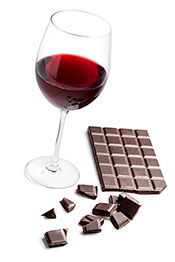 Looking for low carb and keto snacks?
Then you have come to the right place!
This article provides a list of 38 delicious and healthy foods, recipes and ideas.
Almost every single one is simple and takes less than 15 minutes to prepare, and some are as easy as opening the fridge.
All the recipes are suitable for ketogenic diets and keeping blood sugars stable.
1. Dark Chocolate
It's hard to find someone who doesn't like chocolate.
Chocolate is delicious, and thankfully dark chocolate is a great option for anyone on a low carb diet.
Aim for 85% cacao or above to keep the sugar down and get the full benefits of dark chocolate.
A few pieces make for one of the best keto snacks!
2. Beef Jerky
Similar to regular meat, dried beef is a natural low carb snack.
It is tasty, chewy, and so much better for you than chewing on candy!
You can buy it in various flavors and varieties, and if you love it, you can make your own.
To do that, you need a piece of equipment known as a dehydrator (disclosure: affiliate link).
These products allow you to make dried meat, fruit, fish, or whatever you want.
3. Macadamia
Out of all the different nuts in the world, macadamia is the king when it comes to taste.
They are also full of health benefits and have an excellent nutritional profile.
Macadamias are exceptionally high in oleic acid, otherwise known as the 'heart healthy' fat in olive oil (and meat).
Macadamias have a crunchy taste, but they're soft and buttery on the inside – certainly one of the best keto snacks!
4. Cheddar Cheese
Cheddar cheese is delicious, and there are so many different ways to use it.
Melted cheese can make any dish taste better; it makes a perfect combination with eggs (omelets) or on a wine platter, and it works great as a snack on its own.
If you are looking for a healthy ketogenic snack, then cheese is one of the best options!
5. Raspberries
Moving from fatty to fruity, raspberries are one of the most nutritious and healthiest fruits.
With a net carb count of only 5.4g per 100g, the raspberry is also keto friendly compared to some higher sugar fruits (1).
Raspberries are also full of health-protective polyphenols that help fight oxidative stress.
A handful is about right, and they are especially tasty with some heavy cream.
6. Hard-boiled Eggs
Making hard-boiled eggs is pretty straightforward; just let them boil for approximately 10 minutes, and they are ready.
Eggs are a no carb snack that is full of protein and healthy fats, which also makes them an excellent option for satiety.
7. Salami
There are many different salami types and flavors, but all share an intense flavor from the long curing period.
This traditional European meat also makes snacking easy; just cut off a few slices and eat.
Salami is a perfect match for cheese, and if you're a wine fan, it goes very well with that too.
It is one of the easiest (and tastiest) keto snacks.
8. Peanuts
Peanuts are not the lowest in carbohydrate, but providing you exercise portion control they're still a very good idea.
A 1-ounce portion (about a handful) provides only 4.5g carbs, making them compatible with keto (2).
Of course, peanut butter is also a tasty option – but it is easy to over-indulge!
9. Roast Chicken Drumsticks
This one isn't quite so instant, but not many foods come close to the taste of roast chicken drumsticks.
Baste the drumsticks in butter and add a little garlic, salt, and curry powder on top.
Bake them in the oven for approx 30 minutes, and the result is some delicious chicken that is crispy on the outside and soft on the inside.
A very simple to make ketogenic snack (or meal).
10. Pork, Cheese and Garlic Meatballs
Do you need some new low carb recipe ideas?
These keto meatballs won't disappoint!
Ingredients;
Ground/Minced Pork
Grated cheese
Salt
Pepper
Garlic
Just combine all the ingredients in a bowl, mix and form them into meatball shapes.
These meatballs don't require any specific amount of each ingredient, just add however much you like.
Bake for 20 minutes and they will be ready.
11. Bulletproof Coffee
Nothing splits opinion like bulletproof coffee.
It is coffee blended with a generous serving of butter and coconut (or MCT) oil.
As a result, we can call it a zero carb "snack" and many people claim they find it very satiating.
However, it has a limited nutritional profile.
Tasty, though.
12. Greek Yogurt
The full benefits of fermented dairy are only just being discovered after years of health authorities warning about the (harmless) dairy fat content.
Greek yogurt is one of the best.
It is similar to regular yogurt, except slightly thicker, creamier, and with a slightly sour, tangy taste.
There are also several studies suggesting that fermented dairy products like Greek yogurt are protective against cardiovascular disease (3, 4, 5).
It is one of the healthiest low-carb snacks.
13. Almonds
Almonds are one of the most nutritious members of the nut family and packed with nutrition.
A handful serving of about one ounce provides only three grams of net carbs (6).
Almonds are an excellent low carb snack when you're on the go; put them in a container and take them with you.
14. Zucchini "Pizza" Slices
Here is another quick, easy and delicious keto recipe and you only need five ingredients;
Zucchini
Butter
Grated Cheese
Salt
Pepper
First of all, slice the zucchini into about twenty different pieces and spread butter on each one.
After this, sprinkle salt and pepper on the slices and top with some grated cheese.
Put them in the oven for about twenty minutes, and you'll have some crunchy, buttery, cheesy slices that taste delicious.
They also work well as a side dish alongside some meat.
15. Beef/Chicken/Pork Salad
Ever heard someone say "what can I eat for lunch without sandwiches??"
It's a common question with a simple answer; the same as what you would have eaten, but without the bread!
For instance, a salad box makes a great keto lunch on the go.
Put your choice of leftover meat in a lunchbox, and add some olive oil, cheese, cherry tomatoes, and a few leafy greens.
The result is a simple and healthy meal that tastes great.
16. Olives
Despite the widespread misconception that olives are a vegetable, they are actually a fruit.
The only difference is that they are high in healthy fats rather than fructose.
There are many different types of olives; in addition to the standard black and green varieties, there are also the purplish-brown Kalamata and Nicoise.
All olives have a wealth of health benefits; they are very nutrient-dense and contain heart-protective fats.
They make a great snack idea for work too; instead of eating candy, have a few olives on the desk.
If you're looking for something more exotic, then consider trying a tapenade.
17. Stuffed Bell Peppers
Stuffed bell peppers are perfect snacks for a low carb diet.
Take a few bell peppers, cut them in half to form two "boats" and stuff each one with whichever ingredients you like.
One of my personal favorites is ground beef, onions, garlic, cream cheese, and chives.
You will have a yummy snack after baking for about twenty minutes.
18. Keto Hot Chocolate
For a carb-free hot chocolate, replace the milk with either heavy cream or coconut milk.
If you prefer a sweet taste, then you can use a sugar substitute too.
All you need is;
Cacao powder
Heavy cream or coconut milk
Natural sweetener (optional)
Cinnamon (optional)
Bring the milk/cream to a boil, mix in the cacao powder, and add anything else you want.
19. Avocado
Similar to olives, the avocado is another fatty fruit that is low in carbs but offers a tremendous amount of nutrients.
A standard Florida or California avocado provides the following per one fruit (7);
Net Carbohydrate: 4g
Fat: 29g
Protein: 4g
Vitamin K: 53% RDA
Folate: 41% RDA
Vitamin C: 33% RDA
Potassium: 28% RDA
Pantothenic Acid: 28% RDA
Vitamin B6: 26% RDA
Vitamin E: 21% RDA
Copper: 19% RDA
Niacin: 17% RDA
Riboflavin: 15% RDA
Magnesium: 15% RDA
Manganese: 14% RDA
and a range of vitamins and minerals in smaller amounts.
There are so many different ways to eat avocado, and all of them taste great.
Guacamole is particularly tasty.
20. Celery With Cream Cheese & Chives
Celery with cream cheese and chives is one of the best low carb snacks.
It's so simple but very tasty.
All you have to do is chop some chives into tiny pieces and mix them into cream cheese.
After this, stuff the cream cheese mixture inside the celery and a yummy snack is waiting.
21. Prosciutto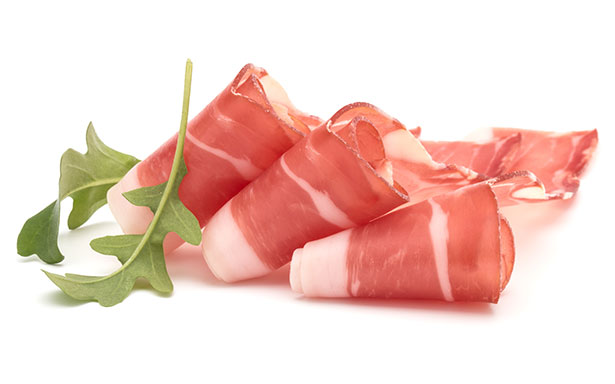 Prosciutto is a delicious aged and cured ham that we can use in so many different ways.
Whether that is wrapping it around cheese or covering asparagus in it, all taste great.
It also tastes just fine on its own, and as its meat, it is a perfect low carb snack.
22. Sausages and Onions
Why do hot dogs taste so good?
Is it because of the dry bread rolls or is it the juicy sausages and onions inside?
If you ditch the carbs, then the sausages and onions become a tasty low carb treat.
Cover them with salt, pepper, and garlic for a delicious snack or meal.
23. Roasted Seaweed
Dried seaweed is superb for health; roasted seaweed sheets are virtually calorie-free, but they are a major source of iodine.
The little sheets are very moreish and make a decent no sugar snack.
Covering them with salt boosts the flavor too.
24. Bacon and Egg Guacamole
This one is more of a meal than a snack, but mixing some bacon and soft-boiled eggs into a bowl of guacamole tastes amazing.
It is a tasty low carb recipe that works well as a quick breakfast.
If you want to make a bigger meal, then add some beef, veggies, salsa, and sour cream to make a Mexican-inspired burrito bowl.
25. Pork Rinds (Crackling)
Pork rinds are one of the very best carb-free snacks.
I have enjoyed them since I was a child, so for me, they have a nostalgic value too.
They are very appetizing and moreish; the packet always finishes far too quickly!
You can buy pork rinds in almost any store, and you can even make your own.
26. Coconut Chips
Coconut chips have a decent nutritional profile and are quite good for you.
You can find a wealth of options in stores or online.
However, most coconut chips contain sugar.
Personally, I don't think a few grams of sugar from coconut chips or dark chocolate is anything to worry over, but if you're someone who likes avoiding sugar completely, then you can always make your own at home.
It's very simple;
After opening up the coconut, use a vegetable peeler to shave thin slices off the coconut meat.
Cover these slices in coconut oil and then liberally salt them.
Bake in the oven for approx 20 minutes.
One of the easiest keto snacks!
27. Moon Cheese
What is Moon Cheese?
I wondered that when I first heard about it too, but Moon Cheese is apparently "crunchified cheese."
The manufacturer explains;
"We crunchify 100% natural cheese into the tastiest snack possible – at least on this planet."
Moon Cheese is similar to potato chips, except it is made from only cheese.
It's a perfect keto treat for when you're on the go.
28. Walnuts
Walnuts are one of the best nuts for health, and they contain a variety of beneficial nutrients.
They also have the best omega-6 to omega-3 ratios out of all nuts at approximately 4:1 (8).
A lot of research has looked into the benefits of walnuts.
One striking finding was that in a study of over 7000 elderly patients, those supplementing their diet with walnuts lived longer and had a reduction in cardiovascular risk (9).
A handful of these nuts is a very healthy keto snack.
29. Enoki Mushrooms Wrapped in Bacon
When you're in a rush and don't have much time to prepare a meal, this quick and easy idea is ready in 15 minutes.
The recipe is low carb and tastes great; all you have to do is wrap some enoki mushrooms in bacon and put them in the oven.
It is that simple.
Adding some chives is also very tasty!
30. Healthy Blueberry Jelly Gummies
Gummies are a popular form of candy/sweets that are popular around the world.
What you may not know is that it's so easy to make a healthier version at home.
Here is what you need;
Your favorite berries (frozen are OK – as are mixed berries)
Gelatin powder (1 tablespoon per 1/4 cup (60 ml) of berry juice)
Sweetener (optional)
First: Blend your choice of berries, and then pour the mixture into a pan and heat gently. Once they start to boil, add them back to the blender.
Second: Add the gelatin (and if you want: sweetener) to the berry mixture, and blend until the liquid is a smooth consistency.
Third: Pour the mixture into the gummy molds and then refrigerate.
An hour or two later you will have your own homemade (and much healthier) gummies.
These make a perfect treat for little ones, or a healthier keto snack for a movie!
31. Vanilla & Cinnamon Peanut Butter Cookies
These keto cookies are another simple recipe that is ready in no time at all.
1 cup peanut butter
½ cup erythritol
1 egg
1 tsp cinnamon
5 drops of vanilla extract
All you have to do is mix the ingredients together in a bowl, roll the dough into small ball-size shapes, and then flatten them out on a baking tray into a cookie.
Cook them in the oven at 350F (177C) until they start browning on the outside.
32. Mixed Berries and Heavy Cream
This one only takes a minute to prepare, and it is one of the best keto snacks out there!
Add some mixed berries into a bowl, and pour your desired amount of heavy cream on top.
This combination tastes delicious and is full of health benefits from all the antioxidants in the berries.
Another tip: if you use frozen berries, it will turn into a sort-of ice-cream as the heavy cream becomes cold.
33. Camembert
Camembert is a simple low carb treat and one of the best-tasting cheeses out there.
A few pieces of camembert on a platter of food is always great, and it matches well with wines and berries too.
Camembert is an aged cheese similar to Brie, but with a slightly deeper, more intense taste.
34. Pecans
All nuts have a range of positive health impacts and pecans are no exception.
These nuts contain the most polyphenols out of all nuts, and they come in at only 3.9g carbohydrate per ounce (10).
Sprinkle with a bit of sea salt for a salty keto snack.
35. Chocolate Coconut-Cream Bars
Here is a very simple recipe that tastes delicious.
You only need two ingredients;
100g Dark chocolate bar (preferably 85% +)
Creamed coconut bar
Instructions
Add the creamed coconut bar into a pan on low heat and keep moving it around while it starts to melt.
Once the coconut starts melting, add the chocolate bar into the pan and keep stirring everything until it becomes a consistent liquid mixture.
Finally, pour this mixture into chocolate bar molds and then refrigerate.
Your very own coconut chocolate candy bars will be ready in an hour or two.
They make a great low carb party snack!
36. Cayenne Cheese Chips
Want a crunchy keto snack similar to potato chips?
Well, that is entirely possible with these cayenne cheese chips.
Just grate some cheese and put it into a bowl, add a teaspoon of cayenne pepper, and some salt. The amount is totally up to you.
Next, squeeze the mixture into balls and place them on a baking tray.
Flatten them until they are very thin and then bake for 5-10 minutes.
Make sure to watch them closely as they can burn if you're not careful!
37. Blackberries
Blackberries are yummy and very healthy.
They are also one of the lowest carb fruits at only 5g net carbs per 100g (11).
Blackberries are a great option for some travel munchies rather than the typical hard-boiled sweets.
As with all berries, they also make a perfect combination with some heavy cream.
38. Cream Cheese Pancakes
These keto pancakes only need four ingredients;
3 oz cream cheese
3 eggs
½ tsp cinnamon
5 drops of vanilla extract
1 tsp erythritol/xylitol
Mix the cream cheese and eggs together until you have a smooth consistency, and add the flavorings in.
Next, heat your cooking oil of choice, spoon the mixture into the pan and cook until slightly browned.
Top the finished pancakes with some whipped cream and blueberries, or you can take them out on a low carb picnic.
Which Are the Best Keto Snacks?
Well, that finally completes the list of low carb and keto snacks.
Have you tried any of them before? Which ones look most tempting?
For me, my favorite is combining some dark chocolate, prosciutto, camembert, and a few berries.
Super simple and delicious too!