Traditional wheat bread is one of the highest dietary sources of carbohydrate, so it isn't a good fit for low-carb diets.
However, there are a wide variety of low-carb recipes for almost every food these days.
In recent times, there are countless popular low-carb bread recipes, and there are also many commercial varieties available.
For those who are on a low-carb diet but still wish to enjoy some form of bread, this is a guide to 15 of the best low carb bread alternatives.
1) Cloud Bread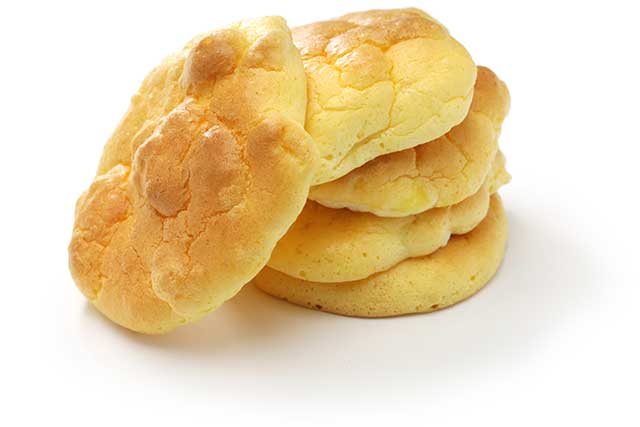 Cloud bread, otherwise known as 'oopsie bread' is a little different to the typical sliced bread options.
For one thing, the main ingredients are eggs and cream cheese with some cream of tartar for extra volume.
Ingredients
There are all kinds of different cloud bread recipes, but the base ingredients include;
Eggs
Cream cheese
Cream of tartar
Salt
See this guide to making cloud bread for further information.
Key Point: Cloud bread contains two grams of carbohydrate per serving.
2) Thin Slim 'Love-The-Taste' Zero-Carb Bread
'Love-The-Taste' zero-carb bread is a commercial bread product made by the company Thin Slim.
This product is not suitable for anyone looking to avoid gluten/wheat products, but it is very low in digestible carbohydrate, otherwise known as "net carbs."
In short; this bread consists of various proteins and fibers isolated from wheat and oats combined with flaxseed and yeast.
Generally speaking, this low-carb bread receives positive reviews, and it is also a good source of protein.
Ingredients
'Love-The-Taste' bread has the following ingredient profile;
Wheat protein isolate
Vital wheat gluten
Oat fiber
Modified wheat starch
Flaxseed meal
Olive oil
Chicory root
Yeast
Salt
Apple cider vinegar
This bread is available here.
Key Point: Despite its name, this "zero-carb" bread contains seven grams of carbohydrate per serving. However, these carbs are all fiber.
3) Almond Flour Pizza Base ("Fathead Pizza")
Originating from the documentary 'Fat Head', most people who try this pizza base recipe agree on it being the best low-carb pizza.
While a pizza base is generally a vehicle for tomato, cheese, and delicious toppings; this base tastes delicious on its own.
Made from an interesting combination of almond flour, cheese, cream cheese, and eggs, it has a soft but firm and flavorful taste.
Ingredients
The base ingredients for fathead pizza are as below;
Mozzarella cheese
Almond flour
Cream cheese
Egg
Garlic
Salt
Herbs
There is a full recipe for the pizza here.
Key Point: Fathead pizza is a low-carb pizza base that contains 4.6 grams of carbohydrate per slice.
4) Portobello Mushroom "Bun"
Portobellos are a delicious type of mushroom, and they have a versatile range of uses in the kitchen too.
For example, some people like to use them as a burger bun or to stuff them with cheese and other various ingredients.
While they are far from being a "bread," portobello mushrooms can work well as a low carb burger bun.
To make them, all you have to do is scrape some of the mushroom gills out from the underside.
After this, grill them for 6-7 minutes and then use them in the same way as a traditional burger bun.
The taste is very different, but you can hold these in two hands, and they taste great.
Ingredients
Key Point: Per portobello mushroom, there are four grams of carbohydrate, one gram of which is fiber.
5) Low Carb Almond Bread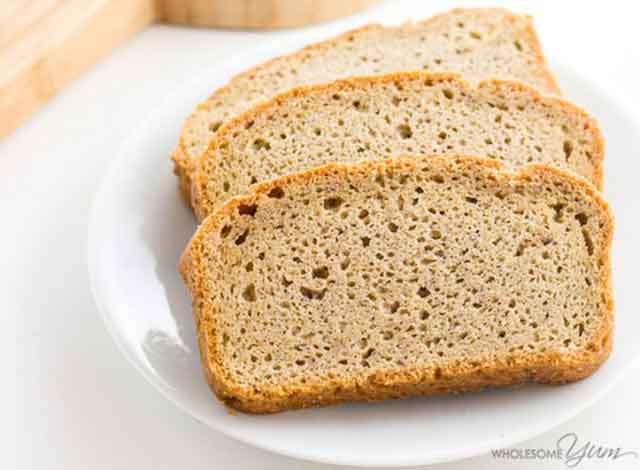 This recipe (and photo) is from the website Wholesome Yum.
Almond bread might sound a little strange if you have never tried it before, but it is moist, chewy, and tastes great.
It arguably tastes better than regular wheat bread.
This recipe has a slightly thicker texture than usual almond bread due to the addition of psyllium husk, so it has a very "bread-like" feel too.
Additionally, since almonds are very nutrient-dense, this bread offers a wide range of nutrients including protein, vitamin E, magnesium, and manganese (1).
Ingredients
Almond flour
Psyllium husk
Baking powder
Salt
Egg
Coconut oil
See the full recipe here for instructions on how to make it.
Key Point: This low carb almond bread has five grams of carbohydrate per serving.
6) Low Carb Banana Bread
Bananas may not be the most low-carb friendly of foods, but per serving, this recipe is reasonably low in carbohydrate.
This low carb banana bread is another recipe that makes use of almond meal and eggs alongside the unique addition of some bananas.
Although it is a bit higher in carbs than the other options on this list, this bread is higher in fat and offers a moderate amount of protein.
Ingredients
Banana
Eggs
Oil
Almond meal
Baking powder
Salt
To find out how to make it, see the recipe in full.
Key Point: Each serving of low carb banana bread contains eleven grams of carbs.
7) Califlour Foods 'Cauliflower Flatbreads'
These ready-made flatbreads made from cauliflower contain only two grams of net carbs, and they have a healthy ingredient profile too.
However, I feel they are somewhat overpriced for what they are – each flatbread costs around $2.
For this reason, I wouldn't personally recommend them unless you can find them in a sale (or for those with money to burn).
Ingredients
Cauliflower
Egg whites
Mozzarella cheese
These cauliflower flatbreads are new to the market, but they are available online here.
Key Point: Each cauliflower flatbread contains two grams of net carbs.
8) Keto Cream Cheese Burger Buns
Earlier on we looked at portobello mushroom burger buns, but if you are looking for something more bread-like, then these cream cheese burger buns may be a better choice.
Based around cheese, almond flour, eggs, butter, and cream cheese, they are hard to beat in the taste department.
On the positive side, they only take around 20 minutes to make too.
Ingredients
The ingredients for these burger buns include;
Mozzarella Cheese
Cream cheese
Eggs
Almond flour
Baking powder
Salt
Butter
Sesame seeds
Parsley
Get the recipe and preparation instructions here at Delish.
Key Point: The nutrition facts are unavailable for this recipe, but from the ingredients, the burger buns will be mainly fat, fiber, and protein.
9) Low Carb Meatloaf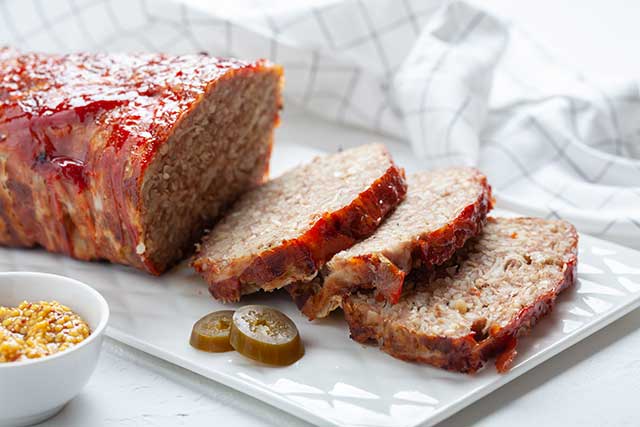 While a regular "loaf" of bread will be high in carbs, meatloaf is very low.
Whether you want a cheese and bacon meatloaf or one stuffed with Mozzarella and vegetables, there are so many different recipes that there is something for everyone.
See this guide to 25 of the best low-carb meatloaf recipes for all the recipes you need.
Ingredients
The ingredients in these meatloaf recipes vary, but beef, cheese, and spices are some common ingredients.
Key Point: For a more meaty low-carb "bread", there are many delicious meatloaf recipes.
10) Lettuce Wraps
Lettuce wraps are an alternative to bread rather than a direct replacement, but they work well with a wide variety of foods.
For instance, we can use lettuce leaves as;
Burger buns
Tortilla wraps
General wraps for marinated meat
The primary thing is to buy relatively large, thick leaves which helps to stop things becoming messy.
For those who have tried Korean BBQ before, lettuce wraps are a delicious way to eat meat and a wide variety of condiments.
Ingredients
Key Point: A typical large lettuce leaf provides 0.5 grams of carbohydrate – a huge difference to bread.
11) Keto Garlic Butter Naan Bread
Diet Doctor is the world's biggest low-carb website, and it produces some of the best recipes too, including this one.
This low-carb naan bread is worth checking out because as you'll see, it looks delicious.
The main ingredients for the naan bread are psyllium husk and coconut flour, which are both very high in fiber and low in digestible carbs.
And of course, butter and garlic make most things taste better.
Ingredients
Coconut flour
Psyllium husk
Onion powder
Baking powder
Salt
Coconut oil
Garlic
Butter
See the full recipe for instructions on how to make these keto naan breads.
Key Point: These naan breads provide one gram of net carbs per serving.
12) Nori Sheets (Dried Seaweed)
Nori sheets make great bread alternatives as a low-carb wrap.
Also, seaweed is the single most significant dietary source of iodine, and it is packed with vitamins and minerals (2, 3).
You can use nori sheets in whatever way you wish and fill them with a wide range of ingredients.
However, for those that like salmon sashimi, here is a delicious low-carb "sushi" wrap recipe (per wrap);
2 oz (56 g) cream cheese
3 oz (85 g) salmon sashimi (chopped into small pieces)
½ bell pepper (chopped)
½ avocado (chopped)
Instructions
Spread the cream cheese on the nori sheet
Place the salmon, bell pepper, and avocado pieces along the middle.
Roll the nori sheet into a roll
For full instructions on how to roll a nori sheet, see this useful picture guide.
Key Point: A single sheet of nori dried seaweed contains less than one gram of carbohydrate.
13) Low Carb Coconut Bread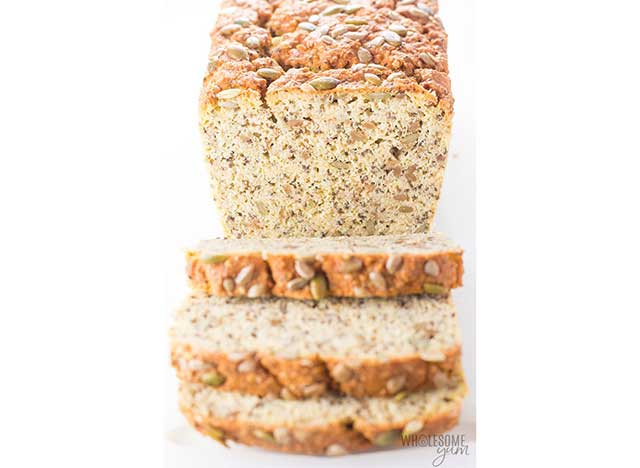 This low-carb coconut bread is another delicious recipe from Wholesome Yum.
Interestingly, because this bread alternative is full of different seeds and made with eggs, it will have a high nutrient count too.
You can use this low-carb bread in the same way as you would use any regular wheat bread, and it is an excellent choice for sandwiches.
Ingredients
Coconut flour
Flaxseeds
Sunflower seeds
Pumpkin seeds
Chia seeds
Sesame seeds
Baking powder
Salt
Eggs
Butter
If you want to try making this bread, the full recipe instructions are here.
Key Point: This low-carb coconut bread provides three grams of net carbs per serving.
14) Keto Bread
Boldly titled "The keto bread," this is another popular recipe from Diet Doctor.
Surprisingly, it looks almost exactly like a regular bread roll.
The only difference is that it contains no wheat flour, and instead offers psyllium husk and almond flour as the base ingredients.
You can use this keto bread in any way that you would use a typical bread roll.
Ingredients
Almond flour
Psyllium husk
Sesame seeds
Baking powder
Salt
Vinegar
Egg whites
If this recipe sounds appealing, see the full instructions for how to make it.
Key Point: Per keto bread roll, there are only two grams of net carbs.
15) Low-Carb Sourdough Baguette
This recipe is from the KetoDiet website, which is another of the most popular low-carb recipe sites.
Interestingly, this recipe isn't a genuine 'sourdough' bread, but it uses vinegar and buttermilk to replicate the taste.
This low-carb baguette contains a large range of ingredients, so it is a bit more complex than some of the other options.
However, it receives wide praise for its taste and quality, so it may be worth the effort.
Ingredients
Almond flour
Psyllium husk
Coconut flour
Flaxseeds
Baking soda
Eggs
Buttermilk
Vinegar
Salt
For instructions on how to make it, see the full recipe at KetoDiet.
Key Point: Surprisingly, there are only 4.5 grams of net carbs per whole low-carb baguette.
Final Thoughts
Many people love bread, but it isn't a suitable choice for the average low-carb diet.
However, as this guide shows, there are so many substitute options and low-carb friendly bread recipes. A range of low-carb flours exists too for those that like to bake at home.
In other words; it is still possible to eat some low-carb sandwiches or wraps on a carbohydrate-restricted diet.
For more great alternatives, see this guide to low-carb pasta options.