Pasta is one of the most popular foods in the world, and it is the key ingredient in numerous famous dishes.
On the negative side, pasta is also a significant source of refined carbohydrate, which many of us would benefit from limiting.
For those who are trying to cut down on carbs, this article looks at 12 of the best low carb pasta alternatives.
While none of these options will taste exactly like pasta, they are all tasty recipes.
1) Zucchini Noodles (Zoodles)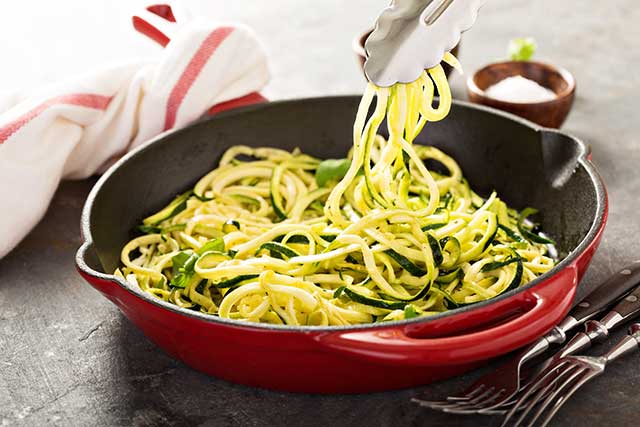 Zoodles are a favorite choice for low-carb recipes, and all you need to make them is zucchini and a spiralizer.
However, the way you make them is crucial if you don't want to end up with soggy and watery zoodles.
Zoodles are a tough act to beat for low-carb friendliness, and they supply only 2.2 grams of net carbs per 100 grams (1);
| | |
| --- | --- |
| Calories | 16 kcal |
| Carbohydrate | 3.3 g |
| Fiber | 1.1 g |
| Net Carbs | 2.2 g |
| Fat | 0.2 g |
| Protein | 1.2 g |
Pros
Very low in carbs
A good source of vitamins and minerals
Look (slightly) similar to spaghetti
Taste good
Cons
They can become too soggy if overcooked
Key Point: Zoodles are a tasty and nutritious low-carb pasta substitute.
2) Eggplant "Lasagna" Sheets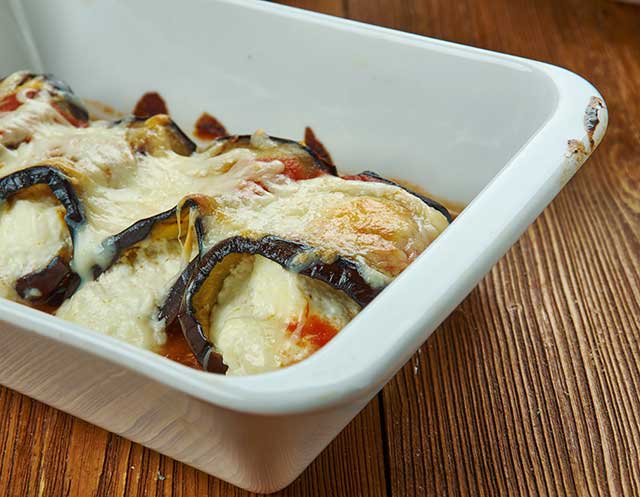 Firstly, if you want something that looks exactly like real lasagna, then you will be disappointed.
However, sliced eggplant works very well as a low-carb replacement option for regular lasagna sheets.
For one thing, eggplant and pasta share a similar spongy texture that draws in moisture. In other words; the slices of eggplant can absorb lots of flavor from the lasagna sauce.
Secondly, eggplant barely contains any digestible carbohydrate, and 100 grams offers only 2.3 grams of net carbs (2).
To use eggplant as "lasagna" sheets, just cut the vegetable into thick lengthwise slices and use as you would normal lasagna.
| | |
| --- | --- |
| Calories | 24 kcal |
| Carbohydrate | 5.7 g |
| Fiber | 3.4 g |
| Net Carbs | 2.3 g |
| Fat | 0.2 g |
| Protein | 1.0 g |
Pros
Good texture
Very low in net carbs
Absorbs flavors in a similar way to regular pasta
Cons
It looks different, and it is visually incomparable to regular lasagna.
Key Point: Although it looks a little different, eggplant makes a great pasta substitute in lasagna.
3) Enoki "Noodle" Mushrooms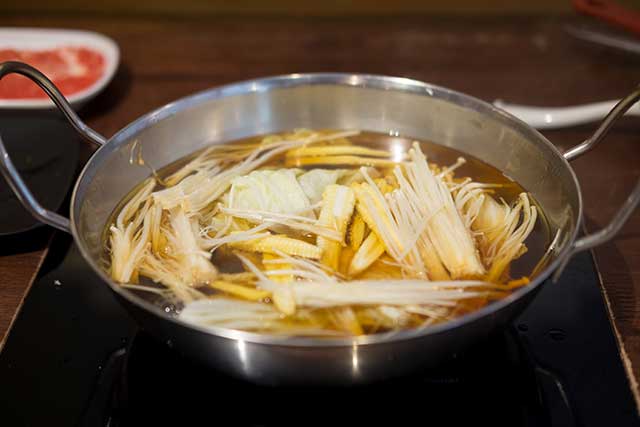 People have been using enoki mushrooms as a low-carb "noodle" for a long time, and they certainly look the part.
That said, the taste and texture of enoki mushrooms are far away from the real thing.
Depending on the cooking method and time, enoki mushrooms can be either slightly crunchy or very soft.
Enoki mushrooms are particularly popular in the Far East, and they feature in various Japanese soups.
Also, it is possible to use them as a low-carb alternative to pasta in dishes like Carbonara and Alfredo.
Per 100 grams, enoki mushrooms contain 5 grams of net carbohydrate (3).
| | |
| --- | --- |
| Calories | 44 kcal |
| Carbohydrate | 7.7 g |
| Fiber | 2.7 g |
| Net Carbs | 5.0 g |
| Fat | 0.3 g |
| Protein | 2.6 g |
Pros
Look similar (ish) to spaghetti/noodles
Contain minimal carbs
Enoki mushrooms soak up flavor like regular spaghetti
Cons
Can become overly soft when cooked for too long
Although they can absorb different flavors, they still have a bold mushroom taste.
Key Point: Enoki mushrooms can play a role as a low-carb spaghetti or noodle replacement.
4) Shirataki (Konjac) Noodles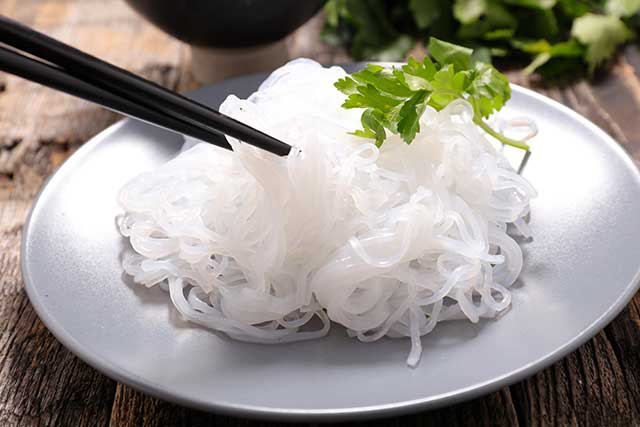 You may also know shirataki noodles by their alternate name of 'miracle noodles,' and they are a low-carb and low-calorie replacement for regular noodles.
There are three ingredients in these noodles; konjac root flour, water, and calcium hydroxide. The actual composition of these ingredients is 97% water, 3% konjac root, and trace amounts of calcium hydroxide.
Since not many people know that last ingredient, calcium hydroxide is a kind of food additive that can improve the digestibility of food, and the bioavailability of nutrients in it (4).
When it comes to the taste of miracle noodles, it seems that people either love them or hate them.
While not particularly flavorful, the noodles have a chewy/rubbery texture and absorb some of their surrounding flavors.
With the only carbohydrate (and calories) coming from glucomannan, a type of fiber, these noodles are virtually zero-carb and calorie-free.
Pros
Almost no carbs or calories
Can taste chewy somewhat like regular noodles
May have a positive impact on blood sugar regulation (5)
Cons
No real flavor, but perhaps this is a positive point if the sauce they are in tastes good?
Key Point: Shirataki noodles are a near-zero-carb alternative to pasta.
5) Kelp Noodles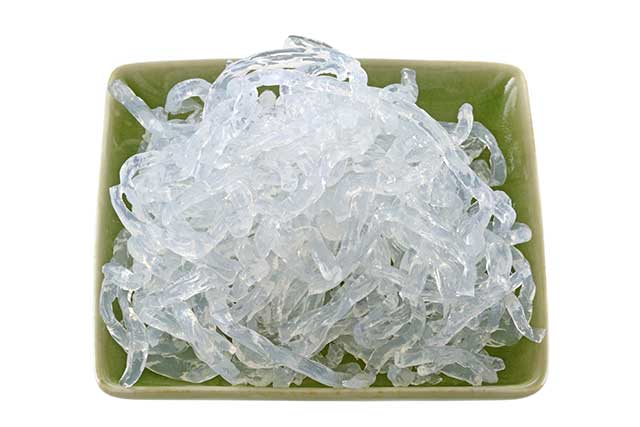 Kelp noodles have a translucent appearance somewhat similar to shirataki noodles, and they come from seaweed.
These noodles have three ingredients; water, kelp, and sodium alginate.
For anyone unaware of the last ingredient, sodium alginate (E401) is a food additive with thickening properties. The additive is an extract from brown seaweed, and it is used to thicken various foods (with ice cream being a notable example) (6).
Kelp noodles have no strong flavor, so they work well in a range of dishes. However, they don't quite have the texture of traditional noodles, and they have more of a "crunch."
All in all, kelp noodles are a healthy and reasonably tasty low carb alternative to pasta.
Nutritionally, kelp noodles offer the following values per 100 grams (7);
| | |
| --- | --- |
| Calories | 17 kcal |
| Carbohydrate | 4 g |
| Fiber | 4 g |
| Net Carbs | 0 g |
| Fat | 0 g |
| Protein | 0 g |
Pros
Zero grams of net carbs
Since kelp is among the most significant sources of iodine, kelp noodles should provide some of this important mineral (8)
Cons
Not a like-for-like replacement and kelp noodles are crunchy rather than chewy.
Key Point: Kelp noodles don't offer a traditional pasta experience, but they're a worthy low-carb alternative to try.
6) Cabbage Spaghetti
Cabbage "spaghetti" is just shredded cabbage.
However, it tastes quite good and works reasonably well providing you don't want an authentic pasta experience.
To make it, all you have to do is shred a large amount of cabbage and cook it in a bit of oil or butter.
Next, pour some meat and sauce over it, and you have a near carb-free pasta replacement.
Since cabbage is a nutrient-dense vegetable, this one offers lots of vitamins and minerals too.
Per 100 grams, cabbage spaghetti offers (9);
| | |
| --- | --- |
| Calories | 25 kcal |
| Carbohydrate | 5.8 g |
| Fiber | 2.5 g |
| Net Carbs | 3.3 g |
| Fat | 0.1 g |
| Protein | 1.3 |
Pros
Healthy and nutritious
Tastes good
Minimal carbohydrate
Cons
Doesn't bear any resemblance to real pasta – it's a completely different experience.
Key Point: Cabbage "spaghetti" works surprisingly well, but don't think of it as a similar-tasting substitute for pasta – it is not.
7) Spaghetti Squash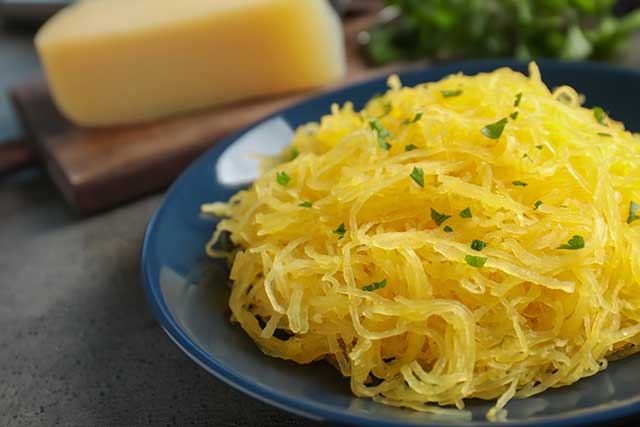 With a slightly sweeter, softer, and chewier taste than zucchini noodles, spaghetti squash makes an excellent pseudo-pasta.
For one thing, it tastes delicious, and it even looks something like real spaghetti too.
To make it, cut the spaghetti squash in half and cook both sides in the oven.
Once cooked, use a fork to scoop out the strands that look like spaghetti.
Add some meat, veggies, pasta sauce, and grated cheese, or any other low carb food, and you'll have an authentic looking pasta dish.
Per 100 grams, spaghetti squash offers (10);
| | |
| --- | --- |
| Calories | 27 kcal |
| Carbohydrate | 6.5 g |
| Fiber | 1.3 g |
| Net Carbs | 5.2 g |
| Fat | 0.4 g |
| Protein | 0.7 |
Pros
Great taste
Looks just like the real thing
Cons
Although still very low in carbohydrate, it is not quite as low as other options.
Key Point: Spaghetti squash can be a tasty replacement for pasta. Although it doesn't taste quite the same, it has a very similar appearance.
8) Eggplant Noodles
Generally speaking, all the points raised about eggplant "lasagna" apply to eggplant noodles too.
Nutritionally they offer the same profile, but the appearance and texture are somewhat different.
To make eggplant noodles, peel an eggplant or two and then use a spiralizer (disclosure: affiliate link) to cut them into long noodle shapes.
After this, lightly fry them in some olive oil and add a bit of salt and pepper.
While not quite as popular as zucchini noodles, this eggplant-based pasta substitute has a chewier texture and absorbs flavor better than zoodles do.
Per 100 grams, eggplant noodles offer (2);
| | |
| --- | --- |
| Calories | 24 kcal |
| Carbohydrate | 5.7 g |
| Fiber | 3.4 g |
| Net Carbs | 2.3 g |
| Fat | 0.2 g |
| Protein | 1.0 g |
Pros
Similar to zoodles and other spiralized vegetable "noodles" but they absorb flavor better.
Good texture
Cons
Thicker pieces of eggplant (as in eggplant lasagna) absorb flavors from a dish better than thin noodle shapes do.
Key Point: Eggplant noodles are very different to genuine pasta/spaghetti, but they do a good job of soaking up flavors.
9) Palmini Noodles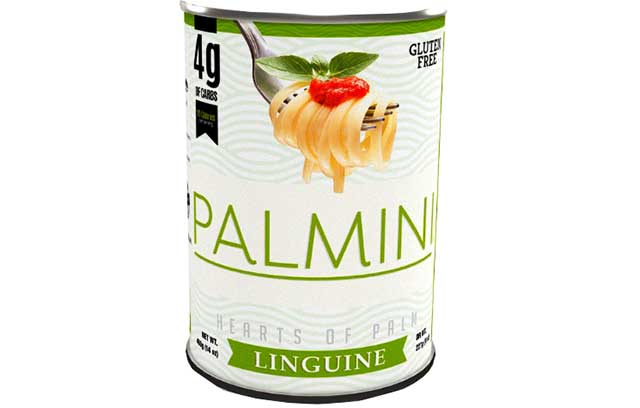 Palmini noodles are made from the edible bud of certain varieties of palm tree.
This bud is a vegetable otherwise known as 'heart of palm.'
With a minimal carbohydrate content—over half of which is fiber—Palmini noodles are an excellent choice for anyone trying to reduce their carb intake.
Directly out of the can these noodles have a crunchy texture, but they take on a softer consistency after cooking.
Furthermore, the noodles are a good source of various vitamins and minerals, particularly iron and manganese (11);
| | |
| --- | --- |
| Calories | 28 kcal |
| Carbohydrate | 4.6 g |
| Fiber | 2.4 g |
| Net Carbs | 2.2 g |
| Fat | 0.6 g |
| Protein | 2.5 g |
In an FAQ, the manufacturers of Palmini noodles claim that "some people actually believe they are eating pasta."
Pros
Said to taste similar to the real thing (as part of a dish)
Good source of essential nutrients
Only 2.2 grams of net carbs
Cons
Relatively expensive; the price starts at approximately $4 per can.
Key Point: Palmini noodles are a new and interesting vegetable-based pasta alternative. They are very low carb, but quite expensive.
10) Black Bean Spaghetti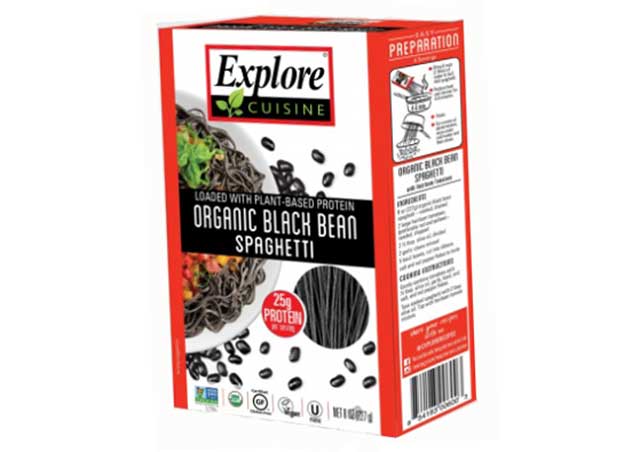 Generally speaking, all beans—including black beans—are fairly high in carbohydrate.
However, black bean spaghetti from Explore Cuisine is a somewhat low carb option.
The spaghetti is made exclusively from black bean flour, and it provides eight grams of net carbs per 56-gram serving.
Per 100 grams, this works out at around 14 grams of net carbohydrate (12);
This product is also a substantial source of dietary protein.
| | |
| --- | --- |
| Calories | 321 kcal |
| Carbohydrate | 33.9 g |
| Fiber | 19.6 g |
| Net Carbs | 14.3 g |
| Fat | 5.4 g |
| Protein | 44.6 g |
Although it is higher in carbohydrate than the other options, this may be the closest thing to the texture of real pasta.
Pros
One of the closest-tasting lower carb alternatives to pasta
A good source of minerals like iron and potassium
Only 2.2 grams of net carbs
Cons
Much higher in carbs than all the other low carb pasta options
Key Point: It isn't quite an authentic pasta taste, but it might be the closest possible low carb option.
11) Carrot Noodles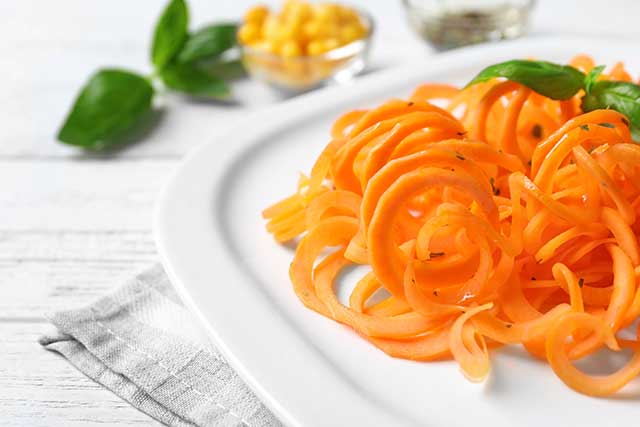 Yes, carrot noodles are a thing, and all you need to make them is a spiralizer.
While the idea of making some carrot spaghetti may not be particularly exciting, is it a good low carb option?
Per 100 grams, here is what they offer (13);
| | |
| --- | --- |
| Calories | 41 kcal |
| Carbohydrate | 9.6 g |
| Fiber | 2.8 g |
| Net Carbs | 6.8 g |
| Fat | 0.2 g |
| Protein | 0.9 g |
As shown, carrot noodles are not the lowest carb choice, but they are certainly much lower than traditional pasta.
However….. they don't taste or feel anywhere close to pasta, and it is better to think of them as string-shaped carrots.
Pros
Cheap and nutritious.
Easy to buy/make
Reasonably low carb
Cons
In short; they are carrots, and they taste like carrots.
Key Point: Carrot "noodles" aren't really a good replacement for pasta.
12) Oomi Noodles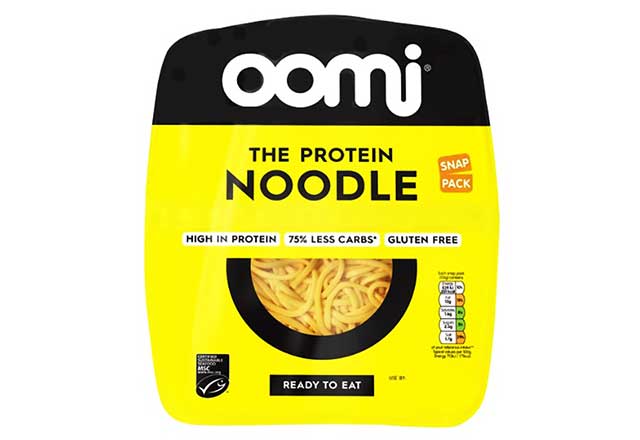 Oomi noodles are one of the more interesting low carb pasta alternatives, and their primary ingredient is fish protein.
As a processed food, they contain several different ingredients, as listed below;
Fish protein from pollock and/or whiting and/or hoki
Water
Sunflower oil
Starch
Soy protein
Milk protein
Sugar
Egg albumin
Salt
Carotenes (coloring)
Xantham gum (a stabilizer)
Yeast extract
As a processed product containing isolated protein, vegetable oil, various powders, and sugar, I wouldn't say they are a healthy choice.
However, they are low carb and moderately high in animal protein, which may interest some people.
Here is their nutritional profile per 100 grams (14);
| | |
| --- | --- |
| Calories | 171 kcal |
| Carbohydrate | 6 g |
| Fiber | – |
| Net Carbs | 6 g |
| Fat | 11 g |
| Protein | 11 g |
These fish noodles are only UK-based at the moment, but the manufacturer has said that expanding overseas is "definitely on the agenda," so keep an eye out if interested.
Pros
Source of animal protein
Reasonably low carb
Cons
A processed product, not a particularly healthy ingredient profile
Not the cheapest option
Key Point: Oomi noodles are based on fish protein.
Which is the Best Low Carb Pasta Alternative?
If we proclaim one of these options the best, the answer depends on what the exact question is.
Bear in mind this is subjective and personal opinions will differ, but I would say spaghetti squash is the best-tasting pasta replacement.
On the other hand, if you're looking for the most authentic tasting choice, that would probably be black bean spaghetti.
The lowest net carb option?
The winners there are kelp noodles and shirataki noodles.
More Low Carb Alternatives
See this guide to low-carb bread, or for those who enjoy baking at home, here are some low-carb flour options.
For more low-carb ideas, see these 25 delicious low-carb meatloaf recipes.