While it will never be the highest quality food, fast food doesn't have to be unhealthy.
In this article, we examine some of the best options for a reasonably nutritious fast food meal.
Each of these meals features only low carb foods and they are suitable for low-carb and keto diets.
1. Beef Patties ("Bunless" Burgers)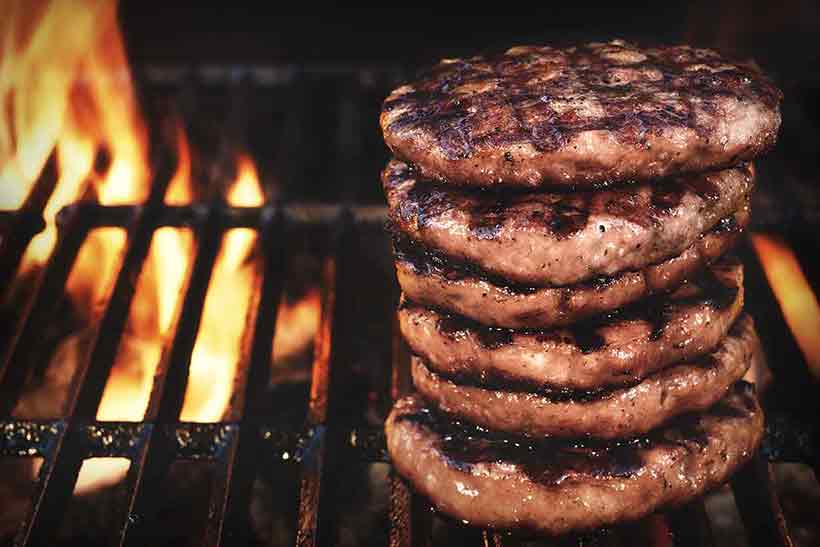 When someone is in a rush, a local burger may seem like a quick and convenient choice.
To make it low carb, all you have to do is discard the bun.
The first option would be just plain beef patties for a hefty dose of protein, B vitamins and minerals (1).
Alternatively, if you prefer more variety, you can order the burgers alongside some salad and maybe a slice or two of bacon and cheese.
A burger joint is never far away, and the time investment is low since they only take several minutes to prepare.
In recent years, all the big franchise chain stores such as McDonald's, Burger King, Shake Shack and more have started to offer "bunless" options too.
For instance, a bunless Shake Shack burger comes boxed alongside cheese, tomato and a large lettuce leaf.
The majority of these patties are 100% beef, which guarantees a tasty and nutritious meal.
Key Point: Beef patties are a quick, convenient and delicious keto-friendly breakfast or dinner.
2. Roast Beef Salad Bowl (Subway)
Subway is best known for its sub sandwiches, but they do have low carb alternatives available.
In particular, their salad bowls are one of the healthier fast food choices.
Otherwise known as "sub in a tub," it is all the good stuff in a sub just without the bread.
In other words; you get all the good stuff (meat and veggies) that come in a sub, but skip the refined carbs.
Typically, this salad bowl may feature roast beef, tomato, lettuce, red onion, olives, pickles, and jalapenos; quite a healthy combination of ingredients.
This popular option provides 19 grams of protein per serving as well as numerous vitamins and minerals.
One salad provides the following (2);
Calories: 140 kcal
Carbohydrate: 11 g
Fat: 4 g
Protein: 19 g
However, at only 140 calories for the salad (without dressings) it is best if you are just looking for a very light meal.
Don't feel like roast beef?
No problem, because there is a range of other options too, with bacon, chicken, ham and turkey salads all being available.
Key Point: A salad bowl from subway is a reasonably nutritious fast food option, and it makes a convenient low carb dinner.
3. Bacon and Eggs (Cafe)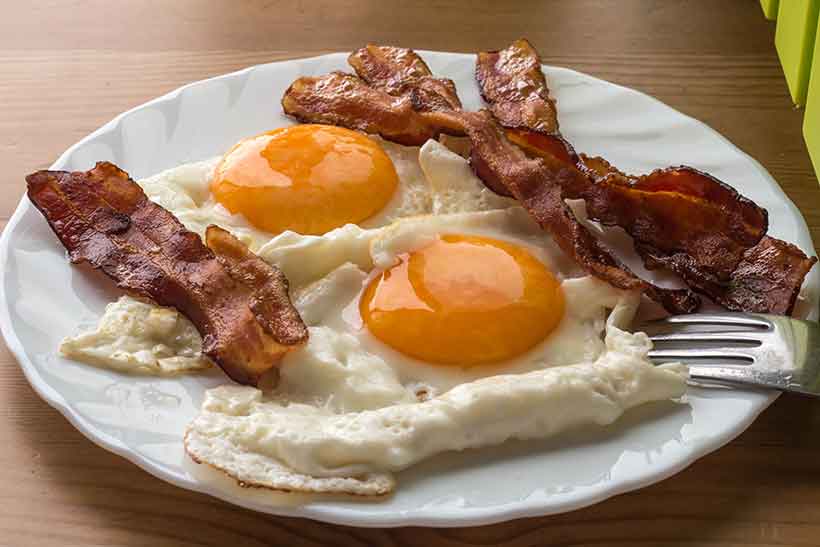 Bacon and eggs is a traditional breakfast option, and it is low carb and high in fat and protein.
In fact, this meal has been a favorite breakfast choice for centuries as part of the 'full breakfast' enjoyed in the UK and Ireland, and later in Australia, Canada, New Zealand, and the United States.
It is also potentially the tastiest breakfast choice out there; it is a hard combination to beat for flavor and enjoyment.
No matter where you are, there is always likely to be a nearby cafe that sells bacon and eggs.
Providing the cafe isn't too crowded, the time requirement is only small; this traditional breakfast is quick to cook, and doesn't take long to eat either.
This meal is surprisingly nutrient-dense and provides a decent amount of protein and essential nutrients such as selenium and B vitamins (3, 4).
Key Point: Bacon and eggs is a quintessential breakfast meal, and it happens to be low carb too.
4. Grilled Chicken Sandwich – No Bun (Burger King)
With lettuce instead of a bread bun, Burger King's grilled chicken sandwich is another low carb breakfast option.
The nutrition profile of this food is as follows (5);
Calories: 270
Carbohydrate: 1 g
Fat: 16 g
Protein: 30 g
Compared to fast food offerings of yesteryear, grilled chicken, lettuce, tomatoes, pepper and herbs doesn't sound too bad.
Similar to the Subway option, it is a very light meal and contains less than 300 calories.
Since it is relatively protein-dense, Burger King's grilled chicken should be a lot more satiating than typical carb-heavy breakfasts.
Lastly, this choice is one of the best for convenience; it should take only 5-10 minutes max to get the food, which you can quickly take away.
Key Point: Another "sandwich" with no bun, Burger King's grilled chicken sandwich is a quick and handy breakfast.
5. Cold Cuts, Cheese and Olives (Grocery Store / Supermarket)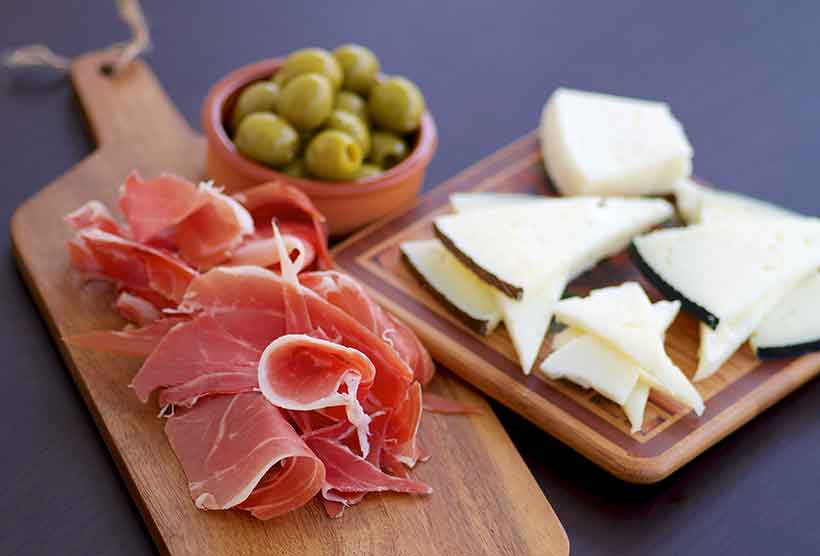 It's worth remembering that "fast" food doesn't have to come from a typical fast food joint.
There is never a grocery store or supermarket far away, and there are lots of great options on store shelves.
One quick meal option could be some cold cuts, cheese, and olives.
For example, a slice or two of roast ham/turkey, prosciutto or salami works well alongside a mild hard cheese (such as Cheddar or Gruyere).
Add some olives and a piece of fruit, and then you have a quick and nutritious low carb meal.
Although this combination is more suited to dinner, it tastes delicious at any time of day.
Key Point: Cold cuts, cheese, olives, and fruit offers a quick and convenient low carb dinner (or breakfast!)
6. Bacon Cheeseburger In a Bowl (Five Guys)
Five Guys has been one of the most popular fast food chains in recent years, and it has quickly expanded around the world.
It also has a reputation for providing better burgers than the typical offering.
One thing the company does well is to offer customers a variety of choice, and there are various low carb offerings available.
Perhaps the customer favorite among these is the 'burger in a bowl' (more like tray) option.
While you can get any of their menu items in a bowl, their bacon cheeseburger is a tasty choice.
In addition to a beef patty or two, you can also get some mushrooms, onion, lettuce, pickles, cheese, mustard (or other dressings) and bacon.
Here is the nutrition profile (6);
Calories: 779 kcal
Carbohydrate: 5 g
Fat: 64 g
Protein: 44 g
As shown above, this bunless burger is exceptionally protein-rich, and it contains significant amounts of fat too.
In other words; this is one to go for if you're feeling hungry!
Key Point: Five Guys provide a range of "fast food" bowls; all are low carb, and they are suitable for any time of day.
7. Sous Vide Egg Bites and 'Short' Latte (Starbucks)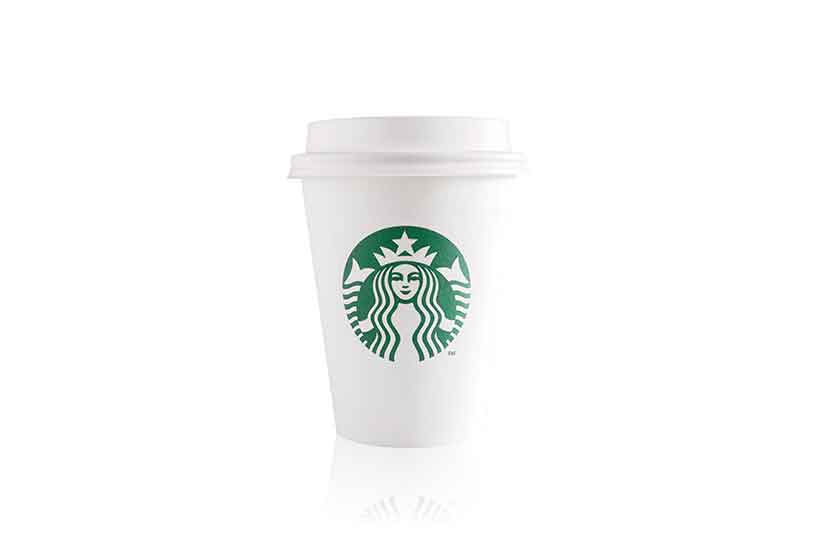 After years of only offering cakes and sandwiches, Starbucks has recently started offering a range of healthier choices.
Among these, their 'Sous Vide Egg Bites' are probably the best option.
What do they contain?
Well, it depends on the variety; you can choose from bacon and eggs, egg white and red pepper, and chicken chorizo.
Out of these three choices, the bacon and egg bites offer the lowest amount of carbohydrate per serving (7);
Calories: 310 kcal
Carbohydrate: 9 g
Fat: 22 g
Protein: 19 g
Additionally, the ingredient profile is reasonably good too, and there are no nasty ingredients like margarine, shortening or vegetable oils.
Although there are a few filler ingredients, these egg bites are primarily a combination of eggs, bacon, cheese, and butter.
Add a short size caffe latte (10 g carbs) to the order, and you have a filling, low carb breakfast (8).
You can see a full nutritional breakdown of sous vide egg bites here, and the nutritional information for the whole Starbucks drink menu is here.
Key Point: Combining 'Sous Vide' Egg Bites with a small latte offers a nutrient-dense breakfast meal for only 19 grams of carbohydrate.
8. Sausage McMuffin With Egg – Bunless (McDonald's)
Almost all the McDonald's menu is low carb friendly, and just ordering without the bun takes away the refined carbohydrate.
One of the best low carb breakfast options is the 'bunless' version of Sausage McMuffin with egg.
This tasty breakfast option is missing the English muffin but still includes a pork sausage patty, a slice of cheese and an egg.
Nutritionally, this menu choice is almost zero carb and provides (9);
Calories: 310 kcal
Carbohydrate: 3 g
Fat: 26 g
Protein: 15 g
Combine it with a black coffee for a cheap and energizing breakfast that requires about a 5-minute wait.
Key Point: McDonald's Sausage McMuffin offers a quick and convenient fast food breakfast.
9. Low Carb Steak Burrito Bowl (Chipotle)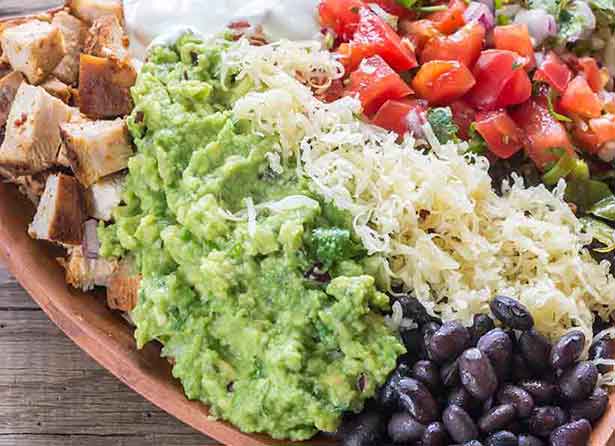 Burritos are a vehicle for several healthy ingredients such as avocado, cheese, sour cream, and meat.
Swap out the wheat-based wrap for a 'burrito bowl,' and it becomes even healthier.
Usually, this menu choice comes with either rice or beans. However, you can also choose to go without them for a low carb version of the burrito bowl.
Order a steak burrito bowl, and you can then add fajita vegetables, sour cream, salsa, lettuce and cheese for no extra charge.
You can use Chipotle's nutrition calculator to work out the nutrition profile for your custom-made burrito bowl.
For the one mentioned above, here are the nutritional values;
Calories: 420 kcal
Carbohydrate: 14 g
Fat: 23 g
Protein: 30 g
It is also possible to pay a small extra charge to put some guacamole in there.
Key Point: A burrito bowl is not only low carb and full of flavor, but it's a healthy fast food dinner too. The combination of steak, vegetables, and cheese is also rather nutrient-dense.
10. Cheese and Ham Omelet (Many Cafes)
Go to any local cafe, and it is quite possible that they will have omelets on the menu.
The reason why is simple; omelets are nutritious, take minimal time to prepare, offer good value, and they taste delicious too.
Since eggs are predominantly protein and fat, this meal choice is very low carb too.
Nutritionally, a standard two egg ham and cheese omelet looks like this (10);
Calories: 383 kcal
Carbohydrate: 2 g
Fat: 21 g
Protein: 32 g
One of the best things about this one is the taste; a morning combination of pork and eggs is always great, and melted cheese makes it even better.
Key Point: A cheese and ham omelet offers a 'fast' breakfast or dinner for a cheap price, and it tastes delicious.
11. Lettuce Wrap Burgers (McDonalds / Burger King)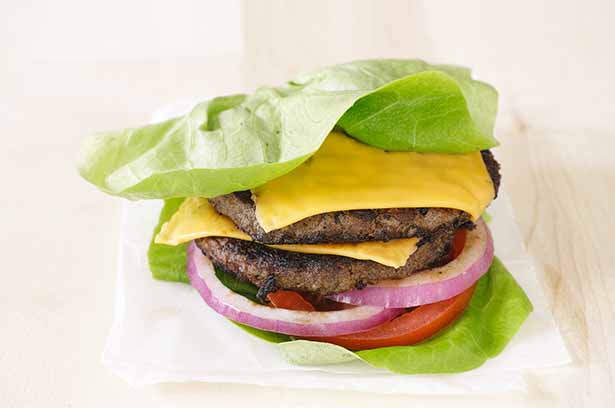 In contrast to a few years ago, visiting one of these restaurants doesn't necessarily mean a huge carb, vegetable oil, and sugar feast anymore.
Both these stores offer some reasonable low carb fast food, and their lettuce wrap burger might be the best. These burgers just swap out the bun for a lettuce wrap.
This substitution makes them very low in net carbs, and as they're also portable, they're one of the best choices when you're out and about.
Also, it's not only these two places — there are tons of places where you can get a lettuce wrap burger.
But as McDonald's and Burger King are everywhere, there's always a place nearby if you are struggling for options.
You can see the full nutritional information for McDonald's here and Burger King here.
Key Point: While not the best place in the world for healthy food, McDonald's and Burger King offer low carb options.
12. Jimmy John's Unwich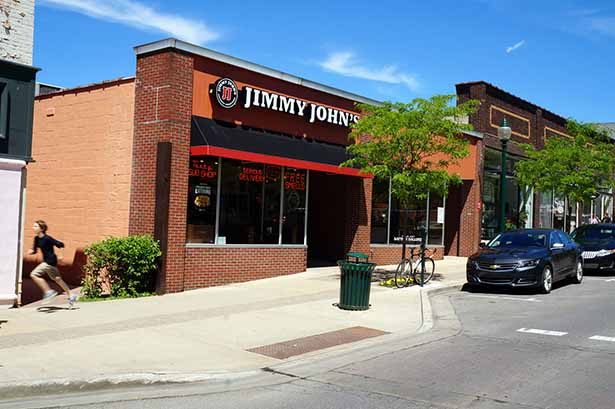 Jimmy John's also has a claim to being the most low-carb supportive fast food chain.

As a franchise sandwich shop, they specialize in making subs of all different varieties. You can also add extra meat or cheese to anything.

But perhaps the best thing about this place is their 'Unwich' option.

As you might be able to guess, Jimmy John's Unwiches are their normal sandwiches but served in a lettuce wrap as a substitute for bread

Notably, you can ask for anything as an Unwich. So, whatever your favorite sandwich is – you can get a low carb version of every single thing on the menu.

A possible meal might look like roast beef, smoked ham, or tuna with a load of veggies and cheese, wrapped in a lettuce leaf.

In short, eating a meal at this place doesn't have to be bad for you.

The only caveat is that once again, it's better to avoid their condiments and dressings if you are trying to keep the carbs down.

Key Point: One of the very best places for low carb fast food – everything on their menu has a no-bread option. Definitely worth a look for healthy choices on the go.
13. Packet of Nuts and a Bar of Dark Chocolate
Nuts and dark chocolate isn't the typical idea of "fast food" but it's certainly food, and it's very fast.

No matter where you are, it's easy to find a store that sells nuts and dark chocolate.

Both are high in healthy fats, contain minimal carbohydrate, and they contain large amounts of valuable vitamins and minerals.

In particular, dark chocolate provides an abundance of magnesium, potassium, and iron, all of which are essential minerals.

On the other hand, nuts offer a variety of beneficial nutrients depending on which type you choose. But all nuts share the common trait of being an excellent source of healthy fats and minerals.

So, when you need some food and you're in a rush, you can always stop by a convenience store, market, or even a gas station.

Key Point: Nuts and dark chocolate: quick, nutritious, cheap, and tasty.
14. KFC Grilled Chicken Salad
Lastly, to balance out the beef and pork choices here is another chicken option!

The KFC grilled chicken salad offers chicken, lettuce, and a range of different fresh veggies.

While the nutrition profile states that it contains 15 grams of carbohydrate, this would be much lower if you don't use the croutons and Caesar dressing it comes with.

If you do eat everything, here is the nutrition profile (11);
Calories: 442 kcal
Carbohydrate: 15 g
Fat: 26 g
Protein: 35 g
Key Point: KFC's 'Grilled Chicken Salad' is a healthy fast food meal that contains minimal carbohydrate.
Watch Out For Condiments and Salad Dressings
One thing to note is that all the nutrition profiles mentioned in this article do not take dressings or condiments into account.

Often, these sauces contain significant amounts of sugar and vegetable oil.

To put it another way; they can completely change the nutrition profile of the food.

For this reason, it is probably better to avoid or at least limit them.
Final Thoughts
To sum up; if you have to pick something up for a meal out of the house, it doesn't have to be an unhealthy choice.

All in all, there are several nutritious and tasty options for a quick breakfast, lunch or dinner on the go.

That said, home cooking is always preferable, and a fast food meal will never rival a nutritious homemade one.

For more low-carb guides, see this guide on how to lower carbohydrate intake.