Traditionally, fast food and health belong in very different sentences.
However, changing consumer trends are driving healthier offerings from restaurants.
While it's much healthier to make your own low carb food, knowing somewhere near you with a low carb menu might be helpful.
So, whether it's a sit-down meal you're looking for or a meal on the run, this article will present some healthier choices.
Each of these low carb fast food options is free of sugar, vegetable oil, and grains.
1. Five Guys Burger Bowl
Five guys has a reputation for providing better burgers than the typical fast food offering.
They are also one of the most low carb friendly fast food restaurants out there. In particular, their 'burger bowl' is just the burger of your choice in a bowl with a bunch of salad.
You can also pick any extra toppings and condiments you want, most of which are low carbohydrate foods. For example; bacon, cheese, and everyday salad items.
Homemade food is always best — and I'd never call fast food an ideal choice — but the options at Five Guys are not bad.
As with most places, the key is to stay away from the sauces and condiments.
You can see the full nutritional information for Five Guys here.
Key Point: Five Guy's Burger Bowls are one of the best choices for low carb fast food — providing you avoid the sauces and dressings.
2. Subway Salad Bowl
Subway is best known for its sub sandwiches, but they do have low carb alternatives available. In particular, their salad bowls are one of the healthier fast food choices for low carb.
There's a large variety of healthy options such as:
Steak and cheese salad
Roast beef salad
Rotisserie-style chicken salad
Subway also offers a range of lettuce wraps, which is becoming typical of fast food stores these days.
You can check the nutritional information online, as their website has a "calculate yours" interactive nutrition calculator.
Using this calculator, you can check the carbohydrate count of all their foods, and other basic info such as calories and ingredients.
A salad bowl full of meat, avocado, olives, and veggies is certainly one of the most healthy choices on the run. However, it's best avoiding the salad dressings, which tend to contain unhealthy ingredients like soybean oil.
Key Point: Subway have a range of healthy choices available – the key is to avoid the sweet/oily condiments.
3. Starbucks Coffee With Heavy Cream
Starbucks is another place improving their healthy choices.
They're slowly starting to offer healthier options, which is the case with their recent January 2017 menu changes (more on this a little later).
For Starbuck's first appearance on this list, we have coffee with heavy cream.
Cream is very filling, so it's great for satiety, and while it doesn't sound like a meal, it's a better choice than the typical fast food options.
Out and about and feeling a little hungry? Order a coffee with extra heavy cream, or half and half milk.
However, if you do order a creamy coffee, make sure to get an unsweetened version. Some flavored Starbucks coffees contain an unbelievable amount of sugar — as much as 25 teaspoons.
You can see the nutritional information for the whole Starbucks drink menu here.
Key Point: Cream provides a rich source of healthy dairy fats, it's great for satiety, and it makes coffee taste amazing. A good choice for when you're on the run.
4. Starbucks Sous Vide Egg Bites: Bacon and Gruyere
The second time Starbucks features on this list, and it's one of the new Starbucks menu choices from January 2017.
It's also the first food they sell which is low-carb friendly and reasonably healthy.
Sous Vide Egg Bites use a French style of cooking, which cooks vacuum-sealed eggs by immersing them in hot water until ready.
Surprisingly, these bites contain relatively healthy ingredients and use "non-cage" eggs. I presume this doesn't mean fully pastured eggs, but at least they aren't from caged hens.
Sous Vide Egg Bites come in several varieties, but only one doesn't contain vegetable oil.
This offering provides 9 grams of carbohydrate in total (2g sugar), and the ingredients are cottage cheese, butter, gruyere cheese, eggs, and bacon.
While it does contain a few unnecessary ingredients (like flavorings and emulsifiers), it's not too bad for food on the go.
And as a low carb fast food, it's certainly healthier than pigging out on fried chicken.
You can see a full nutritional breakdown of sous vide egg bites here.
Key Point: Sous Vide Egg Bites are not perfect, but they are suitable for keto and low carb diets.
5. Lettuce Wrap Burgers (McDonalds / Burger King)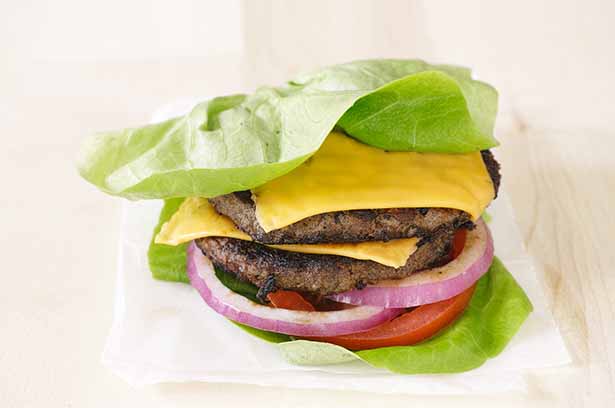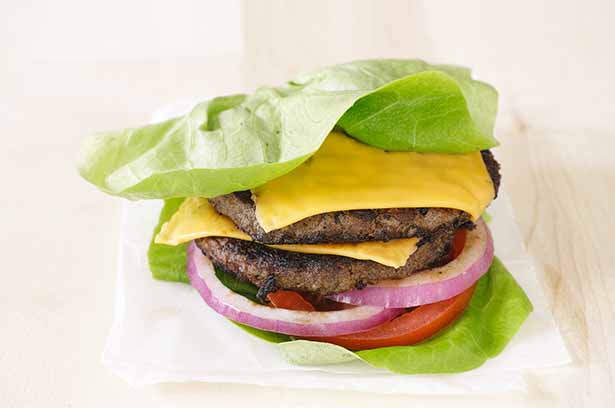 In contrast to a few years ago, visiting one of these restaurants doesn't necessarily mean a huge carb, vegetable oil, and sugar feast anymore.
Both these stores offer some reasonable low carb fast food, and their lettuce wrap burger might be the best. These burgers just swap out the bun for a lettuce wrap.
This substitution makes them very low in net carbs, and as they're also portable, they're one of the best choices when you're out and about. However, if you're eating low carb at McDonald's or Burger King, make sure to avoid the condiments.
Ask for your burger without the sauce, which is usually full of corn syrup and soybean oil. Both of these ingredients can have a range of detrimental health effects, so it's best avoiding them (1, 2, 3).
Doing this doesn't mean your burger won't be tasty, though. It's easy to ask for a variety of extra low carb toppings such as cheese, bacon, and veggies.
Also, it's not only these two places — there are tons of places where you can get a lettuce wrap burger. But as McDonald's and Burger King are everywhere, there's always a place nearby if you're struggling for choice.
You can see the full nutritional information for McDonald's here and Burger King here.
Key Point: While not the best place in the world for healthy food, McDonald's and Burger King offer low carb options.
6. Bacon and Eggs
It's not the stereotypical fast food, but bacon and eggs are definitely "fast".
You can easily find a nearby cafe or restaurant that do bacon and eggs, and it's a quintessential no carb choice. Both are low carbohydrate foods that offer a broad range of beneficial nutrients.
Despite unfair demonization stemming from their cholesterol and saturated fat content, bacon and eggs are incredibly nutrient dense.
For instance, the meal provides a large amount of potassium, selenium, zinc, B vitamins and choline (4, 5, 6).
Additionally, recent studies show the fear of dietary cholesterol and saturated fat was unnecessary, as both compounds have no association with cardiovascular disease (7, 8).
Bacon and eggs are especially great if you're looking for a healthy breakfast, as both are high in protein and fat. This combination provides excellent satiety and will keep you full until lunch — or dinner (9, 10).
For me, they're one of the best choices on this list. But ask the restaurant/cafe to make your eggs the traditional way — in butter.
Key Point: Bacon and eggs is one of the best options for low carb and keto diets. The meal is healthy, quick, tasty, and easy to find.
7. Jimmy John's Unwich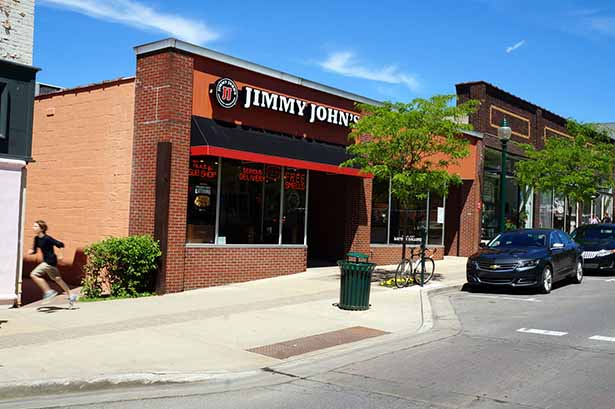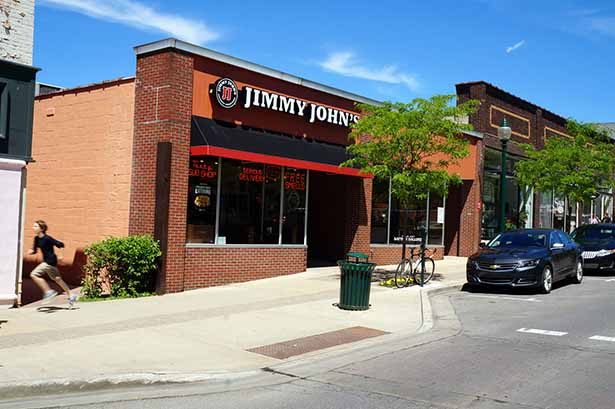 Jimmy John's also have a claim to being the most low-carb supportive fast food chain.
As a franchise sandwich shop, they specialize in making subs of all different varieties. You can also add extra meat or cheese to anything.
But perhaps the best thing about this place is their 'Unwich' option. As you might be able to guess, Jimmy John's Unwiches are their normal sandwiches but served in a lettuce wrap as a substitute for bread
Notably, you can ask for anything as an Unwich. So, whatever your favorite sandwich is – you can get a low carb version of every single thing on their menu.
A possible meal might look like roast beef, smoked ham, or tuna with a load of veggies and cheese, wrapped in a lettuce leaf.
In short, eating a low carb meal at this place doesn't have to be bad for you. The only caveat is that once again, it's best to avoid their condiments and dressings.
Key Point: One of the very best places for low carb fast food – everything on their menu has a no-bread option. Worth a look for healthy choices on the go.
8. Packet of Nuts and a Bar of Dark Chocolate
Again, this isn't the common idea of "fast food" but it's certainly food, and it's very fast.
In fact, it could even be the healthiest choice on the list. No matter where you are, it's easy to find a store that sells nuts and dark chocolate.
Both are high in healthy fats, contain minimal carbohydrates, and they contain huge amounts of valuable vitamins and minerals.
In particular, dark chocolate provides an abundance of magnesium, potassium, and iron, all of which are essential minerals (11, 12, 13).
On the other hand, nuts offer a variety of beneficial nutrients depending on which type you choose. But all nuts share the common trait of being an excellent source of healthy fats, minerals, and antioxidants (14, 15, 16).
So, when you need some food and you're in a rush, you can always stop by a convenience store, market, or even a gas station.
Key Point: Nuts and dark chocolate: quick, nutritious, cheap, and tasty.
9. Chipotle Bowl
Feel like some Mexican food or just some low carb spicy food in general? Then Chipotle might be a good choice.
Due to their customization options, Chipotle is a contender for the healthiest low carb options. They offer a variety of side dishes, and many are natural foods. For instance; sour cream, guacamole, tomatoes, salsa, onions, cheese, meat, and various vegetables.
A Chipotle bowl is yet another low carb fast food that provides insight into changing consumer trends. We can choose some meat; add some cheese, veggies, salad, salsa, and guacamole, and get it in a bowl.
In other words, lots of protein, a large amount of potassium, and various other vitamins and minerals.
A short decade ago, no-one would have suspected this as an option in a fast food chain.
Key Point: Chipotle bowls are one of the best low-carb choices in fast food chains.
Share this Image On Your Site With the Code Below
Should We Eat Low Carb Fast Food?
Although this article recommends some healthier fast food options, it's still always best to use freshly prepared homemade food.
That way we can be sure we're eating nutritious food without any nasty additives.
However, if you do feel stuck for options and decide to grab some fast food – make sure to check the ingredients.
Additionally, low carb only means that the food contains a small amount of carbohydrate; it doesn't mean the food is ideal.
But if you do feel the need to go to a fast food chain, then the options in this article are some of the best.
Related Articles