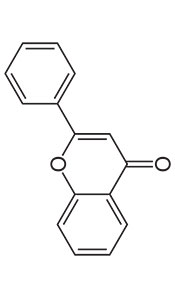 Flavonoids are a diverse class of polyphenolic compounds that are present in plant foods.
We often hear about the health benefits of cocoa, red wine, and tea. Many of these benefits are attributable to the flavonoids they contain.
For many years, researchers believed that flavonoids could have direct and beneficial antioxidant effects in the body.
However, recent research has shown that this hypothesis is likely incorrect. That said, this does not mean flavonoids do not have health benefits (1).
In this article, we examine what flavonoids are and where we can find them.
Additionally, we look at which proven benefits they may (or may not) have, using evidence solely from randomized clinical trials.
What Are Flavonoids?
As mentioned, flavonoids are a large class of compounds belonging to the polyphenol family.
Most plant foods contain these compounds, and some more than others; cocoa powder, red wine, and coffee are especially high in them.
Phytonutrients are "plant chemicals," and these compounds have numerous biological activities that help plants during their growth.
For instance, the compounds help to protect the plant against bacterial infection and disease (2).
Notably, flavonoids appear to have benefits inside the human body too, including immune-boosting properties (3).
On the negative side, many flavonoids have low bioavailability, which may limit their potential benefits in the body (4).
Types of Flavonoids
The main subclasses of flavonoids are;
Each of these classes contains thousands of different polyphenolic compounds.
Key Point: Flavonoids are a type of polyphenol that may have beneficial effects for human health.
Anthocyanidins and Anthocyanins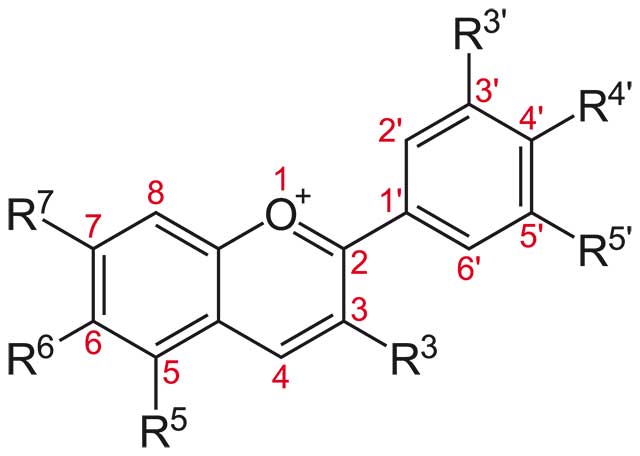 Anthocyanins and anthocyanidins are fairly similar; they are water-soluble compounds that have a blue, red or purple pigment.
The determining factor in their color is both their overall structure and the PH level of the food. In most cases, strongly acidic foods will show a red hue, while low acidity foods will look blue (5).
Anthocyanidins are sugar-free compounds, and when they link to a sugar in the body, they form anthocyanins.
Food Sources
These compounds occur naturally in many different foods, but primarily fruits, vegetables, nuts, and spices.
Some common foods that contain them include (6);
| | | | |
| --- | --- | --- | --- |
| Almonds | Apples | Apricot | Artichoke |
| Asparagus | Avocado | Black beans | Blackberry |
| Blueberry | Brazil nuts | Broccoli | Cabbage |
| Cantaloupe | Carrots | Cashews | Cherries |
| Chili | Cinnamon | Cloves | Curry |
| Eggplant | Elderberry | Grapefruit | Hazelnuts |
| Macadamia | Nectarine | Oregano | Paprika |
| Parsley | Pecans | Raspberries | Strawberries |
Studies
There are hundreds of studies that show correlations between anthocyanins and better health.
However, correlation does not prove causation.
Here are the findings of some clinical trials on anthocyanins, using human participants;
Examples of anthocyanidins: Apigeninidin, aurantinidin, capensinidin, cyanidin, delphinidin, europinidin, hirsutidin, malvidin, pelargonidin, peonidin, petunidin, pulchellidin, rosinidin, triacetidin.
Flavones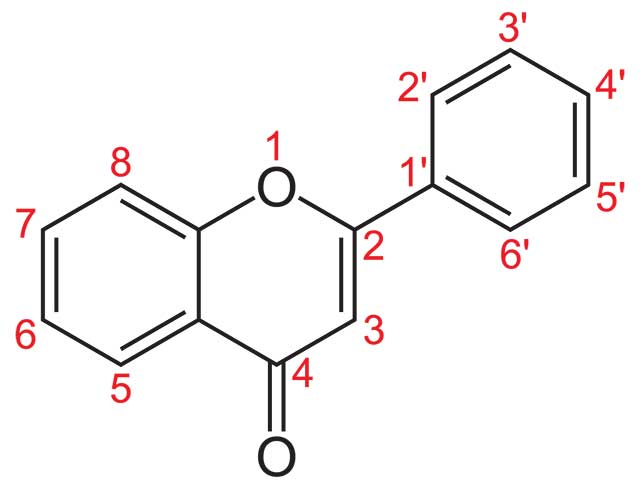 A significant number of foods contain flavones in varying concentrations, and we can predominantly find them in fruit, vegetables, and spices.
Unfortunately, the absorption rate of flavones is very poor in the human body, and we rapidly excrete them in the urine.
As a result, flavones are unlikely to have any significant benefits for our health.
Food Sources
As stated, flavones are frequently present in fruits, vegetables, and various spices.
Here is a list of foods that contain flavones (12);
| | | | |
| --- | --- | --- | --- |
| Artichoke | Bell peppers | Black olives | Black tea |
| Blueberries | Broccoli | Cabbage | Celery |
| Chicory | Fenugreek | Grapefruit | Green olives |
| Green tea | Honey | Kohlrabi | Kumquat |
| Lettuce | Mandarin | Muskmelon | Olive oil |
| Parsley | Pumpkin | Rutabaga | Watermelon |
Studies
There are no proven benefits of consuming flavones (13).
While the foods that contain them may be healthy, no clinical trial has proven flavones to have beneficial effects within the body.
Examples of Flavones: 6-Hydroxyluteolin, acacetin, acerosin, alnetin, apigenin, artocarpetin, baicalein, cerrosillin, chrysin, chrysoeriol, cirsilineol, cirsiliol, cirsimaritin, corymbosin, diosmetin, echiodinin, eupatilin, eupatorin, gardenin, genkwanin, geraldone, hispidulin, hymenoxin, hypolaetin, isoscutellarein, jaceosidin, luteolin, mikanin, negletein, nepetin, nevadensin, nobiletin, nodifloretin, norartocarpetin, norwogonin, onopordin, oroxylon, pectolinarigenin, pedalitin, pilloin, primetin, scaposin, scutellarein, serpyllin, sinensetin, sorbifolin, sudachitin, tangeretin, tectochrysin, tithonine, tricetin, tricin, velutin, wightin, wogonin, xanthomicrol, zapotin, zapotinin.
Flavonols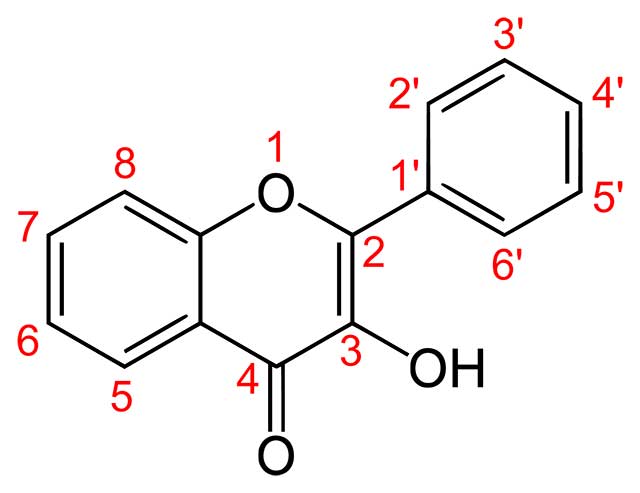 Flavonols are prevalent in fruits and vegetables.
These compounds can be quite potent, and some even have drug interaction warnings since they can interfere with prescription medications (14).
Also, several clinical studies show that flavonols can have beneficial effects on human health.
Kaempferol, myricetin, and quercetin are the most important flavonols.
Food Sources
Flavonols are present in hundreds of fruit and vegetables, including many of the foods in the flavones section.
Some further foods which contain them are below (15);
Apples
Beer
Coffee
Lettuce
Onions
Tea
Tomatoes
Studies
High-quality controlled trials show that flavonols can have health benefits.
Here is a quick summary;
Examples of flavonols: 3-hydroxyflavone, azaleatin, fisetin, galangin, gossypetin, kaempferide, isorhamnetin, morin, myricetin, natsudaidain, pachypodol, quercetin, rhamnazin, rhamnetin. 
Flavanones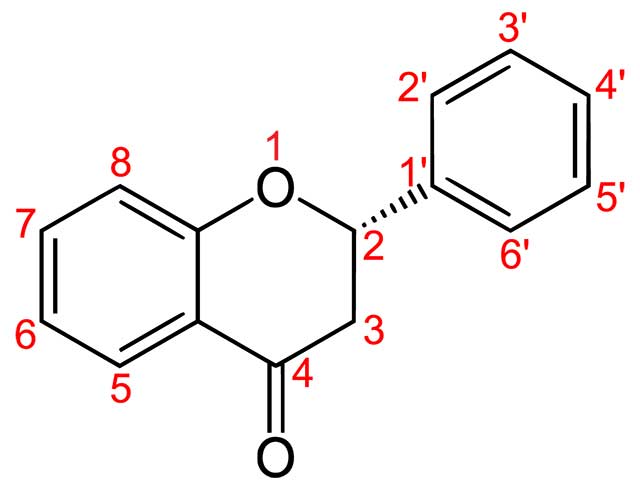 Flavanones are a type of flavonoid that we can mainly find in citrus fruits, nuts, and herbs.
These compounds are colorless and may have some potential benefits for human health.
According to researchers, flavanones have anti-inflammatory and antiviral properties (18).
However, does research in humans confirm this, and are they bioavailable?
Food Sources
Flavanones occur in a wide range of citrus fruits and some other foods, as shown in the table below (19, 20);
| | | | |
| --- | --- | --- | --- |
| Almonds | Beer | Grapefruit | Lemon |
| Lime | Marjoram | Oranges | Oregano |
| Pistachio | Red wine | Tangerine | Tomato |
Studies
Here are some findings on flavanones from randomized controlled trials;
Overall, there is not a large amount of evidence to suggest flavanones have significant health benefits.
Examples of flavanones: Butin, eriodictyol, hesperetin, hesperidin, homoeriodictyol, isosakuranetin, naringenin, naringin, pinocembrin, poncirin, sakuranetin, sakuranim, sterubin. 
Flavanonols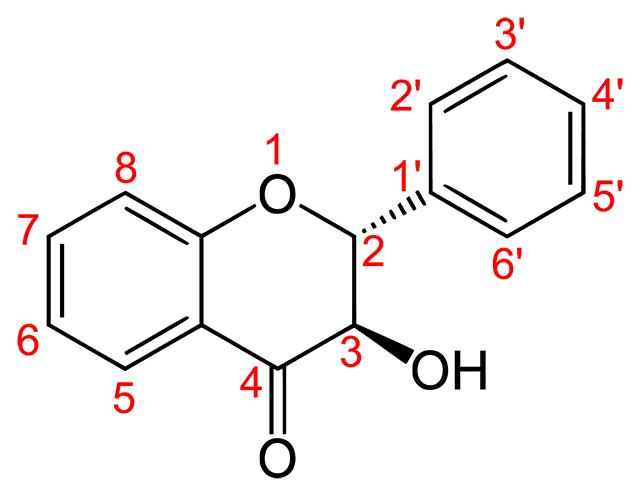 Flavanonols are otherwise known as dihydroflavonols, and we can find them in a variety of plant foods.
These compounds have demonstrated benefits in a range of clinical trials.
Food Sources
The table shows some of the most significant sources of flavan-3-ols;
| | | | |
| --- | --- | --- | --- |
| Berries | Cocoa | Oregano | Red wine |
| Rose wine | White wine | Tea | |
Studies
There are no major studies of significance specifically on flavanonols.
Examples of flavanonols: Ampelopsin, aromadendrin, dihydrogossypetin, dihydromorin, fustin, garbanzol, pinobanksin, taxifolin. 
Flavan-3-ols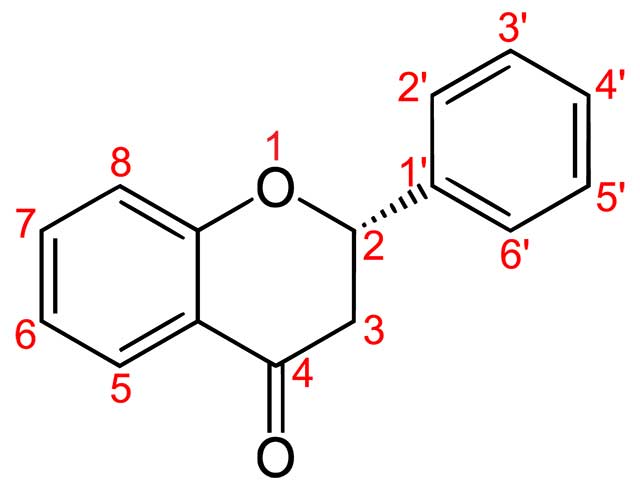 Flavan-3-ols are probably the most researched class of flavonoids, and you may hear people refer to them as flavanols.
Most notably, the flavan-3-ol class of flavonoids contains catechins.
Cocoa, tea, and wine are all rich sources of catechins, and researchers believe these compounds to have numerous positive health impacts.
Food Sources
Flavan-3-oils are present in numerous fruit and vegetable, and other plant foods.
However, they occur in the most significant concentrations in the following foods and drinks, particularly the ones in bold (23);
| | | | |
| --- | --- | --- | --- |
| Apples | Apricots | Beer | Blackcurrants |
| Cherries | Chestnut | Chocolate (dark) | Cocoa |
| Grapes | Gooseberry | Hazelnut | Mango |
| Peach | Pear | Plum | Pomegranate |
| Tea (black) | Tea (green) | Wine (red) | Wine (white) |
Studies
A wide range of evidence shows that flavan-3-ols have promising benefits for human health.
Here are the findings of some recent randomized clinical trials;
Examples of flavan-3-ols: Catechin, epicatechin, epigallocatechin, epicatechin gallate, epigallocatechin gallate, epiafzelechin, fisetinidol, guibourtinidol, mesquitol, robinetinidol, theaflavin, thearubigin, proanthocyanidin. 
Isoflavonoids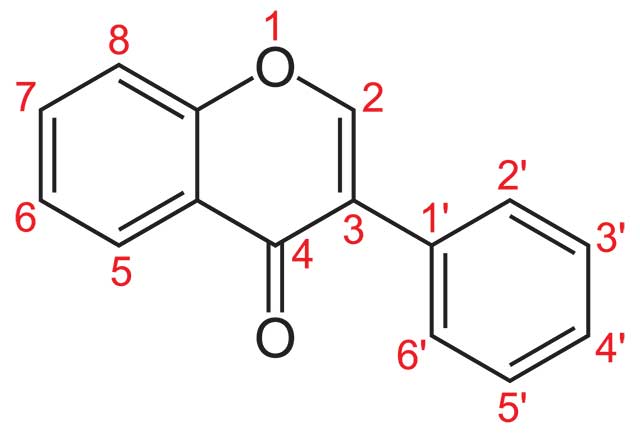 Isoflavonoids do not occur naturally in many foods, and we can mainly find them in legumes.
Another common name for this group of flavonoids is 'phytoestrogenis' because isoflavonoids have estrogenic activity (28).
Food Sources
Several foods, such as grains, legumes, and various vegetables contain isoflavonoids.
However, soy-based foods are the most significant source.
The following foods are all high in isoflavonoids (29);
| | | | |
| --- | --- | --- | --- |
| Miso | Soybeans | Soy cheese | Soy milk |
| Soy protein | Tempeh | Tofu | |
Studies
Examples of isoflavonoids: Angolensin, biochanin A, butin, calycosin, daidzein, dihydrodaidzein, equol, formononetin, genistein, genistin, glycitein, irilone, irisolidone, koparin, melanettin, orobol, prunetin, puerarin, sativanone, stevenin, tectoridin, tectorigenin, vestitone, violanone. 
Final Thoughts
As shown throughout this article, not all flavonoids are the same.
Clinical studies show that some compounds can potentially have significant effects on certain health markers.
However, it appears that other compounds have a poor absorption rate, and they are unlikely to affect our body.
Overall, it appears that flavan-3-ols and anthocyanins are the flavonoids most likely to provide health benefits.
Significant sources of these compounds include berries, cocoa/dark chocolate, plums, tea, and wine.