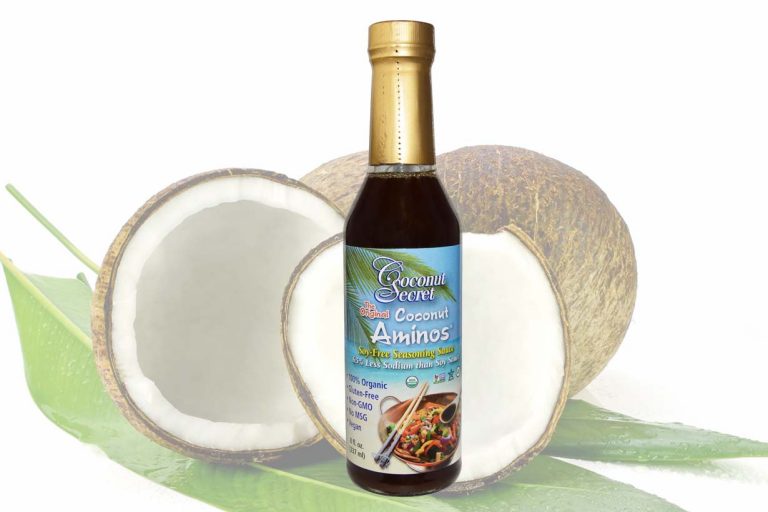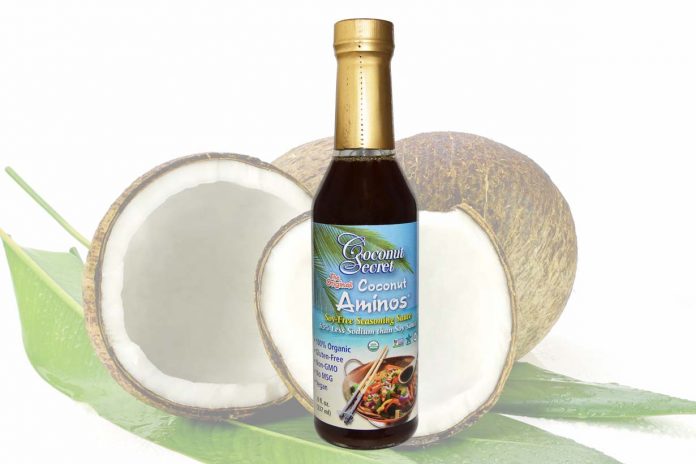 Last Updated on
A mainstay of East Asian cuisine, soy sauce's value as a flavor enhancer is hard to argue.
However, some people prefer not to consume soy products due to either GMO, health or allergy concerns.
Over the past few years, many soy sauce substitutes have entered the market.
Among these, Coconut Aminos is one of the most popular.
What is Coconut Aminos?
Coconut Aminos is a soy-free seasoning sauce, made from the sap of a coconut tree.
Coconut Secret is a company who produce Coconut Aminos, and they have this to say about the soy sauce substitute:
Certified 100% organic
Gluten-free
Soy-free
No MSG
Non-GMO
Contains 17 naturally occurring amino acids
Made with unrefined, sun-dried sea salt
Key Point: Coconut Aminos is a soy sauce substitute made from fermented coconut sap.
What is the Nutrition Profile of Coconut Aminos?
In the picture below, you can see the nutrition facts for Coconut Aminos.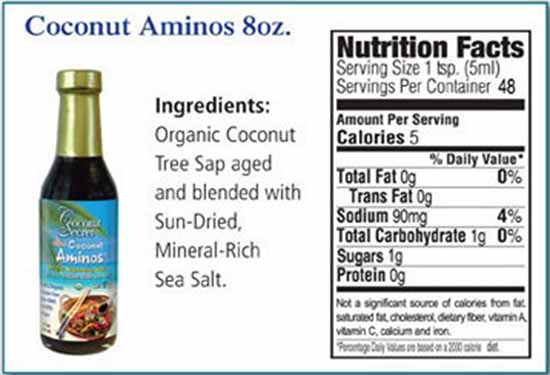 On a per serving basis, there is 1g of carbs, and 0g fat and protein.
There are also trace amounts of vitamins and minerals, as well as 17 amino acids.
Manufacture
While the production method isn't vastly different to soy sauce, it is a lot purer.
Firstly, fresh coconut sap is taken from a coconut tree and blended with sea salt. Following this, the mixture is allowed to age and ferment naturally until ready.
Coconut Aminos is a natural, organic product that has no additives.
Taste
As a soy sauce substitute, the flavor of Coconut Aminos is a little different. However, it's very similar to the real thing.
On balance, the depth of flavor lays somewhere between light and dark soy sauce. It is also quite salty with a slight hint of sweetness.
Although it's sweeter than a pure soy sauce, it's not as sweet as heavily processed soy sauces that contain sweeteners.
Overall, it's a clean, tasty flavor and enhances the taste of food.
What Are the Health Benefits of Coconut Aminos?
The biggest benefit of Coconut Aminos is that it's very pure and free of questionable ingredients. In particular, it's naturally fermented and contains no GMO, gluten, pesticides, or other additives.
Additionally, the amino acid profile, mineral, and vitamin content are also decent.
One further advantage of using Coconut Aminos is that the product is raw and not heat-treated. As with most raw foods, this means it contains lots of different health-promoting enzymes.
This enzyme content is assuming you're not heating it of course.
While Coconut Aminos does contain some decent nutrients, the serving size (5ml) is only small.
As a result, it's best to view Coconut Aminos as a tasty condiment rather than for any specific health benefits.
Key Point: Coconut Aminos provides some healthy nutrients, but only in very small amounts.
A Tasty Substitute for Soy Sauce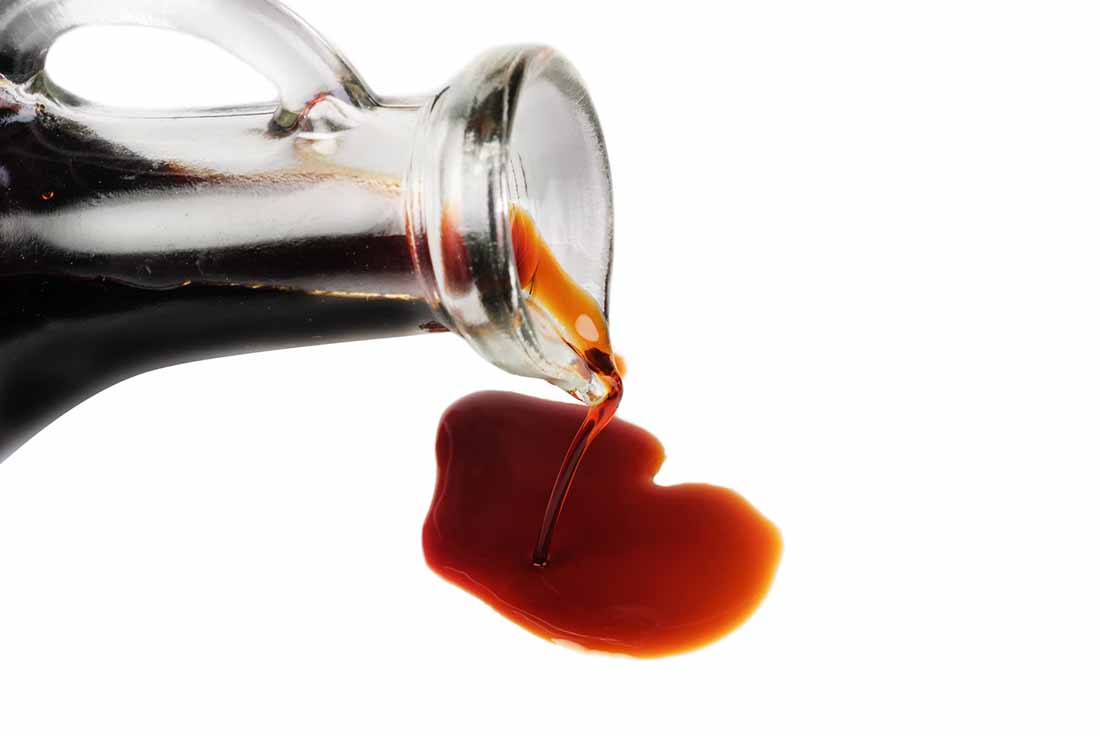 Coconut Aminos has similar culinary uses to soy sauce.
Overall, it is a great soy sauce alternative for sashimi or sushi.
As well as this, it can be added to any dish as a seasoning or used in marinades.
Why Do People Want a Soy Sauce Replacement?
Firstly, there are several concerns regarding soy sauce which mainly revolve around additives:
Soy sauce is very high in sodium (1).
It contains naturally occurring monosodium glutamate (MSG).
Most commercial soy sauce now contains wheat (and gluten).
The ingredients in soy sauce tend to be very different to the traditional recipes. Modern soy sauces are unfortunately full of colors, sweeteners, and flavorings.
Genetically modified soybeans are in the majority of soy sauce due to the high prevalence of GMO soy crops (2).
Is Naturally Occurring MSG a Problem?
First of all, I think the hysteria regarding naturally occurring MSG is way overblown.
If you see some articles, you'll see sinister claims that even natural MSG "causes brain damage" and other such wild claims.
However, it would be good to see some proof of this.
It's important to realize that MSG also occurs naturally in mushrooms, cheese, and tomatoes, just to name a few of the foods containing it.
I don't doubt that processed MSG may potentially cause problems, and there are some papers evidencing some of the possible issues (3, 4, 5).
While this may be true, to the best of my knowledge there is no such data on naturally occurring MSG.
As with most things, processed additives tend to be what causes the problems.
Concerns Over GMO Crops
Given the concerns regarding GMO crops, public uncertainty is understandable. Despite the USDA's insistence that GMO crops prove no risk to human health, some evidence suggests otherwise.
Despite the USDA's insistence that GMO crops prove no risk to human health, the evidence suggests otherwise.
Some of the negative studies on GMO crops include:
GM foods and the pesticides they contain are probable and possible carcinogens (6).
GM herbicide-resistant crops encourage farmers to use higher amounts of pesticides. The net result of this is higher exposure to pesticides in food (7).
Relatively short-term feeding of GM crops in animals caused hepatorenal toxicity (kidney failure) (8).
Some GMOs contain compounds shown to be human endocrine disruptors "at levels around 1000 times below their presence in some GMO feeds" (9).
For the most part, natural food is what we should be aiming for – not chemically modified stuff.
To put it another way: Coconut Aminos is a great, natural soy sauce substitute.
Key Point: Coconut Aminos is a "cleaner" seasoning sauce. It's organic, gluten-free, and contains no pesticides, GMO or other additives.
Are There Other Alternatives?
If you are looking for a healthy alternative to Coconut Aminos, then Tamari soy sauce is the best option.
Instead of regular soy sauce that is full of additives, opt for a Tamari (traditional style) soy sauce.
This traditionally fermented soy sauce should be made from 100% soybeans.
Look for organic if you can, that way you'll also avoid any potential pesticide and GMO concerns.
Where Can I Buy Coconut Aminos?
If you live near a Whole Foods store, this is a great place to go. Coconut Aminos usually resides in health stores, and it's not so common in large commercial stores.
You can also buy it online which might be a little cheaper.
Coconut Aminos Recipes
Seeing that Coconut Aminos is a soy sauce substitute, it works equally well in any recipe that calls for soy sauce.
However, if you are short on inspiration then here are a few tasty recipes!
Asian Steak Salad by Primal Palate
Easy Chicken and Broccoli Stir-fry by Ultimate Paleo Guide
Kung Pao Pork by the Healthy Foodie
Paleo Teriyaki Chicken by the Nourish Gourmet
Sweet BBQ Rib Glaze by Primal Palate
West African Stew by Natural Noshing
Final Thoughts
In short, although soy sauce tastes great, not everyone wants to eat soy.
Coconut Aminos offers a slightly different but similar taste, in an overall healthier package.
All in all, it's a healthy soy sauce substitute that tastes just as good as the real thing.
For another tasty condiment idea, check out this guide to salsa.
More Coconut Articles