If you're looking for some meal ideas for a high protein, low carb diet then you have come to the right place.
This article presents 20 healthy recipes spread over breakfast, lunch and dinner.
Every single meal is high in protein, low in carbohydrate, and tastes delicious.
Breakfast Ideas
1. Cheese and Vegetable Frittata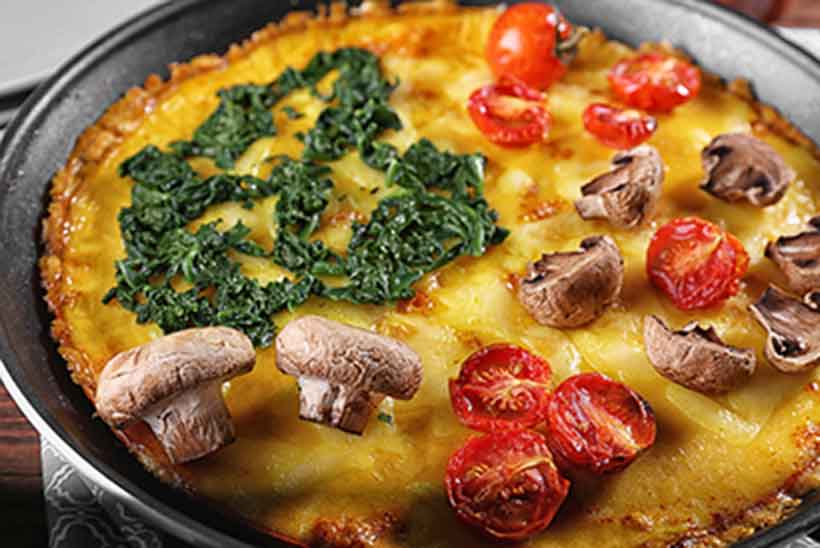 A frittata is the perfect high protein, low carb breakfast; it is an Italian dish that is not entirely different from an omelet.
In fact, the only difference is that the fillings of a frittata are mixed into the egg mixture while it is cooking in the pan.
All you need are some eggs, cheese, and your veggies of choice – and about 10 minutes of time!
The frittata in the image above contains mushrooms, cherry tomatoes, spinach, and cheddar cheese.
Nutritionally, this makes it incredibly rich in protein, calcium, potassium, vitamin A, and many other essential nutrients.
2. Grilled Pork and Onions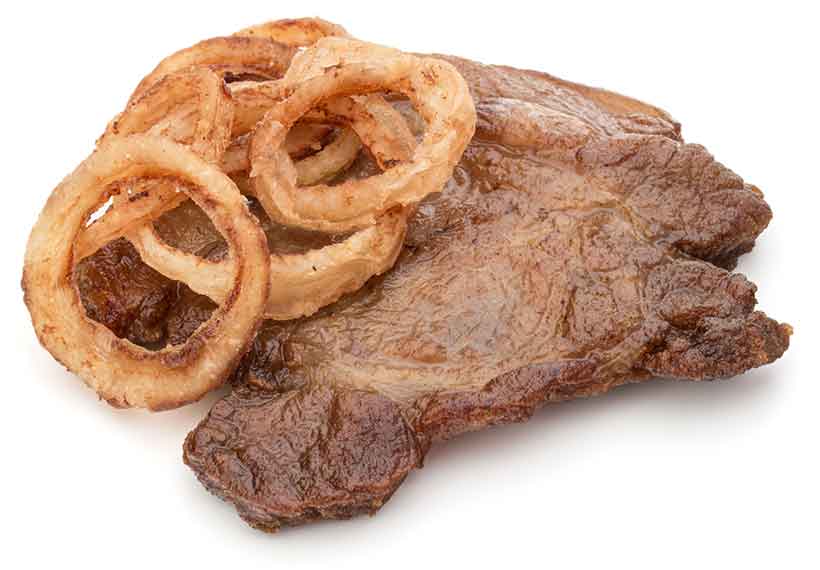 Yes, we can eat pork for breakfast!
First of all, a generation or two ago a cooked breakfast was the norm; unlike today, breakfast didn't automatically mean eggs or cereal.
Grilled pork and onions is a quick and tasty high protein, low carb meal that provides a wealth of micronutrients.
Although bacon often dominates breakfast menus, the uncured version is just as good for breakfast.
3. Buttered Kipper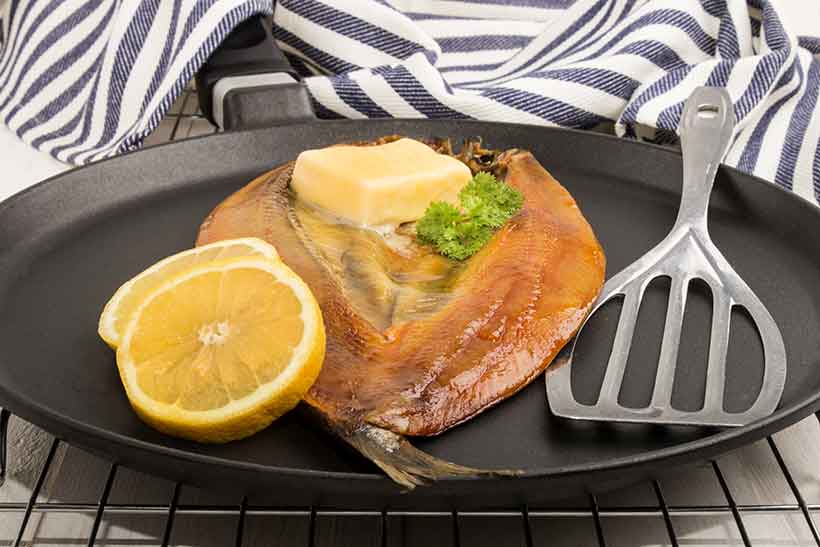 Kippers are a traditional breakfast in the United Kingdom and specific areas of the North Americas, and they have been popular for centuries.
Notably, there is no such fish as a "kipper".
Kipper is just the name given to a herring that has been prepared, salted, and cold-smoked. This method of processing a herring is actually known as "kippering".
Kippers usually come packaged in butter ready for cooking, and they have a delicious buttery and smoky flavor.
In addition to being a high protein, low carb food, this oily fish also contains significant amounts of omega-3 fatty acids (1).
Combine a kipper with some mushrooms and a grilled tomato for a healthy, high-protein breakfast meal.
4. Cream Cheese Pancakes With Sour Cream
Traditional pancakes may taste good, but they are lacking in nutritional value, full of refined carbs, and contain little protein.
On the other hand, cream cheese pancakes are the exact opposite; they're full of nutrients, high in protein, and very low in carbs.
Fortunately, making them is very straightforward too. The following ingredients are all you need;
1 oz (30 g) cream cheese
1 large egg
Dash of salt and cinnamon
Butter for frying
Mix (or blend) the cream cheese and eggs into a consistent batter, heat the butter, and then fry for a couple of minutes on both sides.
Combine these protein pancakes with some sour cream for a tasty breakfast.
5. Bacon and Avocado Egg Boats
What tastes better than bacon and eggs for breakfast?
Well, avocados certainly add an extra dynamic to the flavor, and they improve the nutrient-density of the meal too.
They may not be the traditional-style bacon and eggs, but they certainly have a lot to offer.
Firstly, these bacon and egg avocado boats are a protein-rich, low-carb breakfast cram-packed with vitamins and minerals.
Fortunately, they are just as tasty as they are healthy, and the combination of ingredients works amazingly well.
If you enjoy bacon and egg sandwiches, then this is a delicious healthier upgrade.
6. Scrambled Eggs With Bacon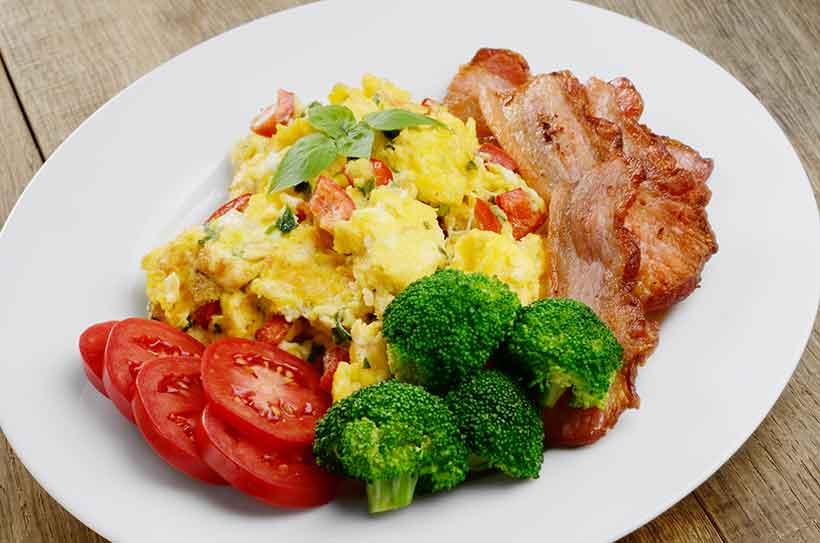 Compared to the previous breakfast meal, this one is a little more traditional in style.
Bacon and eggs is a breakfast classic that has been popular for years; it is loaded with protein and contains virtually no carbohydrate.
However, feel free to add some veggies into the mix too.
Grilled tomatoes and mushrooms are the traditional accompaniment, but there are no limits to what you can use.
As shown above, there is nothing wrong with adding a bit of green to increase the nutrient count. In this case, broccoli, tomato slices, and green onions are the sides.
For some more delicious high-protein breakfast ideas, see this guide.
Lunch Ideas
7. Bacon-Wrapped Asparagus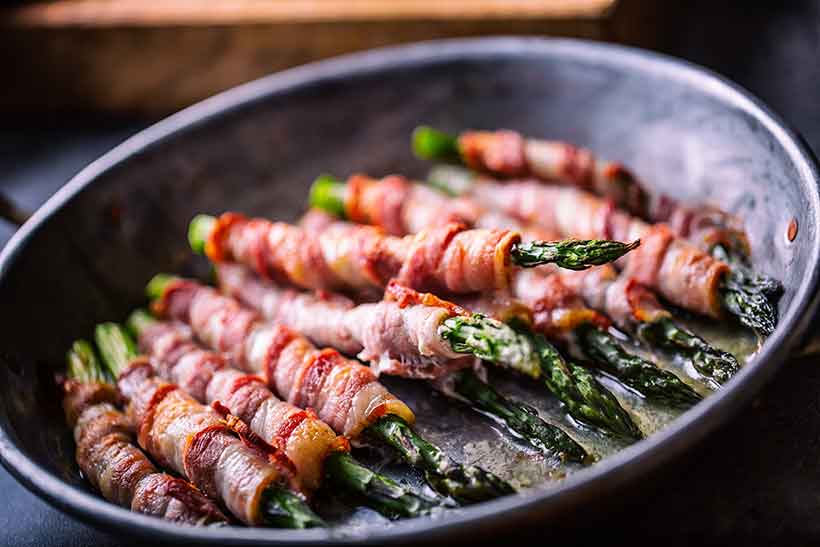 Bacon has a shout for being the tastiest meat; after all, people don't call it meat candy for nothing.
Likewise, there aren't many vegetables that taste as good as asparagus.
Combining them? Well, that's even better!
Although bacon gets a bad rap in the media, it is actually fairly nutritious and supplies most dietary nutrients. This includes particularly high amounts of B vitamins, selenium, phosphorus, and potassium (2).
All you have to do is wrap some bacon slices around the asparagus shoots, and either cook them up in the oven or a cast-iron pan.
Very low carb, and very delicious!
8. Smoked Salmon and Egg Avocado Boats
If bacon is the default breakfast choice, then smoked salmon makes for a nice lunch.
Rich in healthy fats and protein with a very low carb count, these avocado boats make a perfect light lunch.
Importantly, salmon is one of the best sources of omega-3, a fatty acid that almost everyone needs to eat more of (3).
Avocados, eggs, and salmon are all extremely nutrient-dense, and eggs and salmon are very high in protein.
The only carbs come from the avocado, and most of these are fibrous carbohydrates rather than digestible ones (4).
Making these avocado boats is simple too; just cut the avocados into halves, and fill the hollow area with a salmon slice and an egg.
After this, bake in the oven for approximately 20 minutes at 200°C.
9. Cheese, Cold Cuts of Meat and Side Salad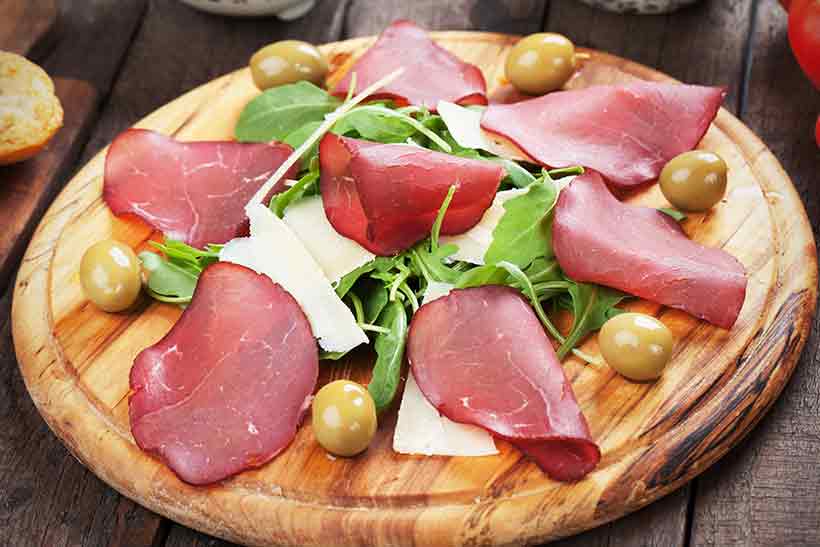 Cold cuts such as jamon, koppa, prosciutto and salami all make a perfect combination with cheese on a platter.
These cured meat and cheese platters provide one of the easiest high protein, low carb meals. All you have to do is cut the cheese, slice the meat, and then arrange them on the plate!
To vary the flavor a bit and add more nutritional value, it is a great idea to include extra foods such as olives and tomatoes.
This finger food is a convenient lunch meal or it can work well as a quick snack too.
10. Crustless Cheddar and Spinach Quiche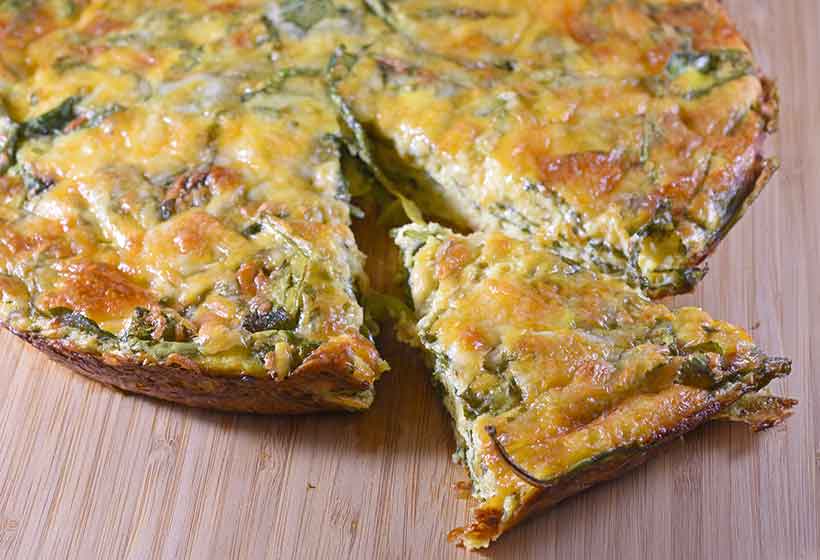 Quiche is a delicious egg-based dish hailing from France.
Firstly, quiche uses pastry to house an egg and milk/cream mix that contains meats and/or vegetables.
Although eggs and cheese are protein-rich, the pastry means quiche doesn't fit the definition of a high protein, low carb food.
However, there is a simple way to change this; make a crustless quiche.
A crustless quiche contains eggs, milk/cream, and meat and veggies. It is very nutritious and offers a wide range of vitamins and minerals.
This particular quiche features cheddar cheese, spinach, and mushrooms.
Recipe Instructions
To make the crustless quiche, follow these instructions;
Firstly, add 8 eggs to 200 ml of heavy cream in an oven dish.
Second, beat the mixture until it has a smooth consistency.
After this, add 70 grams of grated cheese, 3 oz (90 grams) of raw spinach, 3 oz (85 grams) of mushrooms, and your desired amount of salt and pepper.
Next, cover the top of the dish with 30 grams more grated cheese.
Put it in the oven for around 25-30 minutes at 350°F (175°C) until the top starts to brown.
This quiche is enough to serve 2-4 people, depending on how hungry they are!
11. Chicken and Mozzarella Salad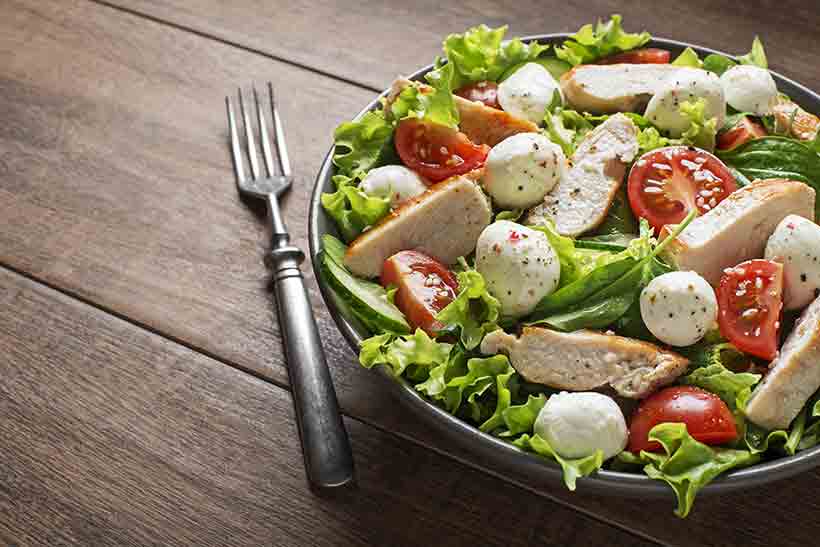 Mozzarella always works well in a salad and combined with chicken breast this one offers a wealth of protein.
Additionally, it's a very small, light lunch that is suitable for those looking to lose weight.
Despite being low in both carbohydrates and calories, it still tastes great when you add a bit of dressing.
Combine the meat and cheese with some lettuce, chopped cherry tomatoes, balsamic vinegar, olive oil, a squeeze of lemon, salt, and pepper for a healthy, refreshing lunch.
12. Lettuce Wrap Meatballs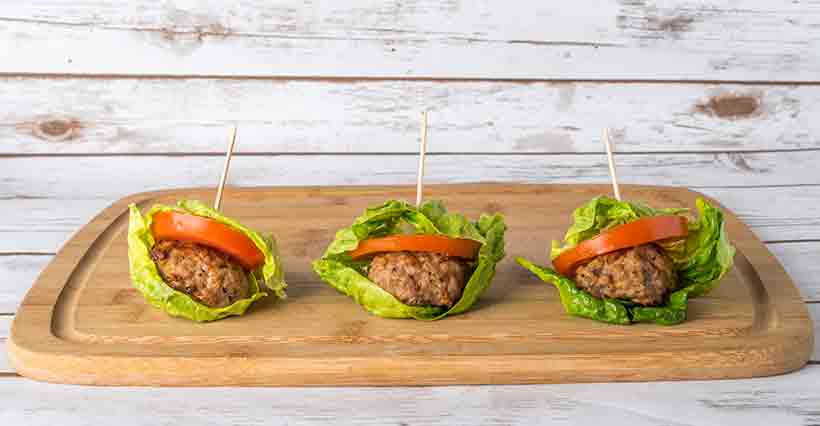 This one is quite simple; make some meatballs with ground beef, and eat them wrapped in a lettuce leaf.
There are all sorts of meatball recipes out there, but simplicity often wins the day, and beef with a bit of salt and pepper always tastes excellent.
If you want something with a little more taste, then add some mashed garlic and a small amount of grated cheese into the mixture.
Include a slice of tomato and/or avocado in the lettuce wrap for some extra flavor and some additional vitamins and minerals.
In case meatballs aren't your thing, you could quickly do the same with a homemade beef patty and make a bunless burger.
Either way, both are delicious ideas for a high protein, low carb lunch.
13. Beef and Cheese Stuffed Bell Peppers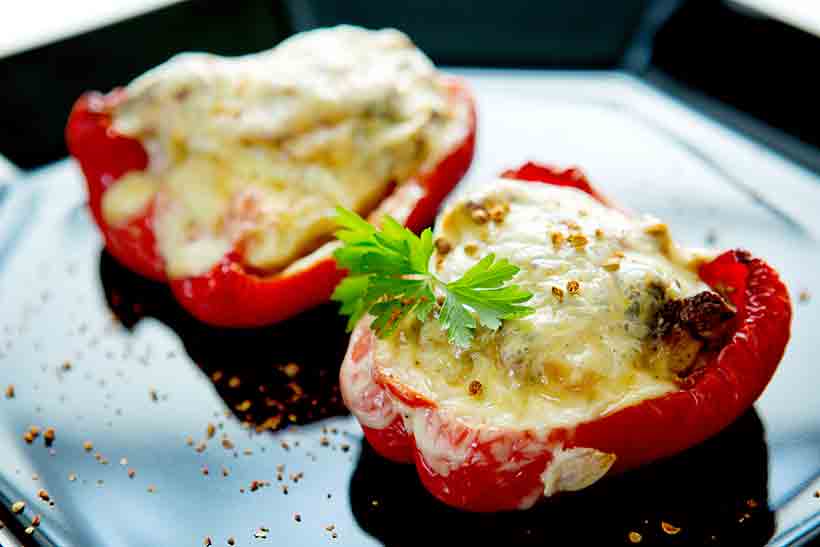 Beef and cheese are both ideal foods for a high-protein, low carb meal.
The combination of beef and cheese ensures a sufficient protein content, and you can count the number of carbs on one hand.
And like most things that contain cheese, these stuffed bell peppers taste great.
This recipe is relatively straightforward too;
First, cut some bell peppers into halves and remove the seeds inside.
Next, stuff each half with pre-cooked beef and as much grated cheese as you want. You may also add other ingredients such as onions and mushrooms.
After this, put the stuffed bell peppers into the oven for about 10 minutes until the cheese has fully melted.
Stuffed bell peppers are a simple low carb lunch whether you're at home or in the office.
Dinner Ideas
14. Leg of Lamb Stuffed With Garlic and Spinach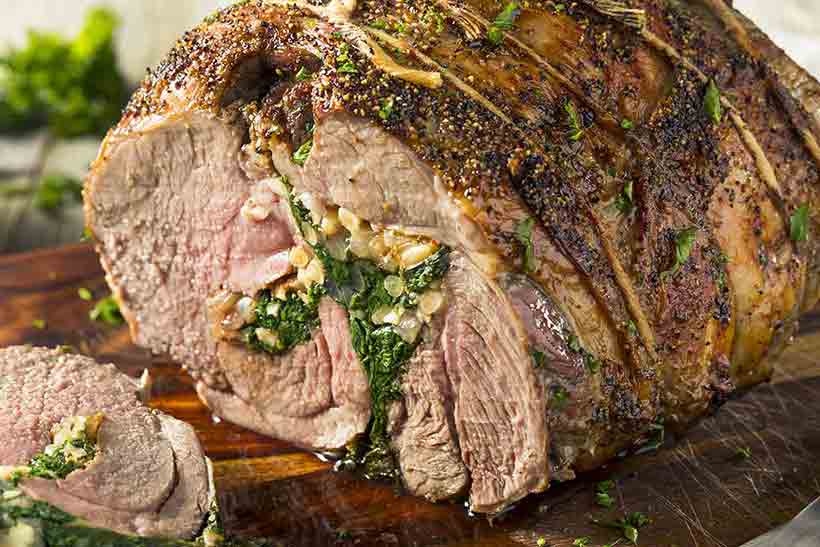 When it comes to red meat, lamb is arguably more nutrient-dense than beef on a gram-for-gram basis.
The majority of lamb is also raised on pasture, and it offers one of the best, most easily absorbed sources of omega-3 (5).
If you are lucky enough to have an affordable local source of lamb, make the most of it!
A leg of lamb makes an excellent centerpiece for a roast dinner. To prepare this dish, you need to make some incisions on both sides of the meat with a sharp knife.
Following this, push some mashed garlic and spinach inside these spaces.
Coat the meat with some red wine vinegar, salt and pepper, and any other herbs you wish to use and then cook as usual.
Serve it with your choice of veggies for a delicious protein-rich, low carb dinner.
15. Grilled Beef Steaks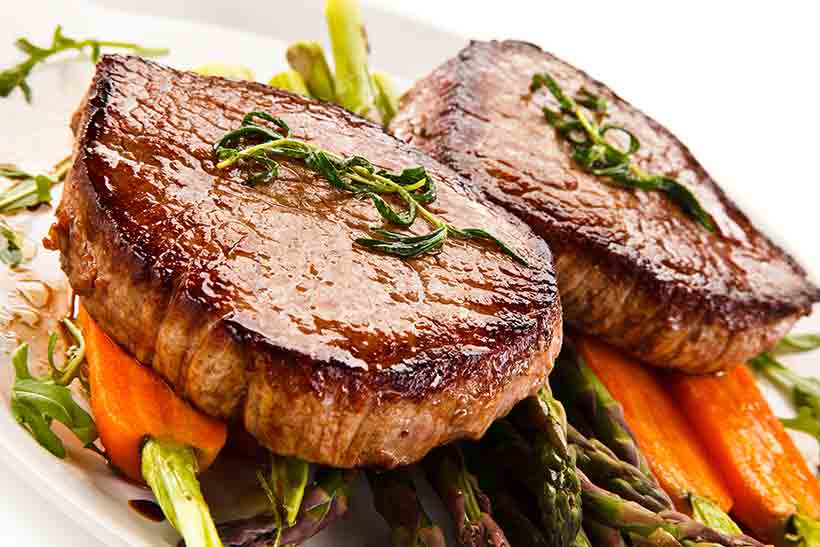 Steak typically supplies over 20 g protein per 100 grams – and this can be much more for leaner cuts (6).
As a result, it has long been a food prized by bodybuilders, athletes, and anyone else looking to increase their protein intake.
For a tasty recipe, try seasoning a few beef steaks with red wine vinegar, salt, and pepper, and then grill them in the oven.
While they are cooking, saute a selection of your favorite vegetables in butter or olive oil.
Serve the beef steaks on top of the veggies for a delicious, healthy high-protein dinner.
16. Chinese Beef Stir-Fry With Assorted Vegetables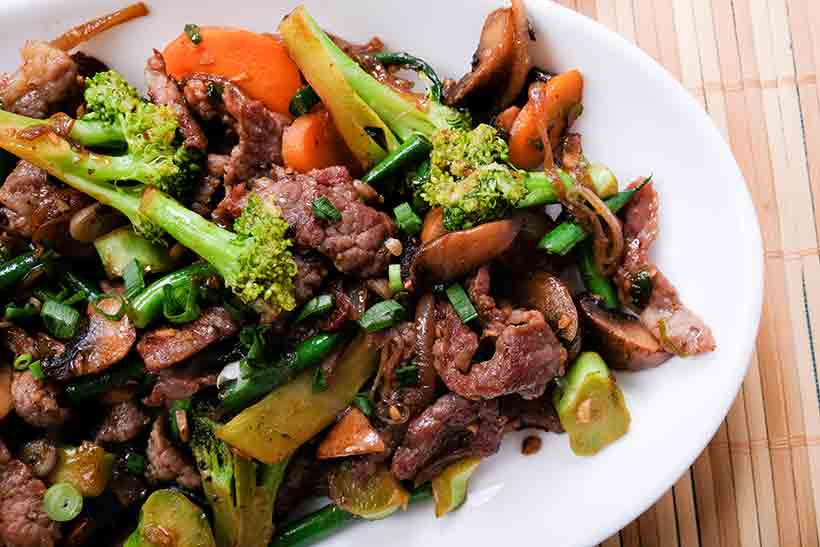 Chinese food sometimes gets a bad reputation for being "too oily", but in all fairness, Chinese cuisine offers a range of healthy dishes.
And for the stir-fries; if we use the right oil, then we can make incredibly healthy recipes.
A beef and vegetable stir-fry is an excellent example.
Heat some extra virgin olive or avocado oil in a wok/frying pan and just add beef, your choice of vegetables, and some Chinese flavors such as soy/tamari sauce, garlic, ginger, and oyster sauce.
It is easy to cook, requires only one pan, and it will be ready in twenty minutes.
Lastly, it is low carb and tastes delicious!
17. Low Carb Beef Stew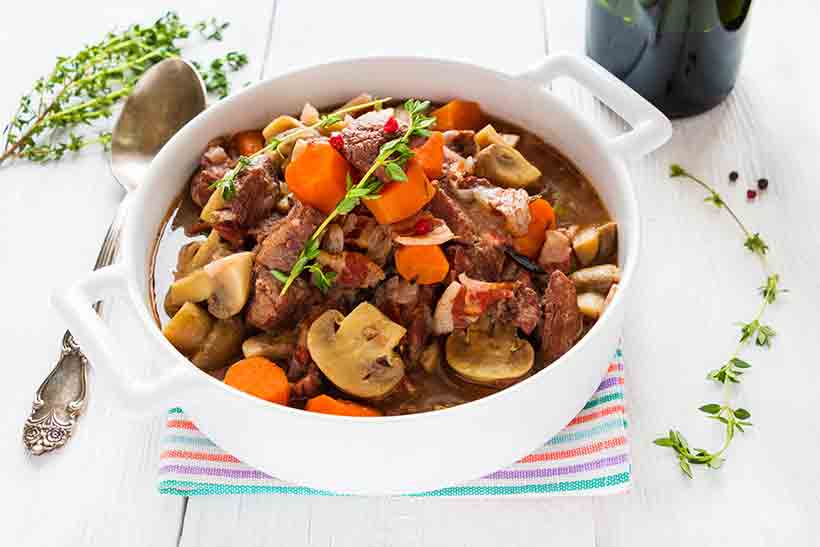 Traditional beef stew revolves around the combination of beef, carrots, and potatoes.
It is high in protein, but it's also full of carbohydrate. For a low-carb version, just omit the potatoes.
As you can see in the image, this beef stew is like the traditional stew except for the potatoes.
If you'd like to try a more adventurous stew, then there's an interesting recipe here that you might want to check out.
18. Roasted Cod Fillet and Vegetables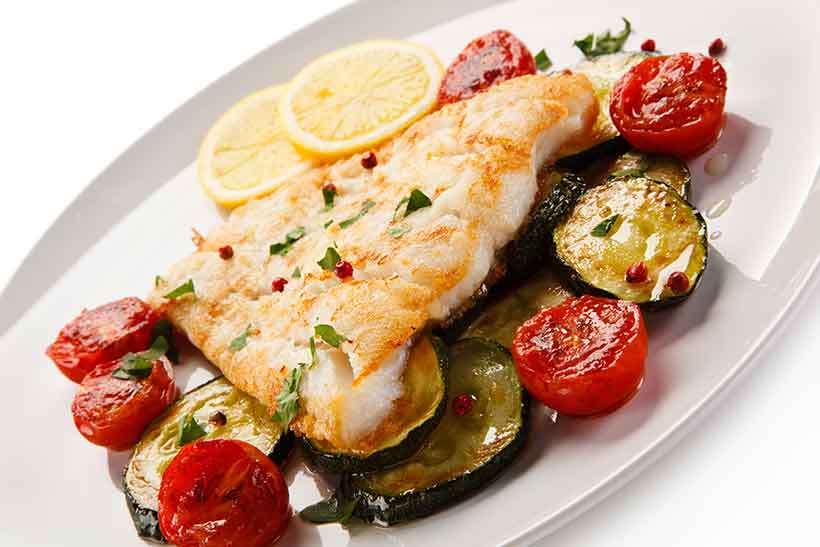 People don't eat enough fish in recent years, and they are missing out on the many health benefits it provides.
Although it does contain omega-3, cod is classed as a lean fish rather than an oily one.
While the primary benefit of oily fish like mackerel and salmon is their omega-3 content, cod has a much higher protein-density. In fact, just 100 calories of cod get you over 20 grams of protein – about double that of 100 calories of salmon.
It doesn't taste too bad either; in the image above, we can see roasted cod fillet alongside some vegetables.
Just serve it alongside whichever you enjoy the most.
19. Lemon and Herb Chicken Drumsticks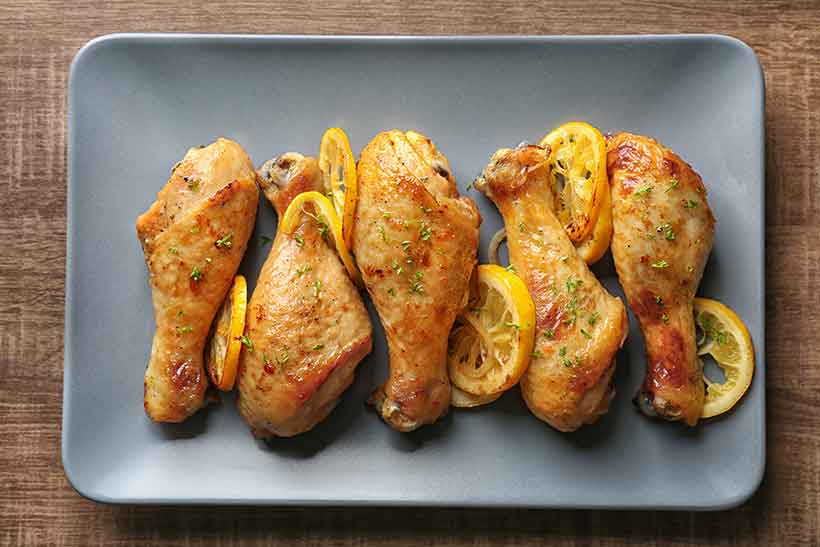 Chicken drumsticks taste great however you cook them.
That said, one particularly tasty way to prepare them is to cover them with lemon juice and black pepper, and then roast in the oven.
The lemon and black pepper flavor combination works, and don't worry about peeling the chicken skin. The skin surrounding the drumsticks is a great natural source of collagen.
These chicken drumsticks are a deliciously simple high protein, low carb dinner.
20. Oysters
Not everyone likes the idea of eating oysters.
However, what many people don't know is just how incredibly nutrient-dense oysters are.
In fact, they offer a range of nutrients that very few foods (liver is one) can rival.
For example, they contain large amounts of omega-3, and significant concentrations of B vitamins, copper, iron, selenium, and zinc (7).
A plate of oysters supplies all these nutrients, as well as providing lots of protein and minimal carbohydrates.
More Options
There are a wealth of high protein, low carb meal ideas just a Google search away, and most of these are very simple to put together.
If you want something a little easier, simply combining various meats with different vegetables offers a quick and easy meal.