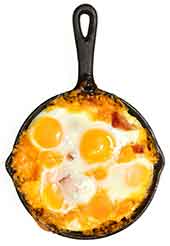 There are all sorts of different diets in the world.
However, the most harmful of these is likely the standard "Western diet" that is prevalent in the US and Western Europe.
For one thing, people are eating way too many refined carbohydrates and processed fats.
One potential option that a lot of people find success with is to focus on getting a little more protein and fewer carbs.
In this article, we'll look at how to formulate a high protein, low carb diet in a healthy way.
Benefits of a High Protein, Low Carb Diet
Firstly, there are numerous potential benefits that a diet high in protein and lower in carbohydrate can have.
These are specifically related to weight loss, satiety levels, and improved body composition.
To understand why these benefits occur, we have to examine the function of carbohydrate and protein within the body.
The Importance of Protein
Protein is important for numerous reasons, from its biological function to the impact it has on body composition and even satiety.
Here are some potential benefits of a higher protein intake;
Key Point: Increasing our dietary protein intake has health benefits relating to satiety and body composition.
Are Carbohydrates Bad For You?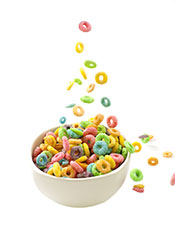 Just as fat has been demonized in the past, it appears the same thing is now happening with dietary carbohydrate.
That begs the question; are carbohydrates harmful?
The answer is no, but we should clearly differentiate between the different carbohydrate sources.
For instance, a few sweet potatoes and some sauteed spinach? Enjoy them; providing there's no medical reason to limit them; they aren't going to cause harm.
On the other hand, is a diet high in refined carbohydrates supportive of good health?
Not at all.
In fact, the over-consumption of these foods (along with processed oils) is what is driving much of the obesity and chronic disease epidemics we see today.
Key Point: Carbohydrate is not "bad", but the excessive amounts of highly processed carbs in the modern diet are.
Why Lower Carbohydrate?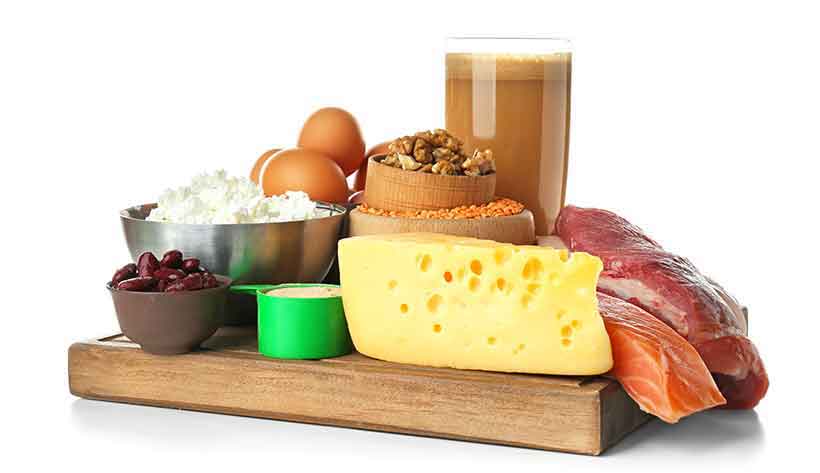 First of all, reducing our level of dietary carbohydrate can provide some health benefits.
These include;
Another important consideration is that diets lower in carbs tend to replace sugar, bread, and pasta with more nutrient-dense options.
For instance, consuming a little more meat, fish, fruit, and vegetables can dramatically improve our intake of vitamins and minerals.
Key Point: Reduced consumption of processed carbohydrates can improve various health markers and improve the nutrient density of our diet.
Formulating a High Protein, Low Carb Diet
We can eat any diet in the world, but if we don't formulate it correctly, then it's not going to support good health.
To do this, we'll first look at four basic guidelines, followed by a look at what kind of foods we should emphasize.
1) Aim for 1g protein per pound of bodyweight
Aiming for one gram of protein per pound of bodyweight has long been a rule of thumb in strength training circles.
There is a good reason for this; it helps to improve body composition and strength by encouraging lean muscle mass.
While one gram of protein per pound sounds like a lot at first, in the (following) meal plan you can see that it's not so hard to achieve.
For those with any concern over a high protein intake, recent research demonstrated that consuming 3.4g protein per kg/day for 12 months improved lean body mass while having no deleterious effects on health markers (11).
It's worth pointing out that optimal results come from combining a higher protein intake with a strength training routine.
Key Point: 1g protein per pound of bodyweight has been shown to lean body mass.
2. Find the Carbohydrate Level Right For You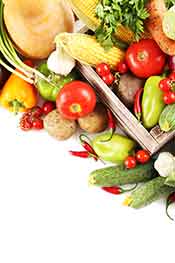 Everyone is a little different, and what works for one person might not be right for another.
However, this is a 'high protein, low carb' diet plan after all, so an upper limit of 100 grams per day is about right.
Do you enjoy consuming a very low amount of carbohydrate, perhaps sub-50g per day?
No problem.
Likewise, if you prefer to include a bit more fruit, root veggies, and some tubers or lentils, then that's fine too.
Follow whatever feels right for you.
Key Point: For a high protein, low carb diet, aim to keep carbohydrate consumption below 100 grams per day.
3. Add Healthy Fats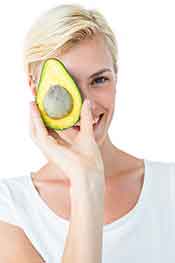 While the basis of the diet will include fats from meat and fish, don't be afraid of adding extra fats to the diet.
Sources of fat like avocados, olives, butter, nuts, and olive oil are all healthy additions that you don't need to fear.
However, use them correctly – i.e. butter/olive oil should be a condiment, and shouldn't make up a significant amount of calories.
The simple reason for this is that it will be displacing more nutrient-dense food options.
Key Point: While it is best to avoid industrial trans fats and vegetable oils, there's nothing wrong with adding healthy fats to the diet.
4. Prioritize Nutrient Density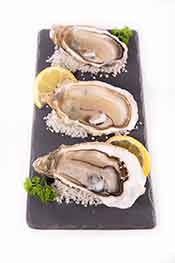 Nutrient density simply refers to the number of nutrients a food contains relative to the amount of energy (calories) it provides.
For example, beef liver beats just about any other animal food when it comes to nutrients.
Similarly, cheese is more nutritious than butter and avocados contain more essential nutrients than coconut oil.
To get the most 'bang for your buck', the following foods are the most nutritious in their respective groups;
Protein: eggs, fish, meat, organ meats, shellfish.
Fat: avocado, fatty cuts of meat, oily fish, olives, whole dairy products.
Vegetables: leafy greens such as beet greens, kale and spinach.
Fruit: avocado, berries, citrus fruits
Higher carb options: beans, lentils, tubers
Finally, the bulk of the diet should revolve around high protein, low carb foods.
Common foods and snacks that are high in protein and low in carbs;
For some more snack ideas, see here.
Key Point: It isn't an absolute rule, but try to emphasize nutrient density in your food choices when you can.
A Sample High Protein, Low Carb Diet Meal Plan
Here is a sample one-day meal plan to show how this diet can work.
This particular diet plan is aimed at someone weighing 175 lbs (80 kg), it's moderately low in carbohydrate, and it's designed to hit the RDA for all essential nutrients.
However, it is a basic template, and the food amounts/choices can be changed to suit personal tastes.
Breakfast
4 large eggs
140 g beef liver
1 medium onion
100 g mushrooms
1.5 oz (42 g) cheese
Breakfast combines pan-fried liver with some eggs, cheese and veggies.
Note: if you can't bear the idea of eating liver, regular beef is OK.
For some more delicious ideas, see this list of high-protein breakfast ideas.
Lunch
Large (200 g) mackerel
1/2 stalk of broccoli
1 medium carrot
1 medium sweet potato
Followed by 1 oz (28 g) almonds
A lunch of a mackerel fillet, baked sweet potato and vegetables, followed by a handful of almonds.
Dinner
6.5 oz (200 g) chicken breast
1 tsp red wine vinegar
100 g spinach
1 avocado
A chicken breast marinated in red wine vinegar with salt and pepper, sauteed spinach, and an avocado.
Nutrition Profile
The calorie and macronutrient data for this high protein, low carb meal plan is as follows;
Calories: 2105
Carbohydrate: 89 g
Fat: 115 g
Protein: 189 g
Here is the full nutrition profile;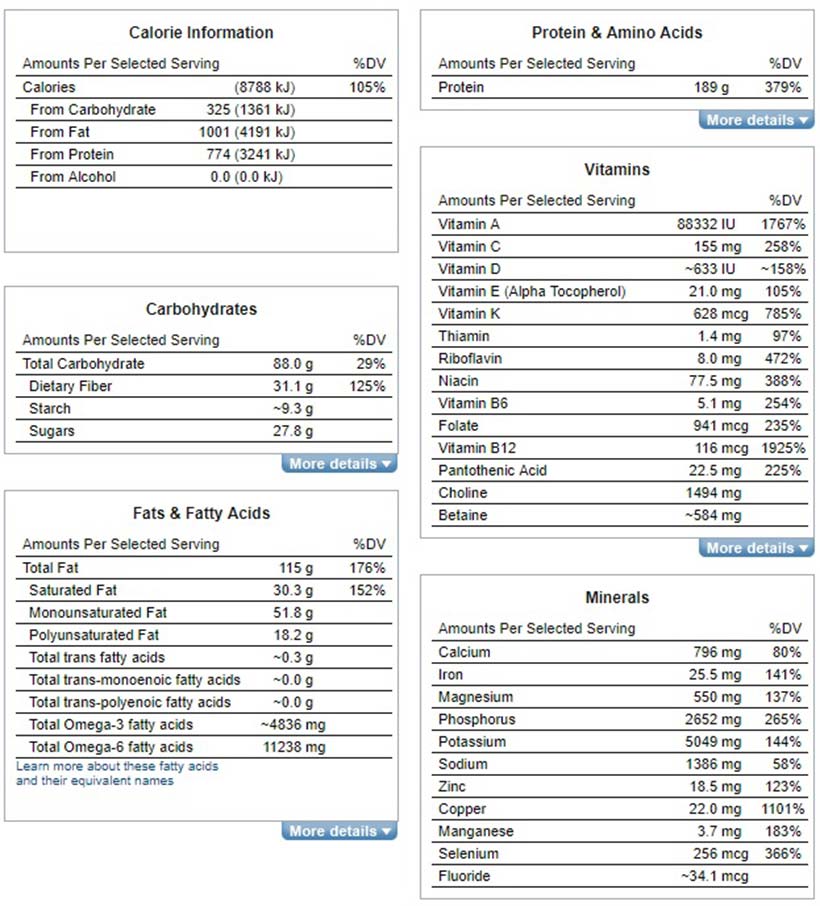 As we can see, the meal plan hits virtually every nutrient requirement.
Swapping liver for beef would reduce some of the B vitamins and minerals, but they would still be in sufficient amounts.
Additionally, replacing chicken breast with red meat or shellfish would improve the overall nutrient profile.
All in all, this is just a guide to how this diet could be formulated. The meats/fish and vegetables depend on personal preference.
For a further 20 high protein, low carb meal ideas, see this guide here.
Key Point: A high protein, low carb diet can be incredibly nutrient-dense.
Is a High Protein, Low Carb Diet Right For Everyone?
As the saying goes, there is no one-size-fits-all diet, and that applies here too.
A high-protein, low carb diet can be very effective, and it's especially useful for those looking to improve body composition and/or lose weight.
However, there are several routes to the same destination, and what's right for a friend might not fit your lifestyle. Other diets such as low carb, high fat (LCHF), paleo, keto, whole-foods, and most diets that focus on nutrient density can all improve health.
That said, this particular diet makes controlling food intake a lot easier than many other eating plans. This mainly comes down to the beneficial impact a higher protein intake has on satiety levels (12, 13).
Like most lower carb diets, it also features lots of delicious-tasting foods. After all, it's hard to complain about a "diet" that encourages steak and cheese, isn't it?
Key Point: There is no single diet that will be the right fit for everyone. On the positive side, this eating plan is easy to adhere to and very satisfying.
Who Shouldn't Eat a High Protein, Low Carb Diet?
First of all, there is a persistent (and very wrong) myth that too much protein is bad for our kidneys.
Note the key word; "myth".
To put the record straight; the impact of higher protein intakes on kidney health has been studied extensively. Research shows no negative consequences of high protein consumption in healthy individuals (14, 15).
On the negative side, though, studies suggest a high protein intake can be damaging for those who have already developed chronic kidney disease (CKD).
For these people, evidence suggests that a low-protein diet is the best way to manage the condition (16, 17).
Key Point: High intakes of dietary protein don't cause kidney damage in healthy people. However, studies suggest high protein intake may be problematic for people with prexisting kidney problems.
Final Thoughts
Increasing our protein intake with foods like fish, meat, and shellfish can vastly improve the nutrient density of our diet.
Additionally, cutting out non-nutrient dense carbohydrates can beneficially impact several health markers.
For these reasons and more, higher protein intake is one dietary option that could benefit health.
Particularly, anyone wanting to improve overall body composition may want to try a high protein, low carb diet.