Last Updated on
Almost everyone knows seafood is healthy, but are you eating enough of it?
Either way, here are 20 low-carb seafood recipes to inspire you to get cooking.
Each dish shows the basic ingredients, and if you like any of them, you can click the button to see the recipe.
All recipes are LCHF (low carb, high fat) – they are also free of sugar, grains, and vegetable oils. You can trust each recipe to be good for your body as well as your taste buds.
So, with that said let's get started and look at some healthy fish recipes.
#1 Keto Fish Pie (by Keto Diet App)
Fish pie is one of the best tasting foods, but unfortunately, it's usually extremely high in carbs from the massive amount of potato. The Keto Fish Pie offers a healthier take on the traditional version.
Ingredients
Eggs
Cauliflower
Butter
White fish (of your choice)
Salmon
Mackerel
Red onion
Bay leaves
Cloves
Heavy cream
Mustard
Nutmeg
Cheddar cheese
Chives
Parsley
Salt
Pepper
Looking at the ingredients, it's easy to see why this tastes so good!
#2 Easy Low Carb Baked Fish (by Easyhealth Living)
This low-carb baked fish is based on simplicity. It's one of the easiest to make healthy fish recipes as it only contains five ingredients.
Ingredients
Fish fillet
Seafood seasoning of choice
Paprika
Salt and pepper
Lemon quarters
#3 Parmesan Encrusted Tilapia (by Daktari's Diner)
This LCHF combination of fish and cheese is almost guaranteed to taste great – just look at it! The ingredients are also full of flavor-enhancing seasonings and condiments.
Ingredients
Parmesan cheese
Butter
Mayonnaise (ideally make your own – or use one free of seed oils)
Lemon juice
Garlic powder
Dried basil
Black pepper
Onion powder
Celery salt
Tilapia fillets
Table salt
It's one to add to your list of healthy seafood recipes.
#4 Pan Seared Trout With Orange Butter Pecan Sauce (by Wicked Spatula)
Just looking at the name of this makes me feel hungry. Pan-seared trout in orange butter sauce? The ingredients profile is also excellent.
Ingredients
Trout fillet
Olive oil
Salt
Pepper
Butter
Orange
Pecans
Parsley
The recipe makes this one of the more interesting seafood recipes. With lots of olive oil, butter, and omega-3 this one is certainly a healthy low-carb recipe.
#5 Lake Trout With Butter Sauce (by The Elliott Homestead)
Another trout recipe – and why not? Trout is one of the best healthy fish choices; it's high in omega-3 fatty acids, low in mercury, and also comes at a low price.
While the previous recipe had an orange flavor, this one goes for a classic lemon taste.
Ingredients
Fresh trout
Olive oil
Butter
Chives
Lemon zest
Lemon juice
Salt
Pepper
If you need to eat more fish, then tasty seafood recipes like this make it easy.
#6 Nutrient Dense Keto Fish Fritters (by The Nourished Caveman)
Whether it's for a snack or a main meal, these keto fish fritters are adaptable, nutritious and delicious.
As they contain sardines, they are an excellent source of omega-3. With ingredients that include coconut oil, eggs, and sardines they are also definitely LCHF.
Due to the psyllium and coconut flour, they are also high in fiber.
Sardines
Psyllium
Eggs
Cilantro
Salt
Coconut flour
Coconut oil
Extremely nutrient dense, these fritters are one of the healthiest seafood recipes around.
#7 Roasted Salmon With Kimchi Butter (by Everyday Maven)
Kimchi was a little known Korean food just a short decade ago, before exploding in popularity over recent years. Also, it's not hard to see why – full of flavor and nutrients, kimchi is a great-tasting health food.
But, this is the first time I saw a kimchi salmon recipe, and so it is included here.
Ingredients
As you can see from the ingredients profile, this is a very simple addition to your list of healthy fish recipes. Despite this, the kimchi butter ensures it's full of taste.
#8 Salmon Meatballs With Dijon-Lemon Sauce (by Health Starts in the Kitchen)
In contrast to the last recipe, this one isn't quite as simple to make – but it's worth the effort!
The ingredients profile almost guarantees the recipe can't fail when it comes to taste.
Salmon
Butter or ghee
Garlic
Onion
Dijon mustard
Chives
Egg
Coconut flour
Lemon
Heavy cream (or coconut cream)
Salt
Cream, butter, and chives, in particular, make anything taste better – and all three are in this dish. Something anyone on an LCHF diet will appreciate.
You could also add some zoodles to this as a pasta alternative.
#9 Salmon (or Trout) with Caper-Garlic Lemon Butter Sauce (by Julia's Album)
There have been a few seafood recipes based on trout (or salmon) already – but here's another that's full of omega-3 and taste.
Using garlic and Italian herbs, this one certainly has a deep flavor.
Ingredients
Trout or Salmon
Italian herb seasoning
Olive oil
Capers
Garlic cloves
Lemon juice
Butter
Salt
Again, a great choice with the combination of fatty fish, olive oil, and butter.
#10 Spicy Chili Garlic Grilled Trout (by Bake Eat Repeat)
Another trout? Yes, but this time with a spicy twist!
Ingredients
Trout
Olive oil
Garlic cloves
Brown sugar
Red pepper flakes
Salt
Pepper
For anyone who noticed the sugar content, this is less than a 1/3rd teaspoon per person – less than a piece of dark chocolate.
The recipe is full of healthy ingredients and perfect for someone who likes a little bit of spice.
#11 Grilled Oysters (by Rasa Malaysia)
The picture looks good, doesn't it?
Tastes great too!
Ingredients
Oysters
Garlic cloves
Parsley leaves
Paprika
Butter
Lemon wedges
Despite being relatively simple on the ingredients front, this is one of the most flavorful seafood recipes out there.
Slightly spicy, buttery and a hint of sourness from the lemon make these a great tasting LCHF meal.
#12 Garlic Parmesan Baked Halibut (by Port and Fin)
Getting back to healthy fish recipes, here is another that looks incredible.
The main star of the dish is halibut smothered in melted parmesan cheese.
Ingredients
Halibut
Butter
Parmesan cheese
Mayonnaise (choose a healthy option)
Green onion
Garlic
Tabasco sauce
Lemon
Salt
Pepper
Overflowing with flavor and full of healthy fats (providing you don't use a seed-oil mayo), this is a great seafood recipe that's sure to please your taste buds.
#13 Baked Salmon With Parmesan Herb Crust (by Add a Pinch)
This dish shows just how good a combination salmon and parmesan are together. Despite how amazing this looks in the picture, it is a very simple to make 4-ingredient recipe.
Ingredients
Salmon
Garlic
Parsley
Parmesan cheese
Add it to your list of healthy fish recipes because this one tastes great.
#14 Sour Cream Baked Salmon (by Inspired Taste)
Sticking with the salmon theme, here's another great LCHF dish that makes use of full-fat sour cream.
Ingredients
Salmon
Full-fat Sour Cream
Whole Grain Mustard
Parmesan Cheese
Salt
Pepper
With a combination of salmon, sour cream, mustard, and cheese – it's hard for this recipe to fail.
It's definitely also one of the tastier seafood recipes around!
#15 10-Minute Parmesan Broiled Tilapia (by Spend With Pennies)
There's a reason why so many of these healthy fish recipes contain parmesan; it just tastes good.
And here's another – a quick recipe that's ready in 10 minutes makes it a great idea for anyone with limited time.
Ingredients
Tilapia
Fresh dill
Lemon juice
Mayo (again, preferably use a healthy choice)
Butter
Parmesan cheese
Pepper
Another delicious seafood recipe that's definitely LCHF.
#16 Grilled Salmon With Avocado Salsa (by The Cookie Rookie)
This recipe is full of healthy fat, so it's a great dish for LCHF diets.
The recipe also contains a wealth of herbs and spices, making it one of the healthiest seafood recipes on the list.
Ingredients
Salmon
Olive oil
Salt
Cumin
Paprika
Onion powder
Chili powder
Black pepper
Avocado
Red onion
Lime
Cilantro
Salt
#17 Salmon Avocado Boats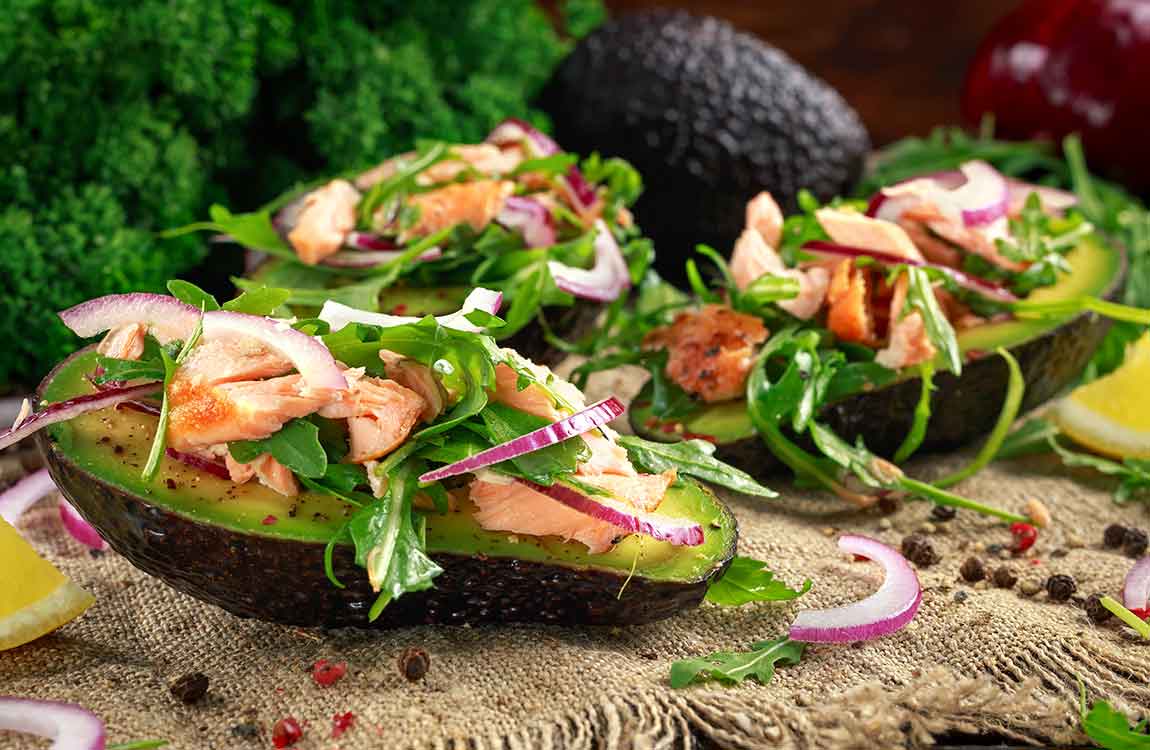 Sticking to the salmon and avocado theme, here's another creative healthy fish recipe. An avocado plays host to a nutrient-dense salmon salad.
Ingredients
Salmon
Red onion
Rocket
Salt
Black Pepper
Lemon juice
This recipe would also make a great light low-carb dinner (or snack).
To make it, all you need to do is cut an avocado into two halves and spoon the ingredients into the lowered area of the avocado!
#18 Tuna and Mackerel Cakes
This recipe tastes as good as it looks!
It's also kind of unique – tuna, cheese, mackerel and pork rinds? Those are the ingredients – plus a whole lot more!
Ingredients
Mackerel
Onion
Tuna
Parmesan Cheese
Eggs
Pork Rinds
Mayonnaise (opt for homemade or a healthy option)
Paprika
Mustard
Sweet basil
Butter
Seasoning
This is a unique seafood recipe and definitely worth a try.
#19 Low Carb Salmon Patties With Creamy Sauce (by Just a Pinch)
Another recipe from Just a Pinch, and one more tasty LCHF option.
As this dish uses a lot of different seasonings, it's one of the most flavorful seafood recipes on the list.
Ingredients
Salmon
Egg
Mayonnaise
Parmesan cheese
Lemon pepper
Onion powder
Salt
Garlic powder
Black pepper
Cajun seasoning
Butter
Olive oil
Dijon mustard
Try it out!
#20 Garlic Butter Baked Salmon
Well, we've come to the last of the seafood recipes on the list and it's salmon again!
However, I think you can never have too much salmon; it's full of healthy fat, antioxidants, and it's one of the lowest in mercury. In short; it's one of the healthiest fish out there.
As for this recipe, it certainly doesn't disappoint – it looks and tastes incredible.
Ingredients
Wild caught salmon
Minced garlic
Butter
Black pepper
Chopped parsley
Lemon juice
Salt
Red Pepper
Italian herbs