Flounder is a popular seafood choice that provides a range of essential nutrients.
It is a type of flatfish that lives in oceans around the world.
This article is an evidence-based guide to the nutritional benefits of flounder and its complete nutritional values. Additionally, we'll look at the mercury content and sustainability ratings of the fish.
Flounder has impressive nutritional value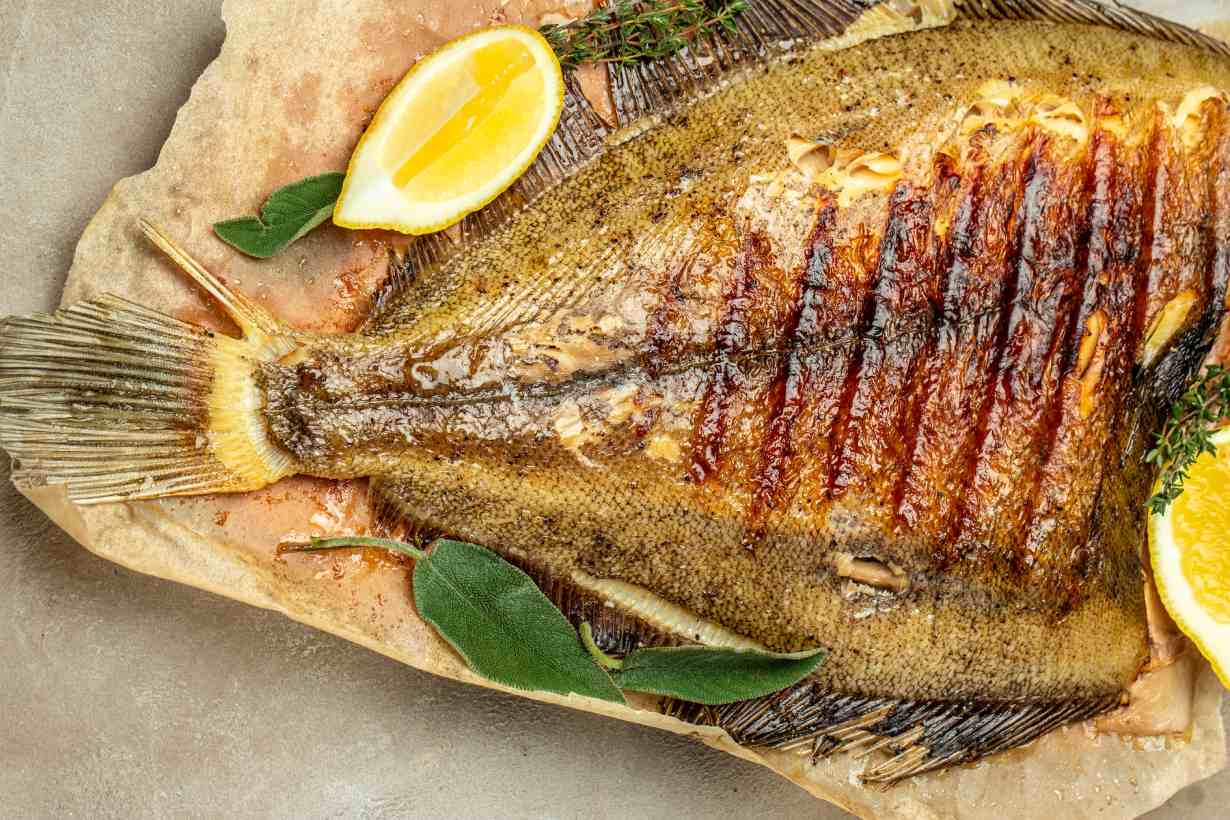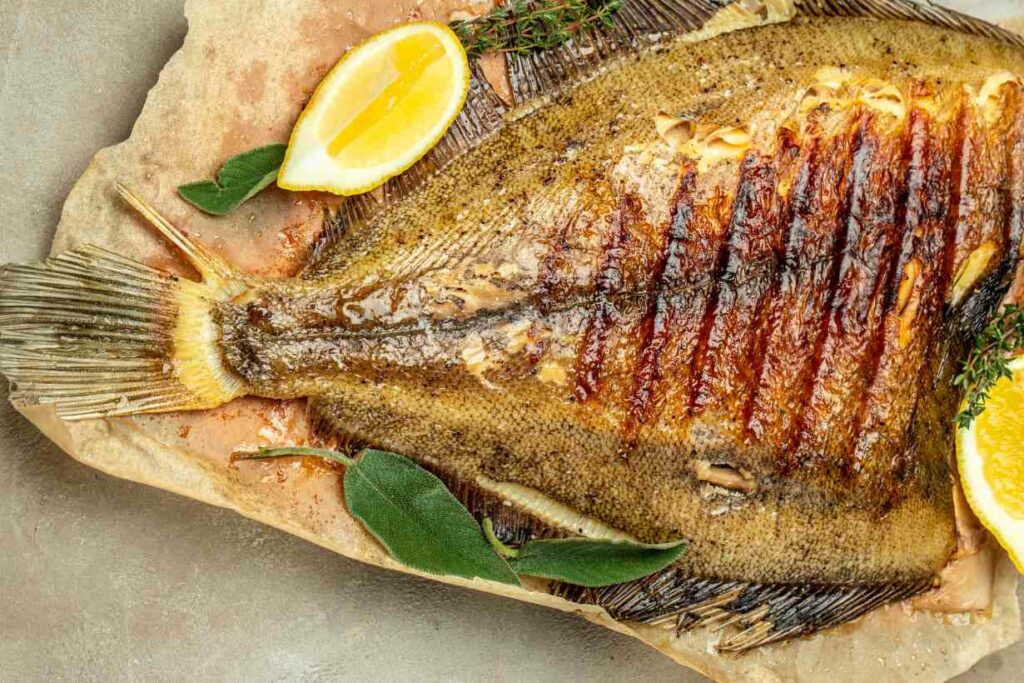 Let's start by looking at the nutritional profile of flounder.
The following tables show the complete nutritional values of cooked flounder per 127-gram fillet.
The USDA's FoodData Central database is the source of nutritional data. Percent Daily values (% DV) have been calculated using the FDA's published daily values (1, 2).
Calories and Macronutrients
| Name | Amount | % Daily Value |
| --- | --- | --- |
| Calories | 109 kcal | |
| Carbohydrates | 0 g | 0% |
| Fiber | 0 g | 0% |
| Sugars | 0 g | |
| Fat | 3.01 g | 3.9% |
| Saturated | 0.69 g | 3.5% |
| Monounsaturated | 0.83 g | |
| Polyunsaturated | 0.58 g | |
| Omega-3 | 0.45 g | |
| Omega-6 | 0.08 g | |
| Protein | 19.3 g | 38.6% |
| Cholesterol | 71.1 mg | 23.7% |
Table 1: Calories and macronutrients per 127-gram fillet of cooked flounder
Flounder is a protein-packed fish that is low in calories and provides a small to moderate content of omega-3.
Vitamins
| Vitamin | Amount | % Daily Value |
| --- | --- | --- |
| Choline | 101.47 mg | 18.4% |
| Folate, DFE | 7.62 mcg | 1.9% |
| Vitamin A, RAE | 15.2 mcg | 1.7% |
| Vitamin B1 (thiamin) | 0.03 mg | 2.5% |
| Vitamin B2 (riboflavin) | 0.03 mg | 2.3% |
| Vitamin B3 (niacin) | 1.63 mg | 10.2% |
| Vitamin B5 (pantothenic acid) | 0.29 mg | 5.8% |
| Vitamin B6 (pyridoxine) | 0.15 mg | 8.8% |
| Vitamin B12 (cobalamin) | 1.66 mcg | 69.2% |
| Vitamin C | 0 mg | 0% |
| Vitamin D | 4.44 mcg | 22.2% |
| Vitamin E | 0.98 mg | 6.5% |
| Vitamin K1 | 0.13 mcg | 0.1% |
| Vitamin K2 | 0.38 mcg | – |
Table 2: Vitamin composition of cooked flounder per 127-gram fillet
As the table shows, flounder is an excellent source of vitamins.
The fish contains high amounts of vitamin B12, vitamin D, niacin, and vitamin B6.
Minerals
| Mineral | Amount | % Daily Value |
| --- | --- | --- |
| Calcium | 31.8 mg | 2.4% |
| Copper | 0.03 mg | 3.3% |
| Iron | 0.29 mg | 1.6% |
| Magnesium | 27.9 mg | 6.6% |
| Manganese | 0.02 mg | 0.9% |
| Phosphorus | 392 mg | 31.4% |
| Potassium | 250 mg | 5.3% |
| Selenium | 41.4 mcg | 75.3% |
| Sodium | 461 mg | 20.0% |
| Zinc | 0.50 mg | 4.5% |
Table 3: Mineral composition of cooked flounder per 127-gram fillet
Among its broad mineral profile, flounder contains significant levels of selenium and phosphorus.
Health benefits of consuming flounder
With its content of numerous essential nutrients, flounder may provide several benefits.
Omega-3 may benefit heart health and lower cardiovascular risk
Although flounder does not contain as much omega-3 as some oily fish species, it does have a moderate omega-3 content. Each 127-gram cooked serving of flounder provides 0.45 grams of EPA and DHA (1).
There is no official recommended intake for the highly bioavailable omega-3 found in fish, known as eicosapentaenoic acid (EPA) and docosahexaenoic acid (DHA). However, the Dietary Guidelines for Americans 2020-2025 encourage "seafood choices higher in EPA and DHA" (3).
Likewise, the American Heart Association recommends two servings of fish each week, ideally fatty fish (4).
Scientific research has demonstrated that a sufficient omega-3 intake may lower cardiovascular risk and improve outcomes. On this note, an omega-3 index in the 8-11% target range is associated with a lower risk of cardiovascular events and lower all-cause mortality (5). The omega-3 index refers to the total amount of EPA and DHA in the blood (6).
A 2021 systematic review and meta-analysis of 38 randomized controlled trials also found benefits from increased EPA and DHA intake. Across 149,051 participants involved in the study, omega-3 supplementation was associated with a 7% reduced risk of cardiovascular mortality over a median follow-up period of two years (7).
While it is not the most significant source of omega-3, the EPA and DHA in flounder can still contribute to omega-3 intake.
Key Point: Flounder contains close to half a gram of EPA and DHA omega-3 per cooked fillet. A higher intake of omega-3 and higher blood levels are associated with lower cardiovascular risk.
May benefit cognitive health
There is also some evidence that omega-3 intake may have cognitive health benefits.
In this regard, a recent systematic review published in 2022 examined the effect of omega-3 on brain functions. This review only included randomized controlled trials and found nine that had evaluated the effect of omega-3 on brain function (8).
Overall, the data suggested that omega-3 improved cognitive well-being and less to improvements in learning, memory, and blood flow in the brain.
It is worth noting that the trials included in this review used approximately 1.0-2.5 grams of omega-3 per day. However, as a source of omega-3, flounder can contribute to increased dietary intake.
Key Point: There is some evidence that omega-3 may improve cognitive health in older adults.
A rare dietary source of vitamin D: important for healthy bones and the immune system
Aside from foods fortified with vitamin D, there are few natural dietary sources of this vital vitamin.
However, fish is one food group that does provide vitamin D to a varying extent.
A 127-gram cooked flounder fillet has 4.44 mcg of vitamin D, 22% of the daily value (1, 2).
Among its numerous functions, vitamin D is essential for the immune system, bone health, and keeping bones strong (9, 10 11).
That said, it is worth pointing out that fatty fish provides more vitamin D than leaner fish like flounder.
Key Point: Flounder is a good source of vitamin D, which is important for immune and bone health.
Flounder is a lean source of high-quality protein
Flounder is one of the most protein-dense foods, with 19.3 grams of protein for only 109 calories.
When you look at the protein-to-energy content of flounder, you can see it is one of the leanest sources of protein. For a quick comparison, four ounces (113g) of typical 80% lean ground beef has 19.4 grams of protein for a much higher 287 calories (12).
As this shows, flounder is an excellent option for anyone wanting to consume more protein without many extra calories.
On this topic, some other lean fish options to explore include haddock and branzino.
Key Point: Flounder is one of the leanest sources of dietary protein.
A rich source of selenium, which plays a role in immune health
Selenium is another essential nutrient that flounder contains in significant concentrations. A 127-gram cooked flounder fillet has 41.4 mcg of selenium, 75% of the recommended daily value (1, 2).
This essential mineral has many vital functions within the body. However, it is crucial for its role in fighting free radicals, which can damage the body (13).
Additionally, a 2021 systematic review and meta-analysis reviewed the impact of selenium status on cardiovascular disease. Notably, the review demonstrated that physiologically high selenium levels in the body compared to low are associated with a 31% lower mortality risk (14).
Adding a fillet or two of flounder to the diet is an easy way to increase selenium intake significantly.
Key Point: Flounder provides a substantial amount of dietary selenium, which is a vital mineral for human health.
Considerations and potential downsides
As with any food, there are also some points to consider about flounder and its potential downsides.
Fish allergy
Although it is not as prevalent as shellfish allergy, finfish allergy is a condition that affects approximately 0.3-1.0% of the United States population (15, 16).
As a result, in relatively rare cases, flounder may cause an allergic reaction in some individuals.
Anyone suspecting they have a fish allergy should not eat flounder and should discuss their concerns with a health professional.
According to the Asthma and Allergy Foundation of America, allergy symptoms may include (17):
Itchy eyes and nose
Rashes and hives
Cramps, vomiting, diarrhea, bloating, and swelling
Redness, pain, tongue swelling, cough
Throat closing, wheezing, tightness, and feeling faint
Mercury content
In some cases, seafood can contain high mercury levels.
For instance, fish like swordfish, shark, and certain tuna species can have a high mercury content.
But how does flounder fare?
On the positive side, flounder is part of the low-mercury group of fish options.
The FDA's mercury in fish monitoring program 1990-2012 found that flatfish species, including flounder, had a mean mercury concentration of 0.056 PPM. This result was based on 71 samples collected over 18 years (18).
By comparison, popular fish like cod (0.111 PPM), canned tuna (0.126 PPM), and bass (0.167 PPM) all contain more mercury than flounder.
Additionally, flounder is in the 'best choices' category in the FDA's resource offering advice about eating fish for pregnant or breastfeeding women and children (19).
Key Point: Flounder contains only small amounts of mercury and is among the lowest mercury fish choices.
Is flounder a sustainable fish?
'Sustainability and conservation' is moving away from the topic of nutrition. However, many people do care about choosing sustainable fish.
Here are the ratings for flounder from several renowned sustainability and conservation organizations.
The Marine Conservation Society
The Marine Conservation Society gives flounder an 'OK' rating as opposed to a 'best choice' or 'avoid' rating.
This rating is based on good stock status, but some issues with a lack of management plans and the capture method.
For further information, see the Marine Conservation Society's species overview for flounder.
Monterey Bay Aquarium Seafood Watch
Monterey Bay Aquarium Seafood Watch gives a 'buy' rating to flounder caught in Alaska, California, Oregon, and Washington.
They also award the 'buy' rating to winter flounder caught in the U.S. Georges Bank or Gulf of Maine, summer flounder in the U.S. Atlantic caught with bottom trawls, Southern flounder caught in Texas, and Arrowtooth flounder caught in British Colombia, Canada.
Aside from this, the 'buy' rating goes to all flounder in the United States and globally that are certified by the Marine Steward Council (MSC).
An 'avoid' rating is given to blackback flounder caught in the U.S. or Canadian Atlantic with bottom trawls, summer flounder caught with set gillnets in the U.S. Atlantic, witch flounder and yellowtail flounder in the U.S. Atlantic, and California flounder caught in Mexico.
For more information, see Monterey Bay Aquarium's flounder buying guide.
Environmental Defense Fund Seafood Selector
The Environmental Defense Fund (EDF) gives starry flounder (U.S. Pacific) a 'best' eco-rating.
Windowpane flounder (U.S. Atlantic), blackback flounder (U.S. Atlantic), and arrowtooth flounder (U.S. Atlantic) get an 'OK' eco-rating.
Summer flounder (U.S Atlantic), winter flounder, witch flounder, and yellowtail all have an 'improving' eco-rating.
To review in more detail, see the EDF's 'Seafood Selector' resource.
Key Point: Flounder generally has an 'OK' sustainability rating, but some flounder are more sustainable than others.

How To Use Flounder
Flounder is a white-fleshed fish with a soft and flaky texture when cooked.
The flavor of flounder is mild, and it can replace other lean white fish like cod, haddock, and sole in recipes.
The fish can be baked, broiled, fried, pan-fried, poached, or steamed.
Here are flounder recipes for anyone looking for ideas.
Final Thoughts
This article shows that flounder is an excellent source of protein and contains a range of vitamins and minerals and some omega-3.
Flounder can bring many nutritional benefits to the diet unless one has a fish allergy.
Moreover, it provides all these nutrients for a minimal amount of calories.