Sunflower oil is one of the most prevalent cooking oils in the world.
It is also easy to hear claims that sunflower oil is "heart-healthy" cooking oil, but is there truth to this?
This article provides an in-depth guide to sunflower oil and its nutritional and chemical properties.
What Is Sunflower Oil?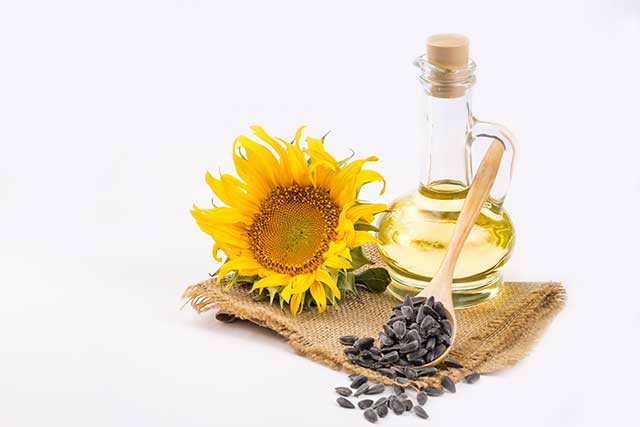 Sunflower oil is an edible oil made from the seeds of the sunflower plant (Helianthus annuus).
This oil is one of the most common vegetable oils, and global production hit 19.45 million metric tons in 2019 (1).
The fat content of sunflower oil is primarily unsaturated fat, and it is mainly a source of omega-6 polyunsaturated fatty acids.
Uses
Food companies widely use sunflower oil in their packaged food products, particularly in snacks like potato chips.
Since the oil is cheap, it is common to find sunflower oil in homes. The oil is often used for frying and sauteing.
How Is It Made?
The majority of commercial sunflower oil goes through a lengthy production process which involves refining, bleaching, and deodorization (2).
For this reason, the oil is also known as an RBD oil; a refined, bleached, and deodorized oil.
This production process involves following the steps below in order;
Cleaning to remove any impurities from the oil and then heating and drying the seeds.
The mechanical pressing of the seeds to extract 50-75% of the oil.
Next, the leftover seed meal is treated with solvents such as hexane to extract more oil.
After extracting all the oil, the added solvents need removing from the oil via a heat and steam distillation system.
Following this, the sunflower oil undergoes degumming, bleaching, and deodorizing processes to make it edible and give it the required color and aroma.
Key Point: Sunflower oil is a common refined vegetable oil used around the world.
Nutrition Facts
Before we discuss the oil's relative health properties, here are the full nutritional values for an average serving of sunflower oil.
The source of the nutrition data is the USDA's National Nutrient Database (3).
Nutrition Facts For Sunflower Oil (Per tbsp Serving)

| Calories/Nutrient | Amount |
| --- | --- |
| Calories | 120 kcal |
| Carbohydrate | 0 g |
| Fat | 13.60 g |
|   Saturated Fat | 1.40 g |
|   Monounsaturated Fat | 2.65 g |
|   Polyunsaturated Fat | 8.94 g |
|     Omega-3 Fatty Acids | – |
|     Omega-6 Fatty Acids | 8.87 g |
| Protein | 0 g |
| Vitamin E | 5.59 mg (28% DV) |
| Vitamin K | 0.7 mcg (1% DV) |
Fatty Acid Profile
Palmitic acid and stearic acid are the main saturated fatty acids in sunflower oil.
Oleic acid is the source of the monounsaturated fatty acids.
Linoleic acid is the polyunsaturated fat.
Key Point: As shown in the nutritional values, sunflower oil is a pure source of fat, and it contains significant amounts of omega-6.
Does It Have Any Benefits?
Like with any isolated source of fat, there is not a lot of nutritional value in sunflower oil.
However, the oil does contain a reasonable amount of vitamin E, which is a fat-soluble vitamin with antioxidant properties (4).
Generally speaking, most fats contain vitamin E as it helps to protect the fatty acids from oxidizing (5).
Aside from this vitamin E content, the oil is also widely available and affordable.
However, there are also some important concerns to consider regarding sunflower oil and the fatty acids it contains.
Key Point: Sunflower oil contains a moderate amount of vitamin E.
Sunflower Oil Has Poor Oxidative Stability, and May Produce Large Amounts of Polar Compounds
On the negative side, one of the biggest concerns surrounding sunflower oil is that it can generate polar compounds (oxidation products such as aldehydes) when heated.
Research suggests that consuming these polar compounds can cause oxidative stress in the body. On this note, oxidative stress can raise the long-term risk of various chronic diseases (6).
An independent lab recently conducted an extensive study to test the oxidative stability of popular cooking oils. In this study, the researchers heated the various oils to different temperatures to see the effects this had on the oil (7).
This study showed that sunflower oil produces large amounts of oxidation products, and particularly so during longer cooking times.
For example, tests showed that sunflower oil contains around 6% polar compounds in its raw state.
After heating for 30 minutes at 180°C (356°F), this rose to 10%. At the three hour mark, sunflower oil contained a higher percentage of polar compounds (17-18%) than any other cooking oil.
Sunflower Oil Versus Other Cooking Oils
The table below demonstrates how sunflower oil compared to various other cooking oils regarding oxidative stability and changes in polar compounds after cooking;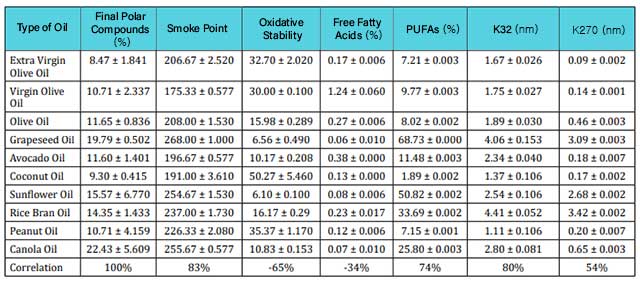 In summary, the data here show that (7);
Sunflower oil contained the third most polar compounds out of any oil before heating.
After heating, sunflower oil's polar compound content increased more than any other cooking oil.
Sunflower oil had the least oxidative stability out of all the oils. It was slightly less stable than grapeseed oil, which had the second lowest oxidative stability. It was significantly more prone to oxidation than the other oils.
Also, there is another recent study that compared the oxidative stability of sunflower oil to three other options;
Camellia oil
Perilla oil
Palm oil
Among these four oils, palm oil had the highest oxidative stability, and sunflower oil had the lowest (8).
Why Is Sunflower Oil Prone To Oxidation?
Three primary factors can influence the oxidative stability of a type of fat;
The level of saturation (polyunsaturated fats have the lowest oxidative stability) (9).
Vitamin E content of the fat (10).
Polyphenols (refined sunflower oil barely contains any) (11).
Key Point: Regular sunflower oil has poor oxidative stability and appears to generate various polar compounds when heated.
Sunflower Oil Contains Large Amounts of Omega-6 and Significantly Impacts the Omega-6 To Omega-3 Ratio
A single tablespoon of sunflower oil contains nearly nine grams of omega-6 and virtually no omega-3.
Omega-6 is one of two essential fatty acids that the human body requires to function. This fatty acid plays a crucial role in growth and development, wound healing, and more (12).
Generally speaking, omega-6 has pro-inflammatory properties. In contrast, omega-3 has anti-inflammatory biological functions (12, 13).
However, despite being essential, we only need small amounts of omega-6, and some researchers believe that excessive amounts could be harmful.
The reason for this is disagreed upon, however.
Why Might the Omega-6 To Omega-3 Ratio Matter?
Some researchers believe that an imbalanced ratio of omega-6 to omega-3, which can be up to 20:1 in the modern diet, can put the body into a pro-inflammatory state. By comparison, the evolutionary ratio was approximately 1:1 (14).
In this regard, excessive amounts of omega-6 may impair the biological activity of omega-3.
Linoleic acid (the primary omega-6 fatty acid) can block the uptake of DHA and EPA (omega-3 from animal sources) into tissues. Additionally, linoleic acid also competes with alpha-linolenic acid (ALA) for absorption. ALA is an omega-3 precursor found in plant foods (15).
That said, this issue is still not fully understood, and contrasting evidence exists.
For instance, some studies show that high blood levels of linoleic acid (omega-6) do not increase markers of inflammation. However, this research only took absolute omega-6 status into account, and the omega-3 status of the participants was not clear (16, 17).
For those who wish to maintain a more balanced omega-6 to 3 ratio, sunflower oil is not an ideal choice.
Key Point: Sunflower oil is exceptionally high in omega-6 fatty acids. Excessive intake of omega-6 compared to omega-3 may potentially have adverse effects.
High Oleic Sunflower Oil May Be a Healthier Option
For those who wish to use sunflower oil, it is worth noting that there is a different type available: high oleic sunflower oil.
'High oleic' means that the fat contains high amounts of oleic acid (at the expense of the polyunsaturated omega-6 content). This high oleic oil is made by the conventional breeding of sunflower plants to produce seeds that are rich in oleic acid.
Oleic acid is a monounsaturated fatty acid which we can also find in extra virgin olive oil (18, 19).
There are several benefits of high oleic sunflower oil compared to the regular version;
It has an entirely different fatty acid profile, and it is much lower in omega-6 (20).
High-oleic sunflower oil has much greater oxidative stability compared to the regular version. The oil is more shelf-stable and less prone to oxidation during cooking (21).
Find out more here:
The benefits and nutritional values of high oleic sunflower oil
Final Thoughts
Overall, regular sunflower oil has more drawbacks than benefits.
While the high oleic variety offers numerous improvements, it is probably better to stick to more proven cooking oils.
For a like-for-like alternative, extra virgin olive oil is one of the most evidence-backed oils.
Aside from this, other cooking oils that have excellent oxidative stability include animal fats and coconut oil.
For more articles on cooking fat, see this overview of the pros and cons of red palm oil.