Last Updated on November 16, 2019 by Michael Joseph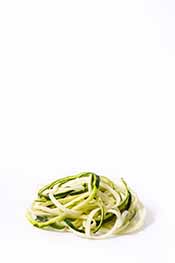 Many cultures have a famous dish based on noodles.
The Japanese have ramen, Italy has spaghetti, and there are countless more options around the world.
However, noodles are not the best food for health.
This article will look at how to make zoodles, a low carb pasta alternative that many people view as "healthy noodles."
Additionally, we'll look at some of the tastiest zoodle recipes.
What Are Zoodles?
Put simply: zoodles are noodles, but they don't come from wheat.
Instead of wheat, we use the humble zucchini to make them.
Zucchini can produce excellent low carb noodles that work well with a range of Asian-inspired dishes.
They also make a great substitute for traditional pasta when cooking Italian themed foods such as carbonara too.
But why use them?
In contrast to regular noodles, zoodles only contain 3g carbs per 100g.
As well as being low in carbs, zoodles are also gluten-free and rich in beneficial nutrients such as vitamin C (1).
And in case you're wondering what a zucchini is, then the British English name is 'courgette.'
Key Point: Zoodles are a healthier low-carb version of noodles and they come from a zucchini.
What's Wrong With "Normal" Noodles?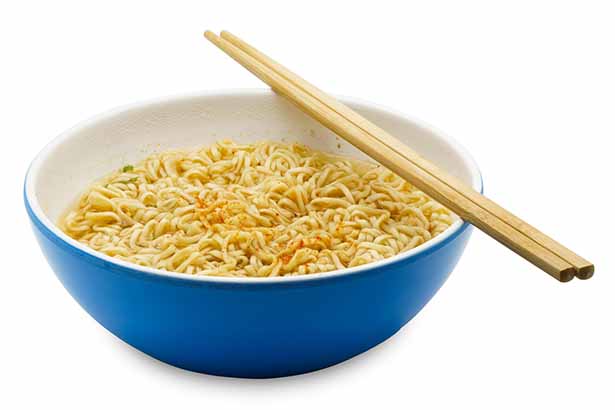 First, regular noodles are high in refined carbohydrates and have minimal nutritional value.
In fact, there are approximately 75g carbs per 100g in wheat noodles (2).
This amount rules noodles out for anyone following a low carb diet, as well as for diabetics, who generally avoid such carbohydrate-dense foods.
Also, many health-conscious people recognize that processed carbs are unhealthy. For instance, diets high in refined carbohydrates have links to a wide range of chronic diseases (3, 4, 5).
Although many people try to avoid carb-heavy traditional noodles, zoodles are suitable for all sorts of different diets.
So, whether you follow paleo, LCHF, low-fat or a vegan diet, zoodles are a much healthier option.
Key Point: In contrast to conventional noodles, zoodles are lower in carbs and higher in nutrients.
How to Make Zoodles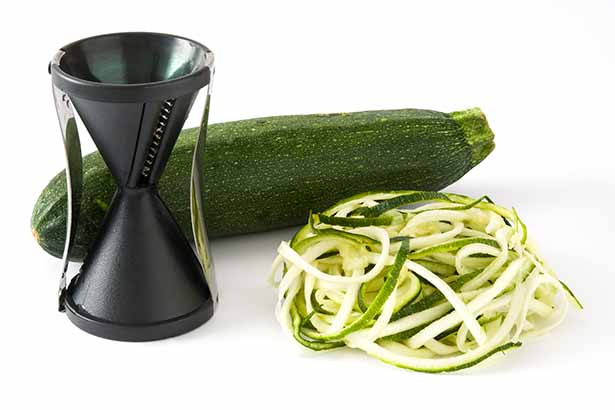 Preparing zoodles can be confusing at first, so let's start from the beginning.
Equipment: A Spiralizer (Zoodle Maker)
It's much harder to make zucchini noodles without one of these.
Fortunately, they are easy to find, and most homeware stores stock them. However, the price is usually a little lower online.
One of the most popular (and relatively inexpensive) options is the Veggetti Pro, but there is a broad range of choice available on Amazon.
They are all somewhat similar, so it may be worth reading a few reviews to find the best spiralizer for you.
The Making
These spiralizers work pretty quickly, and the video below shows how you can turn a zucchini into spiralized noodles in about half a minute.
As you can see, making zoodles is quite fun and can be something that children enjoy too.
Just to point out: it's also possible to make zoodles without a spiralizer. You can do this by using a julienne peeler, or even a knife, but you won't get the thick noodle shape.
Key Point: Making zoodles is fairly straightforward with a spiralizer, and you can prepare low-carb spaghetti/noodles in under a minute.
How to Cook Zoodles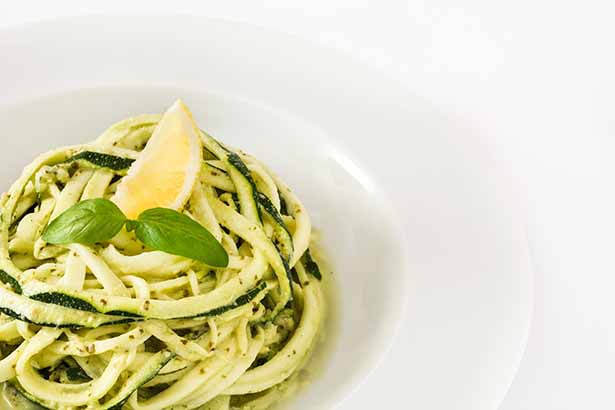 Cooking is where the comparisons with regular noodles end.
If you try to boil zoodles like traditional pasta, you'll end up with a watery mess.
The aim is only to heat them a little and partially cook them – this will leave them with the optimal texture; slightly crunchy and chewy. And not soggy.
For me, quickly sauteing them gives the best result. Here's how to make perfect zoodles every time:
Sauteing Zoodles
Heat your choice of cooking oil in a pan (butter, coconut and olive oil are all good options).
Add the zoodles when the oil starts getting hot, and stir gently.
Sprinkle with your seasonings of choice such as salt, pepper, garlic, and anything else you wish to add.
Saute for approximately two minutes, and then remove them from the heat. Finished.
Baking, Boiling, and More
Not only can you saute zoodles but you can also bake, boil, or microwave them. Or marinate them in a sauce.
That said, the key remains the same no matter which cooking method you prefer: don't overcook them.
A few minutes is all it takes.
Raw
You can even eat zoodles raw as part of a salad.
12 Healthy Zoodle Recipes
Here are ten of the best zoodle recipes I came across online, all of which are full of nutritious low-carb ingredients.

As always, they are all free of grains and oils.
1. Cream Cheese Zoodles (by Buns in my Oven)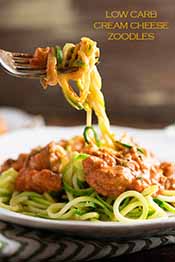 Melted cheese and beef always makes a tasty combination, and this dish looks great.

The recipe is low in carbs and very high in healthy fat.

And for anyone who loves cheese, it's probably going to be the best dish on this list.
2. Garlic and Shrimp Zoodles (by Salt & Lavender)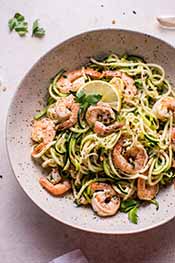 Salt & Lavender's recipe contains a variety of flavors; salty, spicy, and with a few added herbs.

In addition, its full of nutrients and healthy fat.

Also, it looks super tasty and it's an excellent low carb version of seafood pasta.

If you like shrimp, then it's worth a try.
3. Zoodles With Avocado Sauce (by Simple Vegan Blog)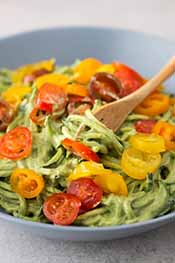 No matter what style of diet you follow, this vegan zoodle recipe looks amazing.

It's so creamy and full of big tasting ingredients like avocado, pine nuts, lemon, and basil.

Healthy and delicious and with a preparation time of less than twenty minutes, the dish is ready in next to no time.

There is minimal requirement because making this dish involves no cooking – everything is raw.
4. Raw Zoodles With Pesto (by Healthy Seasonal Recipes)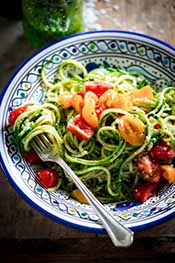 One of the best things about this pesto-based recipe is that there's no cooking involved and everything is ready within 15 minutes.

The dish certainly features some tasty ingredients too; pesto, parmesan, olive oil and salt make for a great flavor combination.

So if you need a quick meal, these raw pesto zoodles are of the first things you should consider.
5. Chicken Pesto Zoodles (by Kalyns Kitchen)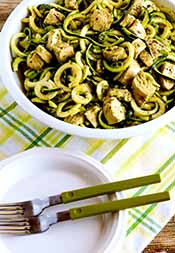 Here's another raw zucchini noodle recipe that looks fantastic.

It takes a little more preparation time, but that's because it uses meat and some chicken broth.

Full of nutrient-dense ingredients, it's an excellent choice for both your body and taste buds.

Especially if you're a fan of either chicken or broth.
6. Simple Singapore Zoodles (by Wild Orchard)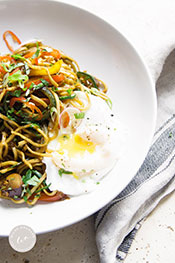 Sometimes simplicity can create the best things of all, but other times what you really want is a list of the most flavorful ingredients to deliver a special taste.

This recipe is absolutely packed with delicious, flavorful ingredients. Although the total time comes to 1 hour, it will be worth it once you taste the flavor of these Singapore zoodles.

Just one thing: this recipe also contains egg noodles, but they can easily be omitted if you're after a low carb recipe.

Either way, this dish definitely won't disappoint!
7. Zoodle and Tuna Casserole (by The Castaway Kitchen)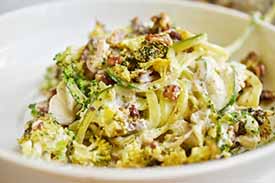 This zoodle and tuna casserole by the Castaway Kitchen looks astonishing.

From the impressive ingredients list, it sounds almost impossible for this to taste anything other than delicious.

It takes a little longer to make than the other dishes on this list (45 mins), but it's sure to be worth the wait.
8. Lemon Herb Zoodles (by The Healthy Maven)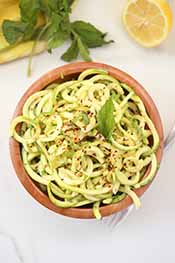 These lemon herb zoodles by the Healthy Maven look great.

They are another raw zoodle-based dish and, impressively, only need 10 minutes of total preparation time.

Featuring a range of healthy ingredients and several big flavors, they are surely worth 10 minutes of your day!

Low in carbs and high in flavor.
9. Shrimp Scampi Zoodles (by Low Carb Maven)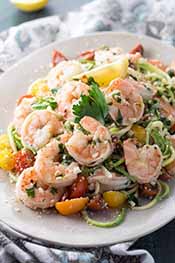 For those who enjoy seafood, here is another recipe that appears to be a take on seafood pasta.

Butter, cheese, bacon, garlic and shrimps – again, this recipe is almost guaranteed to taste amazing with ingredients like this.

Additionally, the dish only takes 20 minutes to prepare, so it's a great healthy choice for a family dinner.

Give it a try if you're a shrimp fan.
10. Onion Zoodle Bake (by Climbing Grier Mountain)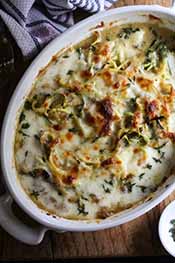 Last but not least, another zoodle recipe that contains a wealth of delicious, healthy ingredients.

Similar to other recipes on the list, it's hard to imagine that it could possibly taste bad when containing things like butter, broth and cheese.

Furthermore, it looks incredible and just the same as any pasta bake you would get in a restaurant.
11. Zpaghetti With Pesto Meatballs (Primal Gourmet)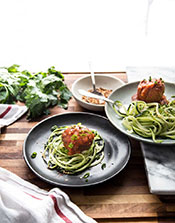 Looking for a spaghetti meatball recipe that is low-carb and full of healthy ingredients?

Then this recipe might be the one for you!

Combining a mouthwatering selection of meatballs, garlic, and passata, it's sure to please anyone who gives it a try.
Final Thoughts
Regarding taste, zoodles are not an exact replacement for noodles.

However, that doesn't mean they taste worse – just different. They are very versatile and you can use them in a wide range of dishes.

Lastly, zoodles contain some health-supportive nutrients, which makes them a much healthier option than the standard noodles you find in a plastic packet.

For more low-carb replacement ideas, see these low-carb substitutes for wheat flour.

For more low-carb recipes, see these 30 delicious ideas.